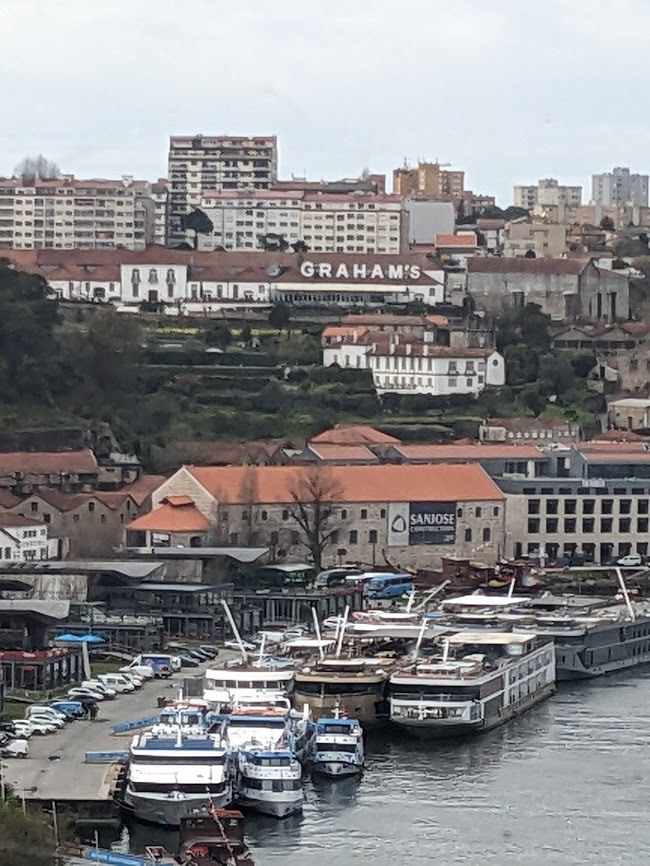 On the banks of the Douro River, a stone's throw from the sea, snuggles a city of terracotta roof tiles atop narrow houses, their facades decorated in coloured tiles. Clustered tightly together, they stagger unsteadily up winding cobbled lanes that wriggle, almost vertically, to the top of the surrounding hills, where huge churches perch in splendid sobriety, their interiors, in stark contrast, ornately decorated and garishly gilded. Several miles upstream, a plethora of ancient vineyards – now a UNESCO world heritage site – mark the source of Portugal's Port wine industry.
The Douro River flows east to west for almost nine hundred kilometres, from the Spanish province of Soria, down through northern Portugal to the Atlantic Ocean, which smashes and swirls over the sea wall at Foz. The Douro Valley is one of the oldest demarcated wine region in the world, protected by an official appellation with which it was blessed in 1756. Here, grapes grow on walled terraces along the steep sides of the valley, still harvested by hand. Here, the Portuguese have been making wines for two thousand years. And here, the English have been producing ports for almost four hundred years, a fortified wine named for the nearby city of Porto (Oporto), where it must be aged in warehouses, or 'lodges' before being exported to Britain and beyond.
Over a hundred grape varieties have been identified in the Douro Valley for Port production, but only five now dominate the industry: Tinta Barroca, Tinto Cão, Tinta Roriz (or Tempranillo), Touriga Francesa, and Touriga Nacional. While a few winemakers have experimented with single variety Ports, it is, generally speaking, a blended, fortified wine. 
Although Port is now made in other countries around the world, including Australia, the name 'Port' legally belongs only to those fortified wines produced here in Portugal, specifically in the Douro Valley. Ruby, Tawny, Vintage and, more recently, White Port fill the local wine shops and bars, but in fact Port has gained far less traction with the Portuguese than one might expect. Most of it will be exported abroad. I have learned an awful lot about the process of Port making this week, but the details could distract us for days. Let's just say, that the final result is very much appreciated by hundreds and hundreds of tourists to Porto. And me.
Until trucks took over the transport business, rabelos – curiously curved wooden boats shaped like the paper boats we used to make as kids – carried the wine barrels down the Douro from the wine estates – quintas – into Porto. On the south bank, at Vila Nova de Gaia, the barrels were unloaded and stored in lodges, to be blended and aged, away from the intense heat of the Douro Valley to the north. Now, the river – far safer to navigate since it was tamed by five huge dams constructed through the 1970s and 80s –  is used largely for pleasure boats. Last weekend we, too, joined the flotilla sailing upriver from the marina and beneath the six bridges that span the Douro, including the iconic Dom Luís I Bridge.
.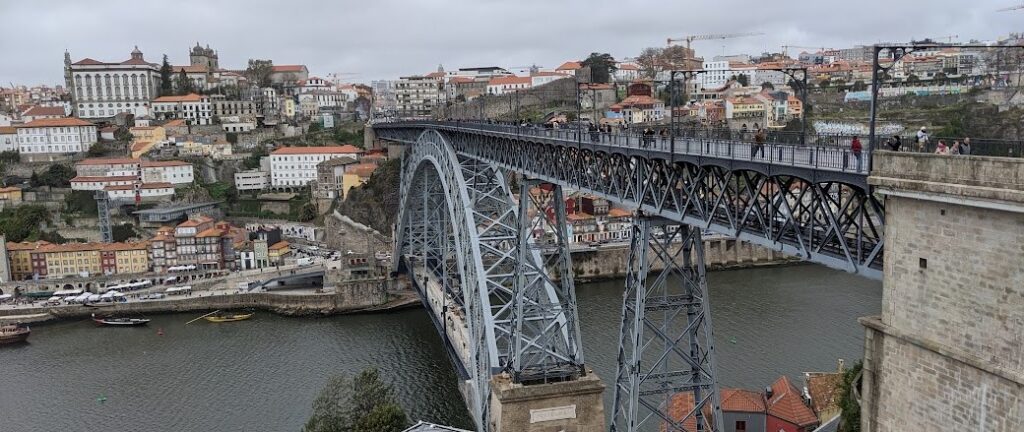 This beautiful, double-decker, arched iron bridge crosses the river between Porto and Vila Nova de Gaia. Over 170 metres wide and 145 metres high, the views, particularly from the upper level, are magnificent – as long as you don't mind heights. Although it is often credited to Gustav Eiffel, his original plan for a single span bridge was apparently rejected. It was actually designed by one of Eiffel's colleagues, German engineer François Gustave Théophile Seyrig, with whom he had co-founded Eiffel and Company. This company had run an earlier project in Porto to build the similar Maria Pia railway bridge, a mile upstream. In the 1880s, now working for a Belgian engineering firm, Seyrig won the competition to build the Dom Luís I Bridge, beating his former colleague to the punch.
But I digress. Back to the business of Port wine.
Last weekend, after our river trip, we were given a private tour of the British Factory House, an impressive 18th-century Neo-Palladian building on the north side of the river. This grand old granite house is a symbol of the relationship between the Portuguese and the British Port wine merchants, or factors. Hence Factory House. It was effectively a private gentleman's club (now mixed membership) where foreign merchants could talk business and strengthen the Port Wine trade. To this day, it remains a gathering place for the families that still make Port in the Douro.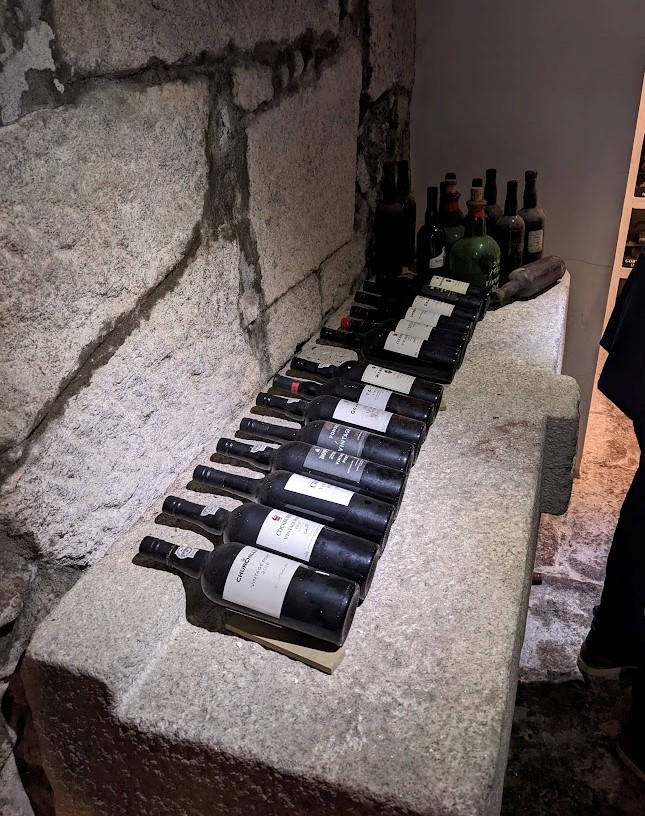 Our tour guides, Jamie Graham and his American brother-in-law, Ben, come from one of those families. The Grahams, English to the core, have been making Ports in Portugal for two hundred years. Although Jamie's grandfather sold Graham's Port business to Symington's in 1970, his father John started a new family business in 1981 with his two brothers, naming the company after his wife, Caroline Churchill. Today, Churchill's Estates make some very special vintage port from the Quinto do Rio in the Torro valley, as well as 10 and 20-year old Tawnies, and some delicious white port, which, by coincidence, we had already been drinking enthusiastically during our boat trip up the Douro earlier in the day.
Every Wednesday, members meet for lunch in the long, elegant dining room. Vintage ports are selected from the Factory's own wine cellar, where some 15,000 bottles are stored. Apparently, a good vintage can be stored for at least fifty years, but winemakers aim for a hundred years, as a gift to the future Port drinkers of the world. In the entrance hall, wooden plaques list the names of all the Treasurers (Presidents of the club) since 1811. Many of those early British names are still associated with the great Port Houses, such as Cockburn, Forrester, Graham, Sandeman, Symington and Taylor.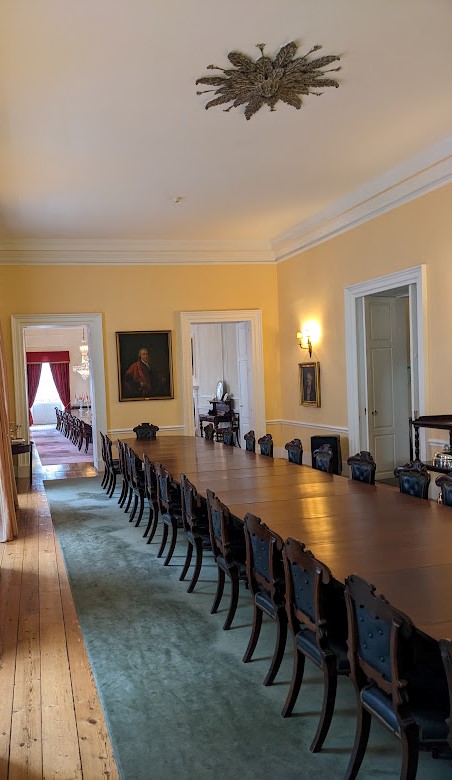 Chatting with our tour guides about all things Portish, clutching a glass of Churchill's golden, oaked Dry White Port, we wander down through the cellars and up the granite staircase to the entertaining rooms above. A large ballroom boasts at least half a dozen crystal chandeliers and a minstrel's gallery. Fabulous old maps are on display in the official Map Room. Other walls are decorated with signed photographs of a plethora of royal couples who have been to visit, including, in 1982, the newly wed Charles and Diana. The library, several rooms filled with floor to ceiling bookshelves, is generously stocked with old, leather bound books that I long to explore. And on the top floor, to limit the damage of fire, is a vast Victorian kitchen, the highly polished, black cast-iron ranges once cooking to perfection those roast beasts to be fed to hungry members. Eventually emerging into the tasting room, we examine a copy of The Times, dated 100 years ago to the day, on display beside a table laden with glasses, Port bottles and handsome ships decanters.
Relatively small production allows the Graham's to continue using traditional methods of production, even crushing the grapes manually – or should that be 'footily?' – which avoids bitterness from the pips. Using natural fermentation and minimal amounts of brandy provides wonderful structure and balance. So the Ports that are so generously poured into our glasses are a delight.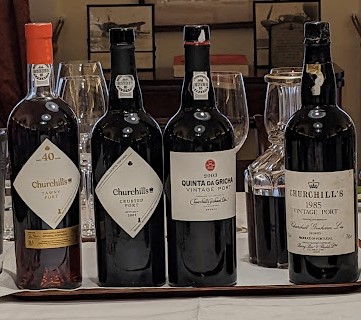 First, we get to try a Churchill's 2007 Crusted Port. I have never heard of crusted post before, and if you haven't either, it's a high quality Ruby Port, younger and lighter than Vintage Port. Blended and aged in oak casks for three or four years, it is not filtered when bottled, leaving a sediment or 'crust' to form in the bottle, and should be decanted when poured.
Next up was a complex, richly flavoured 2003 Quinta da Gricha Vintage port made from Graham's own grapes. It has a lush, fruity character, which promises to be even better in fifteen to twenty years. There are gasps of admiration around the table.
Until we get to the classic 1985 Vintage Port, a drink of spectacular depth and smoothness, from the early years of Churchill's Estates. Deep purple with aromas of plum, prune and chocolate, it tastes of sweet dark jam – black cherry or plums? – and dried fruit, such as prunes and figs. Not to be rushed but sipped slowly and thoughtfully.
And finally, Ben pours us each a glass from the forty year old Vintage Port, a doyenne of luscious maturity. Its deep, glossy amber colour glows in the glass, and the nutty toffee flavours, beautifully blended, flow sweetly across the tongue. Rich and delicious, it makes a great dessert wine, and a perfect finish for our decadent afternoon.