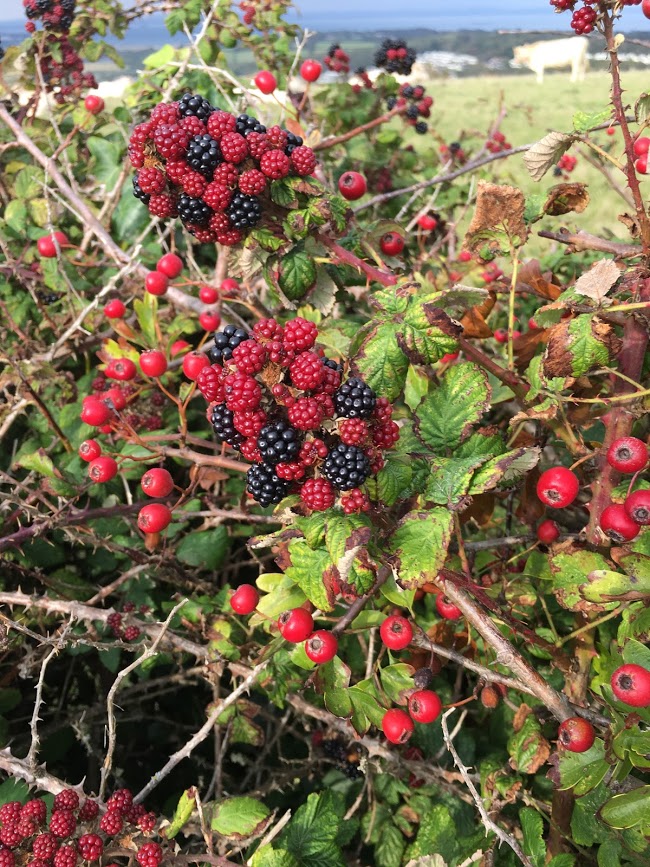 A one-time bandstand on the beachfront. Pale blue sky, wisps of cloud. Vast merchant ships line the horizon in orderly fashion, like a game of battleships. Wooden groins, dusted in mossy weed, are half submerged in a rising tide. The sea sparkles and softly licks the sand. White cliffs loom in the distance, topped with the fragile silhouettes of houses that may slip over the edge at any moment. Dogs pad calmly along the sand. A white coffee. Mushrooms on toast. Sunshine in my hair. All is well in my world.
Behind me, the hills slope steeply, verdant and fertile. Yet, barely a week into September, the harvesters are standing by to mow the fields, the leaves are beginning to turn brown and gold, and the heat has been sucked from the sun. No more buckets and spades and childish shrieks from the water's edge. The beach has been swept clear of holiday detritus. The children have returned to their classrooms in shiny new shoes, with arms and faces flushed and healthy from myriad summer days.
The narrow lanes wind between hedgerows that are crowded with blackberry clusters. Once chock-a-block with too-wide caravans and campers that slow the cars to a crawl, now it is the torpid tractors and red-faced cyclists pedalling sluggishly up the precipitous ascents of the Downs that create snail-trails of traffic. The cafés, once raucous, are subdued now. Even the seagulls seem to know it's the end of the season and have retreated to gossip in the barren fields. Somewhere above the island, three pairs of migrant sea eagles are learning the landscape of their new home. Rolls of hay, like fat buns, lie sedately on the earth.
Like the summer, I, too, am abandoning this glorious island to the brewing winds of winter. Reluctantly, plaintively, knowing the days are already closing in and the sun will soon be setting before the afternoon is over, knowing I must soon say goodbye to an eclectic bunch of warm and welcoming friends and neighbours from the croquet club, Carisbrooke castle, the Bembridge windmill and my prodigious writing group.
Every walk to the beach, or drive to town, creates a dolorous sense of loss deep in my chest. Is this the last time I will pass this way? Or this? I long to lock in every minuscule memory to recapture later, when the landscape has changed beyond belief and I am dwelling on a much larger island, the island of my other childhood, where the pert red squirrels and Watership-Down-rabbits will give way to larrikin possums and drowsy koalas; the Scottish magpies with their Thai silk sheen and rasping voices will withdraw in favour of their far less dainty antipodean cousins of the dulcet, gurgling chortle, while the Beatrix Potter hedgehogs and badgers will be usurped by Magic Puddin' wombats and bandicoots.
There are new adventures ahead, but for now I am dwelling, achingly, in a present that I have adored for a handful of all-too-brief months, knowing it was never forever, that knowledge ensuring that nostalgia set in even as we unpacked our suitcases and hunted out the best coffee spots.
Post card images fill my head: a Norman castle, a modern lifeboat station, and an eighteenth-century windmill; a reef scattered with lanky, grey herons, little white egrets, oyster catchers in red stockings, and neat-petite black headed gulls. Watching a flotilla of softly-softly sailing boats on the Solent, or an eager-beaver hovercraft zipping industriously to the mainland like a zealous mosquito. Passing a row of lugubrious houseboats squatting on a lagoon of sulphurous seaweed. Strolling across Brading marshes, over stiles and through kissing gates, past curious heifers that lick my arm and swans that stand on tiptoe and flap their broad wings ostentatiously, then into the wildflower meadow that blossoms with wild orchids and butterflies. Picnicking on the foreshore overlooking Bembridge reef, or relaxing in a deck chair on Culver Down, enjoying an eagle-eye view over Sandown and Shanklin, Bembridge and Saint Helen's, Brading and beyond…
New friends will soon to be swapped for older ones, recent experiences will be traded for childhood memories and the promise of novel new escapades. Isn't it wonderful that I have room in my heart for them all?