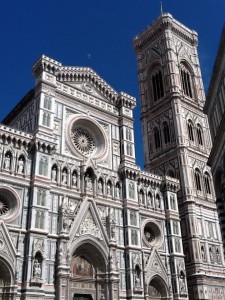 Most people travel to Florence to experience the Renaissance art and architecture, which is undeniably superb. Guide books warn  about avoiding astronomically lengthy queues to the main tourist attractions by purchasing tickets in advance. We simply avoided the tourist attractions. Admittedly we have walked past the Duomo and the Baptistry, sat on the steps of Santa Croce, traversed the piazza in front of the Pitti Palace, and eaten copious amounts of gelati.  But we had other fish to fry.  The Food and Wine Academy of Florence was offering a tour of the Mercato Centrale, followed by a day of learning to cook some typical Tuscan dishes. Sold!
We joined an early morning gathering just off Piazza della Republicca. Our guide and chef Giovanni and his second-in-command Andrea ran through the itinerary for the day and led us into the maze of narrow cobbled streets. Our first stop was Mercato Centrale to buy ingredients. If you know Melbourne's Queen Victoria markets, you'll get the gist.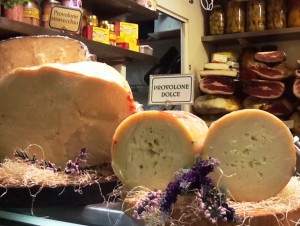 While Andrea & Giovanni strolled off to gather cooking supplies, we were herded into a tiny shop full of oils and vinegars, salamis and mouth-wateringly huge wedges of Parmigiano Reggiano.  Our friendly hostess then indulged us with tasting platters of traditional Tuscan chicken liver pâté, made with chicken  livers (what else?) and capers, anchovies,  carrots, onions and dessert wine.  We scooped up her  own tomato, basil, mozzarella and chilli dip eagerly, and indulged in a surprisingly soft young pecorino spread with a light honey jam, a pungent white truffle honey or homemade sun-dried tomatoes. We devoured them all, with great enthusiasm.
We were then offered various aged balsamic vinegars, rich and syrupy, that our hostess recommended on a broad selection of food: basted on roast chicken or beef steaks, drizzled over icecream or bruschetta, or splashed on figs, strawberries or Parmigiano Reggiano. Real balsamic vinegar comes from Modena, just 20kms from Bologna. It is aged in wooden barrels made from oak or chestnut, cherry, ash or juniper, and the syrupy sweetness is natural: no sugar added.
Next, a stunning extra virgin olive oil with unsalted bread was handed round. Don't ever waste this in the cooking, she advised us, save it for toppings. My recalcitrant taste buds craved a dipping bowl of rock salt, but somehow survived without. Our hostess then described a simple recipe for a dressing that can be stored on the shelf for as long as it takes to empty the bottle! Take a quarter bottle of 12 year old balsamic vinegar, fill with extra virgin olive oil, a dash of the flavoured oil of your choice, salt, and shake. Do not refrigerate.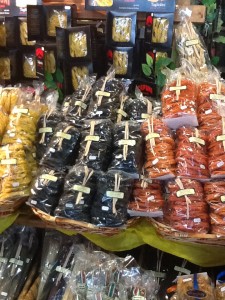 Eventually we moved on to check out the butchers. As in Manila, there is an amazing amount of offal, although rather more hygienically arranged behind refrigerated counters. Tripe, trotters, tongue and tails mix, unperturbed, with minced beef, pork sausages, whole rabbits and chickens deflowered of feather but not of head.
The smell of the fish forewarns us of what we will  find around the next corner, and we visit one entrepreneurial fishmonger who has recently started serving paper cones of freshly fried seafood. As few in our group were much interested,  I happily hoed into calamari, sardines and a white fish all lightly dusted in flour and deep fried on the spot.
At last we left the market to go in search of the Holy Grail: a hole-in-the-wall kitchen, with huge white marble-topped tables around which we all  congregated eagerly. Sent off to wash our hands and don aprons, we obeyed like good children and returned promptly.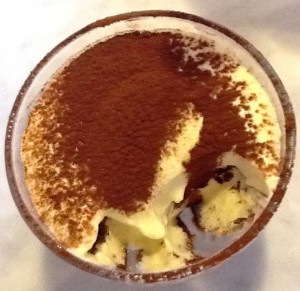 Our first task was to create tiramisu from a mountain of eggs (huge eggs) and horrific amounts of sugar.  Luckily, whisking so many egg whites is a breeze when there are a dozen of you to share the job. We soon had a fluffy marshmallow pillow of meringue that would have rendered me armless to achieve on my own!Layering the egg cream with dustings of cocoa powder and espresso dipped sponge fingers, we each produced a glass coppa of picture perfect tiramisu, to be served later.
Then we were faced with the choice of making a traditional Tuscan meat sauce or fresh pasta. I opted to see how the sauce differed from any I make at home. As Jamie Oliver noted in his recipe book of Italian cooking, Italians are ferociously regional. Their way is the best way, and they will argue forever on the right or wrong ingredients to use. In this case, garlic, mushrooms and peppers were out, onions, celery and carrots were in, and any of our own variations were sneeringly scorned.
I quickly recognized that my own method, without reference to regional recipes, but simply the desire to insinuate into it as many vegetables as I might get away with when faced with picky kids, was unlikely to be tolerated. Despite wanting to get each of us involved in the preparation, I noted that Giovanni was quietly grading us on our knife skills. I wisely stepped back from the chopping board.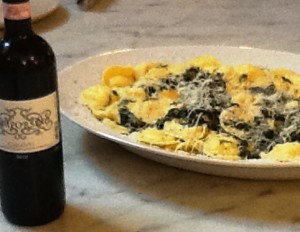 We then swapped with Team 2 and had a go at making pasta from scratch. I have chatted all the way through a similar demonstration in the past, so was keen to concentrate this time. Despite a slight nervousness, I quickly realized that I have made plenty of playdough in a toddler-filled past and a similar method applied. We each made a neat well in a heap of flour and poured in an egg, reminiscent of creating sandcastle moats. Using a fork, we blended and kneaded until we had created a smooth, shiny, elastic dough.
Half an hour to sit and ponder, and then out came the rolling pins, with the advice from a more experienced cook that we should roll it so thin we could see the veins of the marble through the dough. Eventually, tuck shop arms reduced by half, we had created strings of fettucine and 4-5 handsome ravioli. This time Giovanni's side-kicks had prepared the ricotta filling earlier, but the recipe looked simple enough to try at home later.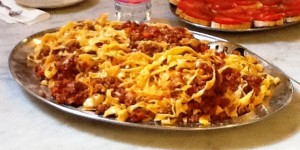 Andrea had whipped up a platter of bruschetta as we had been playing with our playdough cutters, and while some students hovered round the stove to supervise the pots of boiling water, others wiped, rearranged and set the tables for lunch. At the belated lunch hour of ten past three we regrouped to taste our efforts, accompanied by chunky glasses of Chianti.
All was well. The ravioli had been doused in sage butter, the fettucine stirred into the meat sauce and coated with lashings of Parmesan. Both were absolutely, drippily delicious. We reluctantly held back from seconds in order to leave room for the dreamy creamy tiramisu. We may not be opening an Italian café just yet, but we are definitely planning to repeat our success with homemade pasta when we get home.
If you 'wanna be Italiano' and enjoy cooking, contact www.FlorenceTown.com