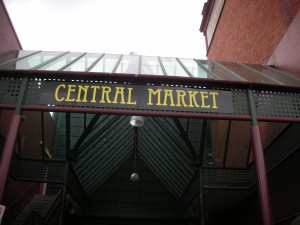 It has become a tradition, whenever we are in Adelaide, to spend Tuesday mornings at the Central Market with my aunt, my cousin and her two small daughters. Together we wander through the alleys lined with greengrocers, gourmet cheeses and every 'Fine Food' imaginable, ending up at Lucia's for a caffe latte and a babycino for the girls.
I rediscovered the market only a handful of years ago. My younger son and I had developed a passion for The Cook & The Chef, an ABC cooking show out of the Barossa Valley in South Australia, that featured the bizarre pairing of local celebrity cook and restaurateur Maggie Beer and Simon Bryant, a chef in black leather and chains from the UK, then working at the Hilton Hotel in Adelaide.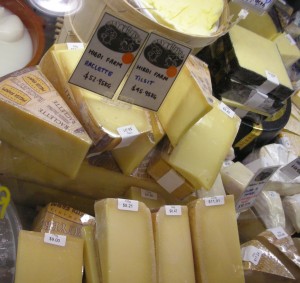 We were the archetypal armchair chefs, wallowing in the glory of observing someone else achieve miracles in the kitchen. Then, one day, Simon wandered out of the Hilton kitchens and into the Adelaide Central Market to search for cheese. Our son was instantly riveted.
'Mum! Where's that?" he asked in awed tones.
In fact, the market is only ten minutes from his grandparents' house, but during all our visits to South Australia I had never thought to take him there. So the next time we popped in, we made a point of driving into the city to explore. Walking in from Gouger Street, Fergus was transfixed by the scents permeating the air: coffee, roasting nuts, freshly baked bread.
Since that day, a visit to the market has become a regular feature of trips home, following the now three year old Audrey whose hands are permanently raised for small snacks of fruit and cheese, a baby bird with beak wide open to be fed, as she has done every week since she travelled the aisles in a papoose.
The Adelaide Central Market has been around for generations. It evolved from a gathering of market gardeners who first meet to sell their produce at 3am on Saturday 23rd January 1869, at a spot between Gouger and Grote Street. Over five hundred people showed up that day and all stock had sold out by 6.00am. The rest is history.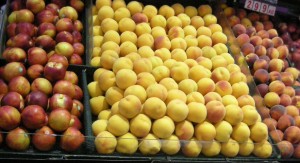 Today there are more than eighty stalls selling multicultural cuisine and fresh produce five days a week, from Tuesday to Saturday, under the arched roof of this nineteenth century market building. We wander in leisurely fashion past colourful displays of fruit and vegetables, cakes and chocolates, nuts and dried fruit, coffee beans and cheeses. There are a number of fruits, once unknown in Adelaide, that I know from the tropics: dragon fruits, mangoes, pineapples lying beside the stone fruit of my childhood: apricots, peaches, nectarines and cherries.
Greek migrant Steve Zaharis opened a fruit and vegetable stall in the Central Market in 1977. Steve provides fresh produce which is not perfectly shaped and comes in odd sizes, or contains slight skin blemishes, but he sells it at bargain prices. The days of the dollar box may have passed on (a highlight in my husband's student life) but there are always bargains to be found. And yes, for those of you familiar with 80s Australian comedian, Mark Mitchell,  there really is a Con's Fruit & Veg!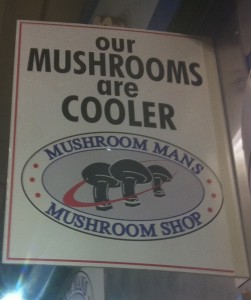 Mushroom Man's Mushroom Shop stocks locally grown mushrooms and exotic truffle oils and salts he makes himself from Tasmanian truffles. And there are several cheese stalls to choose from, including Smelly Cheese, boasting locally made cheeses such as a Limestone Coast cloth cheddar and an unusual chili pecorino, as well as French blues, Victorian bries and Tasmanian Tilsits.
Bakeries include Doyley's Patisserie, Baker's Tray and Dough, where we found a tasty selection of freshly baked sour dough breads flavoured with walnuts, Kalamata olives, fig and fennel, soy and linseed, or sunflower seed amongst the baguettes, french pastries, sweet and savoury muffins, tarts and friandes.

Butchers, such as Barossa Fine Foods and Feast @the Market sell all the usual non-vegetarian fare: steaks, lamb chops, kebabs and chicken breasts. Look out for the amazing wild game stall, Wild OZ, where we found the most delicious marinated kangaroo fillets lined up beside crocodile steaks, buffalo, venison, camel, goat and ostrich.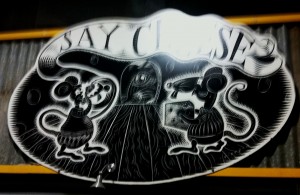 Charlesworth Nuts arrived in the Adelaide market in 1934 and is now a third generation family business. Customers are lured in – as we were – by the daily smell of roasting nuts, to try the "Best and Freshest Nuts, Dried Fruits and chocolates in Australia".
For those with a sweet tooth, The Old Lolly Shop, originally Blackeby's Sweets, has been based in the market since 1906, and they still manufacture many of their sweets at their Mile End factory. Hagues have a small shop at the Victoria Square end of the market, and a chocolate fountain resides at the western end.
Also at the west end of the market, a modern mall containing specialty shops full of trinkets and souvenirs and an Asian supermarket provides a segueway into Chinatown, with its ever-present archway.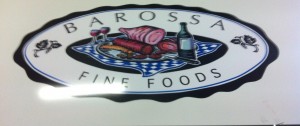 Dodging shopping bags on wheels and prams, infants, the elderly, young parents and the middle aged, there is no fixed demographic at the Adelaide market. It is enjoyed by all and sundry. Stallholders are a really mixed bag too – but I am delighted to find the archetypal Italian grocer still loudly and enthusiastically spruiking his wares outside the Seven Brothers Green Grocers.
Maggie at Cocos passes small Audrey a bag of odd grapes and a piece of banana. One friendly stallholder offered us a selection of ready-made salads and antipasti, as we shared notes on variations of pepperonata. Another spent some time taking me through the various fresh cheeses and the differences between them. Haloumi, ricotta and feta: would I prefer Danish, Australian or Greek? Sheep, goat's or cow's milk? Of course I always come away with twice as many bags as I need and get teased by my parents for over-indulging.

The Adelaide Market is always a joyous experience. Bright, bustling and heavenly scented, it is a hive of activity. And for the true food enthusiast, a website provides information on butchery classes, cooking classes, foodie tours and music events. Go forth and savour.