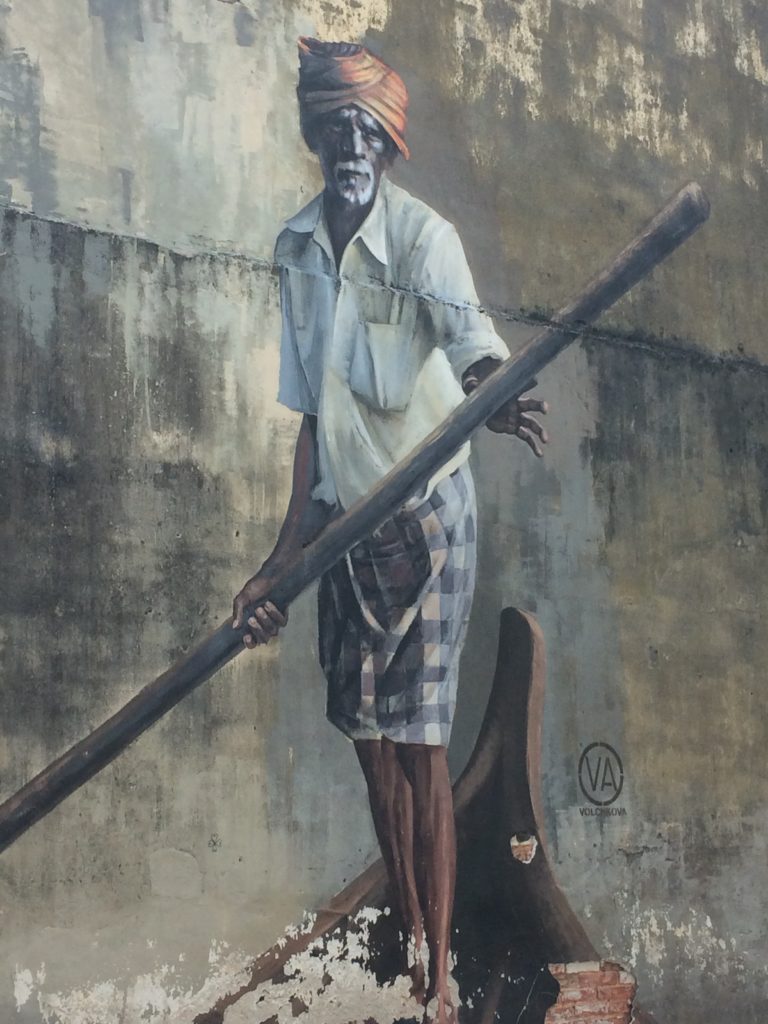 Last night, I dined with our lovely new friends next door, who served up a fabulous Phad Thai and an equally delicious pear crumble. This was accompanied by hours of armchair travel, as we reminisced about various trips to Asia. Thailand, of course, after the inspirational Pad Thai, but later, we settled into memories of Malaysia, which has been an annual pilgrimage for our neighbours since they discovered the delights of Penang.
We also visited Penang, decades back, while we were living in Kuala Lumpur. I wasn't writing much back then. Two small kids and a new baby didn't leave a lot of time for creativity and self-expression. Even my journal was on hiatus. Fortunately for my failing memory, however, I did pen the odd article for a local expatriate magazine, which I recently rediscovered in a box in the garage. Lo and behold, there was my piece about New Year in Penang back in the 1990s, to jog my memory.
So, let's begin by turning the clock back twenty-something years…
We had made a spontaneous decision to get out of town, in the sweltering aftermath of a tropical Christmas. Packing our compact Proton Wira with a handful of toddlers and an absolute mountain of bags, we set off on Boxing Day. Due to heavy traffic, it took us an hour to reach the toll gate on the outskirts of the city – usually a quick, fifteen-minute trip. Sadly, this set the tone for the day's travel. Someone had informed me blithely that it was a breezy four-hour drive to Penang. They obviously did it without a car full of querulous kids. Before we'd even reached that toll gate, one tiny toddler was creating a storm on the back seat. Whether it was car sickness or simply the indignity of being roped into his car seat, we were never sure, but he wasn't happy. Several pit stops later, tears, tantrums and a hefty migraine for mum, we made it to Penang. It had taken a gruelling seven hours. At last, we drove over the Penang Strait on the Penang Bridge, which was the longest bridge in Southeast Asia at the time, spanning some 13 kilometres.
Ditching our best intentions for a cheap holiday at the beach (also the reason we didn't fly, our first error of judgement), we went in search of a hotel with air conditioning, a hot shower, a bar fridge and a kids club. This wasn't the best time to be making such demands, as it turned out. While the One & Only was more than willing to indulge my own minor tantrum, the hotels were less so. Even a basic beach shack without air con, running water, or a loo that flushed proved difficult to find at the last minute in the Christmas season. Quelle surprise!
Eventually, we found a room at the inn – the Holiday Inn at Batu Ferringhi – for which they will forever have my blessings. Revived by a respite from the oppressive heat in our airy, air-conditioned room, I threw back a couple of Panadol, and we set out to explore the neighbourhood with considerably more equanimity than we had felt half an hour before.
(Wonderful haven though it has proved for many a traveller over the past four decades, I was sad to see that, thanks to Covid 19, it is one hotel in a long list of closures in Penang that has been growing by the week. )
George Town, on Pulau Penang (Penang island) was the first British settlements in Malaysia, established by the British East India Company in 1786. Today, the capital of Penang State is the second largest city in Malaysia and the economic centre of the country's northern region. Founded as a free port, George Town was a British crown colony until World War II, when it was occupied by the Japanese. Liberated at the end of the war, Penang then merged into the Federation of Malaya (now Malaysia) and finally gained independence from the British Empire in 1957. Today, the city, well known for its cultural diversity, colonial-era architecture and exotic street food, is a booming tourist destination.
In the 1990s, George Town was already a popular holiday destination with the Malays, and local politicians were also trying to develop it as a modern business centre,. Unfortunately, it was forced to take a back seat to the rapidly expanding capital of Kuala Lumpur. Traffic congestion on the island was getting worse by the day, and the city was filthy.
By the beginning of 2000, George Town had become incredibly run down, and considerable damage from the tsunami in 2004 caused this historic little town to hit rock bottom. Beaten down and neglected, a media campaign was instigated by the Malaysian press to restore the 'Pearl of the Orient' to its former glory. And a miracle began to happen.
By 2008, a large section of the old city had become a UNESCO World Heritage Site, characterized by old Chinese shop houses, many of which have been converted into boutique hotels, bars and restaurants. (I am told that the best way to discover the old town these days is to take a tri-shaw ride through the intriguing laneways of the old town, checking out the street art along the way. It can be a somewhat hair-raising experience, my neighbours tell me, but the driver will assure you that the tri-shaw is "King of the Road" as he blithely swings out in front of speeding cars!)
Efforts to improve George Town's status went on apace. Pedestrianisation, improved sanitation and public transportation meant that by 2010, George Town was ranked the eighth most liveable city in Asia by ECA International. Business and tourism have boomed, and high rises have shot up all along the coast. The skyline has changed utterly from the one I remember almost twenty-five years ago, but the city is now thriving, and – according to my neighbours – a fantastic place for a holiday, who provided a lot of good stories and travel tips over dinner.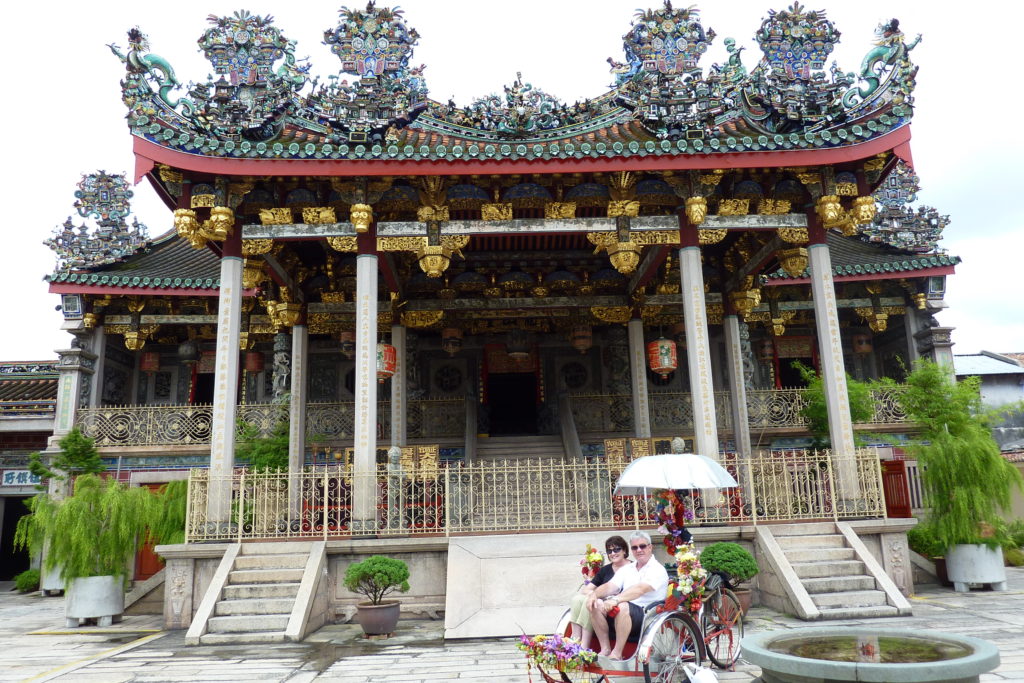 For some cultural input, they highly recommended a visit to Khoo Kongsi, one of Penang's most lavishly decorated clan houses, where Chinese families would gather to worship their ancestors. This one was built about 650 years ago, part of the five clans that formed the backbone of the Hokkien community in pre-colonial Penang. And food? Well, apparently, options are limitless. Pick any cuisine and you can probably find it in the alleyways of George Town. But for an authentic, hawker-style experience, I was advised to eat at the Red Garden Food Court – it's great fun and inexpensive. And whatever you pick, make sure you try the char kway teow at least once. This Hokkien dish of stir-fried flat rice noodles with prawn or chicken is popular across Maritime SE Asia and has virtually become the national dish of Malaysia.
In 1996, the city was not as polished as it is today. In fact, the streets were rather grubby, the beach unkempt and uninviting. Yet the cultural diversity was fascinating and night markets and hawker stalls abounded all over town as they do now. There was a snake temple, lush botanic gardens and a butterfly farm. (Today, the old butterfly farm has had a makeover and 'Entopia' is situated in a huge glass conservatory where you can see thousands of free-flying butterflies in a beautiful tropical garden setting.) We walked through the hills and discovered pretty, plashing waterfalls. The fishing villages were poor and simple, but alluring. The view from our hotel window was of mountains densely clad in jungle and an azure sky filled with birds.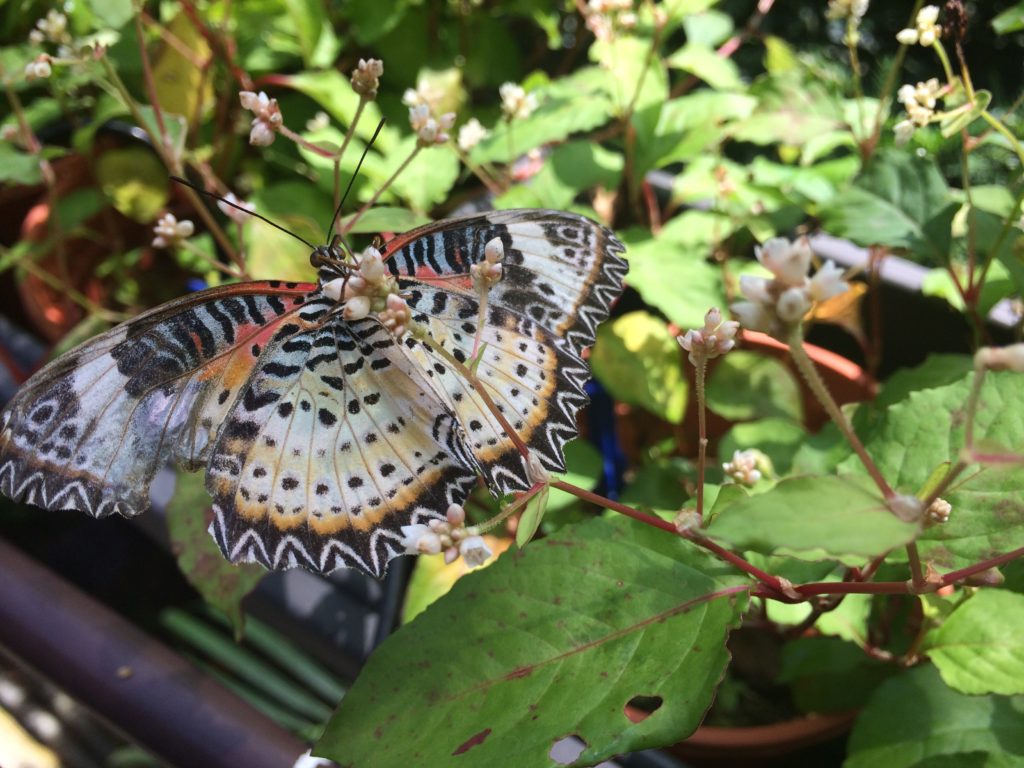 Our first dinner in Penang, after our horror drive from KL, was a joy. We found a large seafood restaurant on the beach front, with a table sitting inches from the sand. Our meal was simple, fresh and tasty, our diminutive 'Oompa Loompas' catered for beautifully, as we watched the sun set over a calm, quiet sea. No tsunamis that evening, thank heaven! Bare feet and sarongs was the unwritten dress code, and the Oompa Loompas could climb through the railing and play on the beach the second they had finished eating.
Later in the week, we drove to a fishing village, Teluk Bahang, at the far end of the beach road. Beside a long and rickety wooden jetty, we discovered the aptly named ''The End of the World restaurant." Here we were welcomed by two barefooted lads and their pet monkey, and ushered to a plastic table overlooking the water. The fish came straight out of the sea – well, straight off the fishing boats tied to the jetty – and once the sun set, and the filthy cove was covered in shadows, it was all rather romantic. The rest of the week, we relaxed by the pool while the kids joined their new friends at the Kids Klub, and all of us were blissfully happy.
So, despite an inauspicious start, our week in Penang was fun and incredibly relaxing. But, as I concluded then, we would indubitably fly the next time. (I was hoarse by the time we got home, after six hours of non-stop singing en route to keep the children entertained.) I also decided that it was time to put the $5-a-day backpacking myth to rest and accept that – for the time being at least – 2.5 kids equalled an air-conditioned hotel, running water and a mini-bar!
*With thanks to the Robertsons for sharing their up-to-date travel tips and their lovely photos of Penang. Not to mention an amazing Pad Thai and an inimitable pear crumble!