There is a rather pretty little path between the villages of Otford and Shoreham in north-west Kent that cuts across the golf course and is largely shaded by overhanging trees. On a 30-degree day in August, this is a blessing, as I ramble the long-familiar footpath with old friends. Even the fear of flying golf balls has been removed, as the usual proliferation of golfers has either retreated to the shade or, presumably, to the pub.
Shoreham village is an old favourite. The pub is strung with hanging baskets and the tables are brimming with beers and baskets of crisps, consumed energetically by families who have been out walking their dogs up in the hills or along the river. We wander past picturesque cottages draped in roses and wisteria, a church steeple rising above the yews, to discover an unsealed driveway off Church Street. Meandering along the track, we pass an elegant Victorian country house (accommodation available) hemmed in vineyards and sprinkled with sunshine, before reaching the cellar door.
The Mount opened for business in 2008, four years after planting eight grape varieties in the surrounding

acres. Maybe it is a sign of the growing passion for wine all around the globe; maybe it is a sign that Trump is wrong and global warming is a reality, but I would never have expected to find vineyards in Kent. Hops, apples, strawberries, yes, but not grapes. And yet the Romans were here planting villas and vineyards that survived for centuries to reappear in the Domesday Book, where vineyards were recorded as far north as Suffolk. So, perhaps I shouldn't be so surprised to find a thriving vineyard in the Darent Valley, a mere sixty minute stroll from Lullingstone Villa.
The vineyard has expanded its attractions considerably since I was last here, to include secluded areas for outdoor weddings and a new patio dining area with a retractable roof. But  first, accompany me to the tasting room, to lean on the long slate bar and sip a selection of the Mount's award-winning still and sparkling wines, designed to brighten up a lazy summer afternoon. You may choose to do this at a more formal, informative wine tasting accompanied by matching cheeses, but in the meantime,  let me introduce you to Ramon, the helpful and knowledgeable barman, and to a couple of my favourite wines…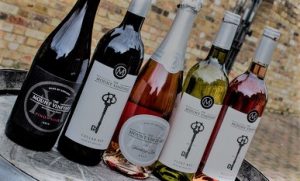 Probably the most well-known wine at The Mount is the sparkling rosé. Created in the traditional méthode champenoise, from Seyval, Phoenix and Pinot Noir grapes, it is pretty in pink and full of the scent of strawberries. There is also a terrific sparkling brut. Unfortunately, they had run out of supplies when we were there, but the alternative choices were perfectly acceptable.
The Flint Key 2013 has a definite aroma and taste of elderflower, with a whisper of honeysuckle and peach, and a splash of citrus. Made from Bacchus and Siegerrebe grapes to create a fun, flavourful white wine, it was a chilled and chatty accompaniment to a light lunch on this hot and sticky summer afternoon. To the winery's delight, it has already managed to win a couple of awards.
Since I first visited in spring last year, The Mount's dining experience has become considerably more sophisticated.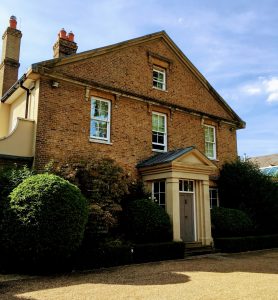 As always, passing walkers are welcome to sit on the lawn or at the picnic tables for a quick glass of wine and a snack. However, if you prefer to drift through the day, indulging in more filling fare and some quirky conversation, then perhaps book a table on the patio with good friends, and enjoy both the company and the extended menu. There is a variety of tasty, stone baked pizzas with thin, crunchy crusts and extravagant toppings, imaginative tasting platters of cheese and charcuterie, and 'light bites' that include some heavyweight, home-made pasties served with piccalilli. We threw a selection of everything into the centre of the table and all but licked the platters clean. Obviously, The Mount's wines are the star attractions on the wine list, but there is also a choice of several extra-curricular wines, beers or spirits, if you prefer.
Having eaten and sipped my fill, I strolled back along the Darent Valley towards Otford with my friends, clutching a bottle of the Mount's best 2015 Pinot Noir to share later with the One & Only, when we both returned to Luxembourg.
*With thanks to Google Images for all photos except the last one, as mine weren't nearly so good!