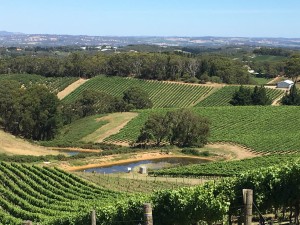 It was a long summer in South Autralia, during which there have been so many wonderful meals with family and friends , and so many fabulous winery visits, that I would undoubtedly sound like a glutton and an alcoholic were I to write about them all. There are some extraordinary places I would like to mention, however, that we came across in the Adelaide Hills…
*             *             *             *             *
I have watched the Lobethal Bierhaus develop from its conception more than ten years ago, to the thriving microbrewery and restaurant it is today. It has been incredibly inspirational to see an erstwhile London banker wander so far off the beaten track. Starting out with a home brew kit in the kitchen, Alistair Turnbull has gone on to develop some terrific craft beers. He creates them in the vast space of what was once part of the Onkaparinga Woollen Company, on the main street in Lobethal. If you like beer – and presumably that's why you are here –  there are twenty to choose from. Alistair and his wife Rosie produce eight staple beers and several seasonal beers, aiming to have at least twelve on tap at all times. Our sons had a brilliant time with the tasting plank. Armed with eight different beers a-piece, they were able to share and taste an extensive selection of what the Bierhaus has to offer. Admittedly there are some unusual flavours: lentil beer first put in appearance last year, and there is a Christmas ale, which sounds like mulled wine, flavoured with ginger, nutmeg, allspice and cinnamon.
I will leave you to make your own decision on that one, while I focus on the food. It was fabulous. I went for the Venison Mixed Grill, (a venison medallion, pan fried, a mini pasty and a venison rissole), while the rest of the team focussed on the specials board and some sophisticated burgers. The staff is friendly and efficient, the food arrived promptly and everyone at our table was pleased with their choices. You certainly won't go hungry. On a cooler day, it might have been nice to sit in the beer garden, as excited chatter reverberates loudly around the vast, indoor space, but at least you know everyone is having a good time. And it is well worth the forty-minute scenic drive from the city, either up the freeway or along the corkscrew road through Basket Range.
*             *             *             *             *
So many amazing wineries now inhabit the Adelaide Hills, it is hard to know where to start. Verdant green vines swathe countryside once bleached yellow and khaki by the summer sun. Here, wine makers can experiment with grape varieties that will not thrive on the plains or in the stultifying heat of the Riverland – varieties with which I have become more familiar, living in the cooler climes of northern Europe.  Originally brewers in Oakbank, the Pikes have long been renowned for their Clare Valley Rieslings. In 1998, the family joined forces with the Joyces, a fruit growing family from Lenswood. Together, they have established a 25-hectare vineyard to produce single vineyard grapes for some great cool climate wines such as Pinot Gris, Grüner Veltliner and Pinot Noir.
Pike & Joyce also produce beautiful lunches with a glorious view reminiscent of The Lane in Hahndorf. Hidden away down an unsealed and dusty road, my parents came across this light and breezy modern restaurant and cellar door quite by accident, and promptly decided it would be a great spot for a small family gathering. Sitting on the lip of a broad hillside, overlooking vineyards that stretch to the horizon, you can enjoy the view from a broad terrace outside the cellar door, or from the dining room's deep, semi-shaded balcony. We popped into the cellar door first, to try some interesting P&J wines, before moving into the restaurant for lunch. The menu is short and sweet: modern Australian with an emphasis on local and seasonal ingredients. Every dish is delicious and beautifully presented. The friendly, youthful staff are polite and helpful, and more than happy to talk you through the menu. Sadly, they often seem to be run off their feet, but it's not a bad place to sit and gaze out on the world while you wait. Or you can gawp at a selection of paintings from some talented local artists and imagine them on your own walls at home. Between five of us, we covered everything on the menu, and we were all thrilled with our meals and cheerfully swapped a few mouthfuls. As a grand finale, we shared a rather sophisticated ice cream dessert.
*             *             *             *             *
It would not be a holiday in South Australia without at least one winery tour.  And what better excuse than a string of significant birthdays to celebrate? So, in early January, we filled a minibus with girlfriends old and new, chauffeured by one kind and willing husband, and headed up the Freeway in light-hearted anticipation, to explore some more Adelaide Hills Wineries. We had pinpointed a few wineries we had not encountered before, and a couple I hadn't visited in years. Two of my new favourites are Deviation Road and Nepenthe.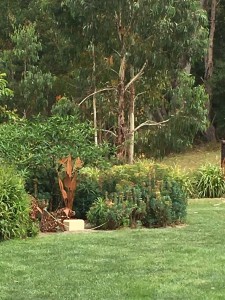 I had been given a preliminary tasting of Deviation Road's wonderful wines back in November, when the winery sponsored a Matt Moran dinner in Stirling, so I was interested to see where these lovely wines had originated. Deviation Road has an attractive cellar door at Longwood, only a short drive from Stirling. We were delighted to start our tour with a glass of bubbles on the patio, overlooking dreamy gumtrees, lush, green vines and a wine garden dotted with interesting sculptures. It is an intimate, cosy setting, and visiting so early in the day meant we had the place to ourselves, which made it feel like we were relaxing in an old friend's back garden. It is a glorious spot for any number of events: weddings; wine tastings; long lunches. Our host took us through a set tasting menu and was more than happy to let us try anything else we were interested in – which meant we were even happier to buy a few samples before we moved on, including my favourite, the NV Altair Sparkling Rosé, a blend of Pinot Noir and Chardonnay. As it turns out, it is also Tyson Stelzer's fave, as he named it Sparkling Rosé of the Year 2017.
Nepenthe, I recently discovered, is a Latin word for a mythical drink that has the power to lighten grief or sadness and inspire serenity. Nepenthe winery in Balhannah, provides a similar experience, with its wines and its fabulous view of open hillsides dressed in acres of vines. We joined Darren for some informative, but admittedly very giggly wine tasting in a private tasting room. As the day heated up, we took our picnic lunch and our choice of Nepenthe wines across the lawn. Heaving a couple of picnic tables into the shade of a stately gum, we absorbed the peace, as the afternoon drifted on. Nepenthe produced its inaugural wine in 1997. Twenty years later it goes on getting better. And my secret wine stash in Adelaide just keeps on getting bigger…