It was my last weekend in Luxembourg before flying south for the winter. I was leaving my One & Only to face alone all that bleak midwinter, at least until he joined me in Australia at Christmas, so we decided to have a last autumn walk together, through the woods north of the city. We headed for Mullerthal, where we also knew of a terrific little place for lunch…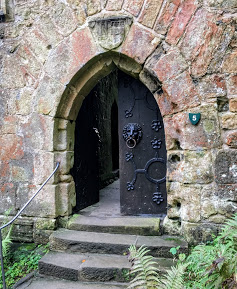 The Mullerthal trail is composed of three distinctive walking paths, one hundred and twelve kilometres long,  through an area of Luxembourg known as Little Switzerland. It includes river valleys, fields and forests and leads past any amazing rock formations. We have walked small sections of it before, but today we got distracted by the beauty of the amber-leafed woods and kept driving until we reached the small town of Beaufort. We had noticed signs to Beaufort Castle on previous expeditions, but had always missed the turn-off or got distracted to somewhere else. Today, the road wound through the golden valleys and deposited us at its front door.
Unlike our previous experience of Luxembourg's numerous castles, Beaufort is not perched high above the town, like an eagle on its eerie, but is tucked away, in a narrow valley, safely protected in the crook of the surrounding hills. The original castle is a medieval ruin, a small 11th century fortress with thick walls, tiny arrow slots and a deceased moat.  A Renaissance chateau was added in 1649 by the Governor of Luxembourg, Baron von Beck and completed by his son. The medieval fortress fell into disrepair in the 18th century and much of the stone was dragged away by local builders. Partially restored more than a hundred years later, it was opened to the public in 1928. Both the fortress and the chateau were eventually acquired by the State, but the chateau, still in pristine condition, remained a private dwelling until 2012. Unfortunately, we discovered that we had to book in advance to view the chateau, so we will save that for the spring, but in the meantime, there was plenty to explore in the fortress below. For a tiny entrance fee of five euros, we were also given useful notes to guide us through its history. We clambered up rugged, uneven staircases that led us to the top of the towers, or staggered down into the cells. We inspected the Great Hall and the remains of the chapel. But it was in the surprisingly well-lit torture chamber that I suddenly remembered a previous visit, forty years earlier, with my parents.
As I remember it, it was our first camping trip to Europe, in our Volkswagen camper van, Bella. Our first camp site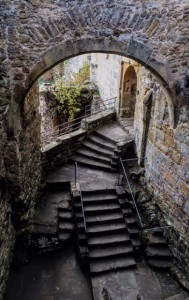 had been on the outskirts of Nancy, and we were heading for the Black Forest, when Dad decided to camp just beyond Luxembourg City. My mother remembers a long trek across the hills with four grumpy children to reach the castle – she even found a photo taken at the beginning of the walk, when everyone was still smiling. Obviously, that didn't last long.
As I was a keen writer even then (I must have been nine or ten), Dad had suggested I keep a journal of our travels. The only entry I remember making that summer, illustrated with a postcard and an entrance ticket, was about Beaufort Castle, my description focussing almost entirely on the chamber in the bowels of the castle, filled with some gruesome instruments of torture that obviously captured my blood-thirsty imagination. A thumb screw, a spiked rack, a gibbet… today, for those with less vivid imaginations than mine, there are posters hanging on the walls to illustrate the way they were used. Then, I remember, I even wrote a couple of chapters of my first (unfinished) novel based on a medieval castle deep in the forests of central Europe.
Out in the fresh air again, we comment that the castle courtyard could be a pretty setting for a coffee shop or picnic area, but little is offered here in autumn, except the opportunity to taste the castle's homemade blackcurrant and raspberry liqueurs. In need of sustenance, I bought one large but rather dry muffin, wishing we could engage the help of The British National Trust to set up a proper tea room and gift shop. Then we headed off for a walk, following a path beyond the chateau.
There is a multitude of walking tracks in the area. We picked up a section of the Mullerthal trail that wandered along the edge of a small lake opposite the fortress and followed the stream downhill, through thick drifts of autumn leaves and the odd muddy puddle, lined with impressive rock formations. We were delighted by the tiny stream, skipping and chortling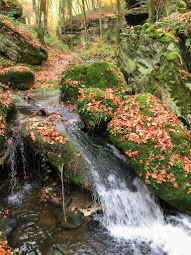 childishly down the valley, occasionally splashing over stone ledges into clear, shallow rock pools, or twirling and swirling under little wooden bridges. We discovered creative saplings, their tap roots buried deep into fissures in the rocks above our heads. From such precarious beginnings, they had woven their roots like fingers around whatever leverage they could find, clinging tenaciously, leaning forever at inebriated angles.
Eventually hunger drove us back up the valley to the car, and a short trip to the lovely restaurant I had in mind: Brasserie Heringer Millen on the Rue des Moulins in Mullerthal. Set in a broad meadow beside one of many small streams in the area, it is an excellent location for hikers passing through, and reviews are both plentiful and enthusiastic. While many converge on the old mill for a well-dressed Sunday lunch, staff seem quite happy to welcome booted hikers, and we have sat out on the terrace on warmer days for a coffee overlooking the meadow and the woods beyond. Sadly, our meanderings meant we had arrived too late to avail of the full  a la carte menu, something they didn't bother to tell us till they had seated us and left us waiting for drinks and menus for twenty minutes. Meanwhile we watched, with mouths watering, as several dishes, looking and smelling quite superb, arrived at nearby tables. I was sorely tempted, in a fit of disappointed pique fuelled by near starvation, to walk out again after such lackluster service. But we decided to stay, and the 'flammkuch' with ham and bacon on an airy, crispy base (think sophisticated meat lovers pizza) proved an acceptable alternative to hungry hunters. So, we will definitely have to give it another try in the spring, when we head back to visit the Beaufort chateau. And next time I will be sure book in advance!
*Lovely photos care of the One & Only.