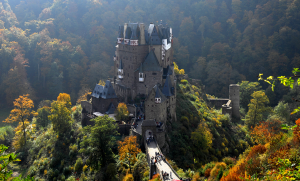 Land of fairy tale beauty, land of the noble Riesling.
Rotund, juicy fruits of a hand-picked harvest
stemming from a soil rich in time and tradition
The chant of an enduring, intoxicating desire that spirals down the centuries…
A deep, broad river of crazy, curling corkscrews
sweeps through the valley, from southern mountains to northern seas;
An exalted river teeming with bosomy barges
and layered river boats laden with tourists.
Half-timbered mediaeval houses
huddle together on cobbled squares,
their old, arthritic walls bending and bowing.
Spindle-thin spires snag the woolly clouds,
Castle ruins perch eagle-high on rocky outcrops
shouldering the weight of history like Atlas.
Tonsured hilltops, wreathed in verdant woodland
approached by narrow lanes that zigzag up the bluff.
Tenacious vines, leafy and lush,
Are laced like corn-row braids,
taut, tight, tidy
up treacherous, majestical, manicured slopes.
Burrowing underground,
like Smaug beneath the mountain,
dank tunnels are lined with the elixir of life,
secreted in oak and and glass and steel:
the crisply vivacious, ethereal Riesling,
of floral notes and zesty palate;
bright, blushing bubbles, courtly crémants
for the most elegant occasions.
a sprinkle of spice, a smidgeon of citrus,
a soupçon of apricot, a pinch of peach and pear
a hint of almond, an aroma of apple
a quixotic, exotic curlicue of quince…
Boutique wineries, masters of the Moselle Valley,
harmonize bouquet and flavour,
terroir and vintage in a bottle…
weaving a spell, orchestrating a symphony.
*With thanks to Google Images for the pretty picture!