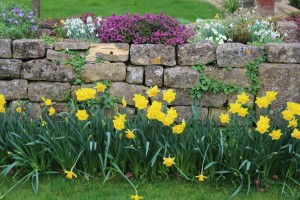 The Cotswolds.  A rural idyll just west of Oxford.  A variable landscape of high, open hilltops, narrow wooded valleys, villages of butterscotch limestone, and dry stone walls edging fields dusted with black faced sheep and their newborn lambs.  Today, in many of the main towns, it feels like wandering through Duty Free at an international airport: all designer labels and expensive souvenirs, coffee shops and gastro pubs. But the walled gardens are beginning to burst into bloom and the cottages still have that heart-warming, skin-tingling chocolate box appeal.
We are there to revisit the town in which we were married, twenty-five years ago.  Much to our delight, little has changed, although the Broadway Hotel, where we held our reception, has experienced a fabulous makeover and is looking a million dollars. With the Cheltenham races in full swing, the surrounding Cotswolds pubs are crammed with punters after dark, but during the day we have the place almost to ourselves. We meander down the High Streets of all our favourite towns – Burford, Boughton-on-the-Water, Broadway – peering into a profusion of art galleries, pottering around churchyards splashed with daffodils and trudging up muddy tracks onto glossy green hills. And of course, we popped into Saint Eadburgha's, the 12th century church in which we were married, out on the Snowshill Road beneath the shadow of the Broadway Tower.
Saint Eadburgha was a great granddaughter of King Alfred the Great, a girl who preferred prayer to play, apparently,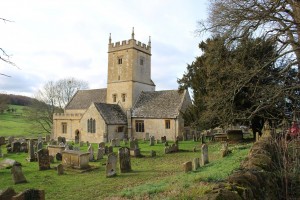 and there seems little else to know of her. Her church survived the 16th century Reformation, but not the earlier Norman invasion, who tore down many a simple Saxon church to replace it with a more sophisticated Romanesque design of rounded arches, square towers, spacious naves and thick Norman columns. However, the font at Saint Eadburgha's Church is a simple stone tub that has been arranged with moss and daffodils for a funeral. Twenty-five years ago, my mother filled it with pussy willow branches she garnered from a neighbouring garden, while a childhood friend played the flute from the 14th century pulpit. My Catholic husband found it a little stark, I think, but I love its simplicity and grace. Again, little has changed: some new wooden pews at the back of the church have replaced the older Victorian ones that were irreparably damaged in a flood ten years ago; a new front door was created using all the original ironwork after a mad arsonist set fire to the 17th century door in 2014. The thick-stoned interior has certainly got no warmer in twenty-five years, when we stood at the altar, mottled with cold.  Outside, under sunny blue skies, the churchyard is bright with daffodils and snow drops sprinkled amongst moss-blurred gravestones. The view, across a narrow stream to the Cotswold hills beyond, is happy and glorious.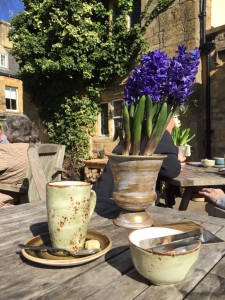 Later in the week, we make our way to the ancient market town of Chipping Camden, nestling into a nook in the hills. Here, we paused to enjoy a quiet moment and a coffee in a pretty walled courtyard full of bees and butterflies, before heading off to follow a sign for Hidcote Manor Gardens.
Arriving early, we saunter, unhindered by the usual deluge of tourists, through acres of beautifully designed gardens, from the casually arranged orchard to the more formal ones lined with topiary and refined garden beds. It soon became clear why Hidcote is considered 'the jewel in the crown' of National Trust properties and has gained horticultural celebrity status in the world of gardening, the epitome of a rural English garden.
Hidcote Manor may be a well-known National Trust property today, but ironically, this iconic English garden in the heart of the Cotswolds was created by a retired army major, born in America, raised in France, and a veteran of the Boer War and, as it transpired, an amateur but inspired horticulturist. Major Lawrence Johnston came to Hidcote in 1907 with his mother, a domineering and lemon-lipped social climber, less than impressed by the sensibilities of her shy and sensitive son. Independently wealthy, Mrs Johnston was keen to transform her only son into a gentleman farmer. Instead, he became a gentleman gardener, transforming the sparse, windswept hillside into a series of luxuriant outdoor 'rooms,' decorated with an impressive display of plants that he gathered during his travels from the Alps to South Africa, to Australia, China and Japan. His collection would bring exotic colours, scents, shapes and textures to the rambling English garden.
Johnstone, displaying innovative brilliance, blended two, then current, horticultural philosophies. Neither entirely structured nor randomly naturalistic, Hidcote was an unconventional 'wild garden in a formal setting,' an unorthodox approach that would quickly become the norm. Four and a half miles of well-groomed hedging divide twenty-eight distinctive gardens, each one displaying a different character, portraying a different mood, exuding a
different atmosphere.
The most breathtaking vision on this early Spring morning is the huge, hot-pink umbrella of the Japanese magnolia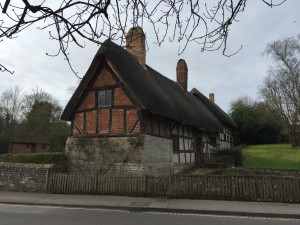 , rising above the garden like a vast sunrise. We stand quietly on a bridge across a tiny stream to admire its gracious presence. Up the slope and through the woods, we find ourselves in a well-stocked orchard, located beside the sprawling kitchen garden and a collection of greenhouses.  One of these takes me straight home to South Australia, as we recognize the scents  the various blooms more commonly found in warmer climes.
Hidcote is both romantic and a touch theatrical, its cosy woodland paths giving way to broad views over the tousled hills towards the Vale of Evesham. It was a joyful end to a  joy-filled week of nostalgia.