"Wouldn't you like to get away?
Sometimes you want to go
Where everybody knows your name,
and they're always glad you came…"
~ Lyrics to Cheers TV show by Gary Portnoy and Judy Hart Angelo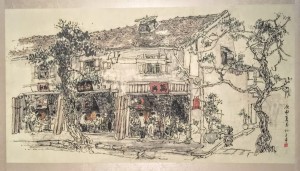 On the spur of the moment, we decided to take a weekend break in Singapore, just because we can.  I love SE Asia for that easy ability to flit about on cheap flights, and spend a weekend exploring a new city. Friday night flights can be a bit of a hassle, as the traffic gums up on EDSA after 4pm and you risk high stress levels and missed flights, but we scooted out early, and somehow it didn't matter that an electrical storm kept us on the tarmac for an hour or two.
Late, but suitably relaxed, after drinking our body weight in gin, we arrived at last, on Singapore's East Coast Road, at a row of traditional old Singaporean shop houses which have recently undergone a makeover. The results are really eye-catching. On the corner of Ceylon street is a pretty little restaurant with awnings and seating on the pavement. Next door, its partner-in-crime, The Trenchard Arms, is gently buzzing with late night drinkers.
We met Richard and Tricia Huggins in Cebu last year, and have since been promising ourselves that we would pop by and check out their pub on East Coast Road as soon as we could. So at last, with a free weekend, we booked a flight, booked a room, warned our hosts we were heading their way, and packed our overnight bags.
Remember the game 'Rock-paper-scissors?' We used to play it in the school yard, and apparently it originated in China. A game for two, each player simultaneously forms one of three shapes with an outstretched hand: "rock" (a simple fist), "paper" (a flat hand), and "scissors" (a fist with index and middle fingers forming a V). Rock beats scissors ("rock crushes scissors") but loses to paper ("paper covers rock") and paper loses to scissors ("scissors cut paper"). If both players choose the same shape, the game is tied. Now there's a new variation: rabbit-carrot-gun. I will leave you to figure it out.
You are doubtless wondering what tangent I am drifting off on, but then you obviously didn't notice the sign over the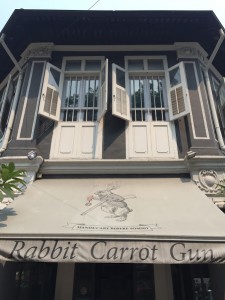 door of the restaurant. The image is apparently a blend of Beatrix Potter's Peter Rabbit meets the White Rabbit in 'Alice in Wonderland,' but it also reminds me of the Wild Huntsman rabbit in the German book of fairy tales, 'Struwwelpeter.'
"Rabbit-Carrot-Gun" is an English bistro-style restaurant serving hearty British dishes and scrumptious brunches. Despite the tropical climate, the braised beef cheek, beef wellington or sausages and mash go down a treat. And, if you have a nostalgic craving for Scotch eggs pork pies or sticky toffee pudding, your wish will be granted,  all served up with a generous dose of good, old fashioned hospitality, where strangers and friends alike are made to feel like honoured guests.
A cool morning breeze on Saturday invited us to settle under the canopy on the pavement for fresh juices, coffee and poached eggs. If you brought small kids or you are British, with a dose of homesickness, you might prefer a nostalgic nursery breakfast of soft boiled eggs with Marmite and toast soldiers to dip into the yolk. Or make it brunch, and enjoy a mimosa or two with a Gamekeeper's Shooting Breakfast or a homemade quiche. I think we tried almost everything on the menu over the weekend, and I didn't find anything lacking – and of course I had to taste everyone's dishes, not just my own. All's fair in love and research! Anything I missed, I may have to head back another day soon…
Above the bar and restaurant there is also a terrific place to stay. The Huggins offer five rooms, available on AirBnB, each one distinctive and full of character, and beautifully cushioned from the hubbub below. The One & Only had booked the Terrace Room, and it was a delight, full of quirky art and antique furniture. With access from a secret door next to The Trenchard Arms, we climbed a steep, dark staircase to find a high double bed draped in dusky pink Laura Ashley style curtains. The black and white tiled, al fresco bathroom is through the double doors and opens onto the terrace – perhaps a little awkward for the neighbours if you choose to take a bath directly in their line of vision, but there is a Roman blind to lower as needed, although that rather spoils the bather's view!
Given our penchant for walking, we were very pleased to find a park along the waterfront, only a ten minute walk from our room, although it did involve climbing up and over a couple of busy main roads. Once we were there, however, it was worth the (minor) trek: wide lawns, huge shady trees, bike tracks and picnic tables, barbecues and beach on a broad strip that runs almost 10km along the coast.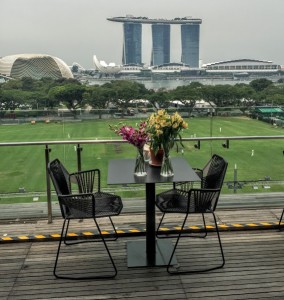 Many of the sights of Singapore are only a short taxi ride away, too. The highlight for us was the National Gallery or Museum of Singapore & South East Asian Arts housed in two restored national monuments, formerly the Supreme Court and City Hall, linked by an outstanding contemporary atrium of glass and metal that includes two foot bridges. From the beautiful roof garden, with its chic bar area, there are simply stunning views over the city with its fascinating mix of creative modern architecture and colonial grace. And we even found some Filipino art done by our own Mr. Luna and Mr. Hidalgo.
So if you are wondering what to do this weekend, head south to East Coast Road, and I bet Richard and Tricia will feel like old friends in just a few, happy hours!
*With thanks, yet again, to the One & Only for his camera work.