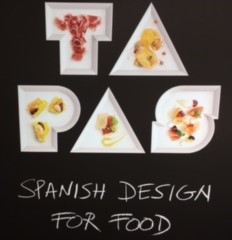 Earlier this year, back home in Manila, the Metropolitan Museum held a fascinating and unusual exhibition. "Tapas: Spanish Design for Food," presented by Accion Cultural Espanola, the Instituto Cervantes Manila and the Spanish Embassy, was a display of food, kitchen implements and dining utensils used by some of the top Spanish restaurants specializing in degustation menus, where food is served up in small, bite-sized portions, like tapas. As pica pica are to the Philippines, so are tapas to the Spanish: small bar snacks or platters served with a glass of wine. Tapas come in all shapes and sizes and prices, from a dish of hot patatas bravas to sizzling slices of chorizo, croquettes to calamares, sardines to slices of jamón. Legends abound on the origin of tapa, but the most commonsensical one suggests that King Alfonso X, known as El Sabio or "The Wise One," wanted to ensure that innkeepers were serving their customers both food and wine to soak up the alcohol and prevent drunk and disorderly behavior.
The Tapas exhibition was an elaborate feast of culinary design with a hearty sprinkle of imagination, quirky humour and whimsy: a foosball table cum dining table; a serving platter in the shape of a painter's palette; some tongue-in-cheek graphic designs on regional wine labels; an aluminium plate that resembled a slice of toast; a fruit bowl made from a recycled net bag for oranges; a ceramic, scented 'madeleine' – the Parisian cake that evoked Proust's childhood memories. I found myself wishing for a 'library' that would lend me an assortment of creative crockery for my next dinner party.
The curator had done a marvelous job of explaining the thought processes and the uses of the various items and implements, explaining that "top flight Spanish cuisine as practiced by elBuli, el Celler de Can Rocca  and Mugaritz… [is] experiencing an international boom in which design has become a constant ally in the quest for development and innovation." I wandered back and forth for ages, each time round noting some fascinating piece I had missed before.
The exhibition went hand in hand with the 2016 edition of Madrid Fusion Manila (MFM). This international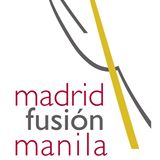 gastronomy congress originated in Madrid, but last year the organizers were persuaded to relocate to Manila. I attended the inaugural event at SMX Convention Centre, and experienced an amazing and novel culinary collaboration between Spain and the Philippines. The conference featured ten Michelin star chefs from Spain and Asia, and ten of our best Filipino chefs in what became "an exhilarating gastronomic conversation between the Philippines and Spain," in which traditional culinary techniques were reinvented and the latest innovations were explored. This year, to celebrate the 450th anniversary of the Galleon Trade that linked Asia with Europe and South America, the conference was entitled 'The Manila Galleon: East Meets West' and the conversation was expanded to include chefs from Peru and Mexico.
One of the guest speakers was Joan Roca who, with his two brothers, has earned 3 Michelin stars for their restaurant el Celler de Can Roca. The MFM website waxed lyrical about this 'lord of the kitchen' and his 'bastion of contemporary cuisine par excellence,' who perfectly combines 'traditional classic cuisine, the food from his region, with the most advanced techniques'. The three brothers have worked together for thirty years, and Joan is quoted as saying We collaborate on everything."  French-English chef Michael Roux OBE has described it as "one of the top restaurants in Europe" and renowned food critic A.A. Gill called it "an outstanding kitchen, and part of the great confident wave of 'technically exhausting' Spanish food." The restaurant was awarded its first Michelin star in 1995, a second in 2002, and the third in 2009. Last year, el Celler de Can Roca was flagged as the world's premier restaurant at the 2015 "World's 50 Best Restaurants Awards," a list compiled by a panel of global industry experts.
Much to my disappointment I was not in Manila in April to attend this year's MFM event, but I was lucky enough to be in Spain this summer, just in time to join some good friends from Manila on their annual pilgrimage to this exceptional restaurant in Girona, just north of Barcelona.
The Roca brothers are Joan, head chef; Josep, sommelier, and Jordi, patisserie chef in charge of desserts. The brothers first opened their restaurant, a joint venture, in 1986, not far from their family's bar and restaurant. Their parents opened the original Can Roca in 1967, and growing up in the restaurant initially sparked the boys interest in cooking. Later, the three brothers would take a five-week trip to North and South America which inspired them to blend the Americas with the Mediterranean. And it was apparent that his trip to the Philippines has also influenced Joan's menu, with glimpses of Filipino ingredients. In a recent interview with the UK's Evening Standard, Joan is quoted as saying "I always take something from the places I visit back to our restaurant, sometimes in a conscious way, sometimes in an unconscious way among the memories."
In 2007 el Celler de Can Roca made a hundred metre journey to its current, purpose built restaurant where modern and traditional concepts are reflected in both the building and the cooking. The kitchen is located on the ground floor of the original old building, the dining room is an alluring blend of space, simplicity and light with glass walls, uncluttered tables and a large, triangular atrium in the centre, filled with angular saplings. Three stones sit on each table to represent the three brothers.
Arriving early, I was able peek into the well-ordered kitchens before the lunch service got too busy. Thirty chefs were quietly working to plate up some of the seven to seventeen dishes on the two degustation menus: Classic or Feast. Joan has an open plan office by the entrance, well-stocked with cookery books, where he can keep a close eye on all the activity. Today, all three brothers were in attendance, so I was able to meet them all, albeit briefly, in the course of the afternoon.
As we settled at our table, our waiter presented us with two encyclopedia sized wine lists, one for red wines, one for white, which left me completely gobsmacked, and wishing I had done some weight lifting practice beforehand. Pages and of red wines, pages of white, primarily Spanish and French, with a slight nod to some of the best New World wines. So, sipping on a cold, crispy cava, we waited with baited breath for the first dish. We had chosen to indulge in the daunting fourteen course menu, 'Feast' although my teenage namesake wisely selected the Classic menu with only seven clourses. Both menus make much use of local ingredients from Catalonia, and Joan introduces some fascinating flavour combinations combined with a strong element of molecular gastronomy and some truly incredible and elegant presentations. I am not exaggerating to say that el Celler de Can Roca is on the cutting edge of scientific, culinary, and creative innovation. It was quite an extraordinary spectacle, in a way that made me think of Dorothy landing in Oz and suddenly her black and white world turned into a technicolour fantasy.
The performance began with a round paper lampshade encasing a miniature hat rack. Well, that's what it looked like. Introduced as a bit of a game, this showstopper was called The World, and included five amuse bouche, each providing flavours from different countries. The game was to identify which five countries were represented. The countries can vary, apparently, but our version was Thailand, Peru, Korea, China and Japan and I am proud to say I got them all right.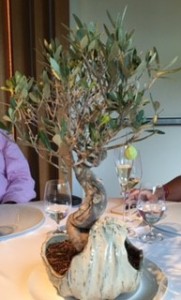 The next course was literally a piece of theatre, in honour of the Rocas favourite bar in the suburbs of Girona. We were presented with a white cardboard stage set, decorated with photographs of the three brothers, with five more amuse bouche laid out on tiny cardboard tables, including a pomelo pink ball that melted on the tongue, and filled our mouths with Campari. It felt like something from Honeydukes, the magical sweet shop in Hogsmeade.
When I was wandering through the kitchens at El Celler, one of the things that caught my eye was a counter covered  in twisted, bonsai, olive trees. A single tree was now brought to the table and placed in the centre. From the knotted branches hung several small olives. Only they weren't olives, but tiny balls of olive ice cream in a creamy green coating similar to that on a Magnum. For some reason it brought to mind song about the Partridge in a Pear Tree.
With every dish there was an unexpected twist, and I enjoyed the focus on eye-catching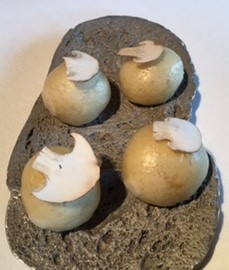 , creative presentation, especially in light of the exhibition in Manila. Three white asparagus tips sprinkled in tiny white elderflowers encircled a dollop of what appeared to be – and tasted like – ice cream but was described on the menu as a ginger and acacia honey hollandaise sauce. Another looked like a small, fat donut or bunt cake on a tactile, matt black plate, but tasted like apple Danish, with an unexpectedly lush base of duck liver. In fact an apple timbale, the apple and foie gras was an immensely satisfying flavour combination. And then, surprise, surprise, the slice of grey toast we had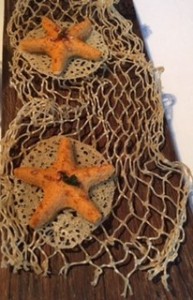 admired in the Metropolitan six weeks earlier appeared in front of us, on which sat four ping pong balls, each topped with a thin slice of mushroom, labelled St. George mushroom brioche and bonbons.
Seafood played a starring role in many of the courses. For example, a fat pink starfish, which turned out to be a delicate and dreamy prawn mousse, arrived on a seaweed wafer, arranged on a strip of fisherman's net.
After a solid run of seafood, a welcome change of pace in the shape of a neat slice of Iberian suckling pig, complete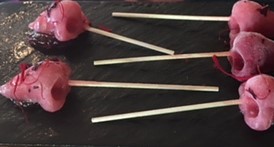 with crackling, accompanied by a tropical salad of green papaya, pomelo, coriander, chilli and lime, a definitive nod to Joan's recent visit to the Philippines. Ridiculously – I had only been away a few weeks –  the familiar flavours made me positively nostalgic. A couple more meat dishes followed, before the unexpected arrival of a platter of red sorbet noses – yes, really – as a palate cleanser before dessert, with a definite aroma and flavour of the Eastern Mediterranean.  Potpourri mixed with Turkish delight? More specifically, rosewater and pistachio. And apparently the model for these large noses is Jordi's own.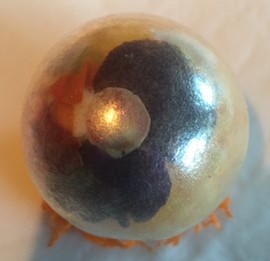 The most interesting of the three desserts that followed was, without a doubt, "Orange colourology." How to describe this is proving difficult, and I am getting no help from the menu which is remarkably lacking on description, so please excuse my somewhat awkward efforts, as I attempt to explain. It looked like a large, single orb of frog spawn, resting on a bed of grated carrot. (I would absolutely adore to know how this was created, but cannot begin to imagine.) The opaque golden globe seemed to be made of sugar, and we were told to crack it like a soft boiled egg, or a miniature piñata. When opened, a confetti of coloured petals – pansies – drifted out, and underneath sat a pile of light and refreshing orange flavoured sorbet balls, a little smaller than the polystyrene balls in a beanbag.
Some four or more hours later, we retired to the lovely outdoor courtyard, to relax under the trees with tiny caste iron pots of tea and dishes of petit fours or mignardises: macarons; almond-shaped financiers; and a glamorous, golden truffle, like a Ferrero Rocher chocolate in an edible gilded coat, all of which we had observed earlier on a dessert trolley that looked like something the Child Catcher in Chitty Chitty Bang Bang would have loved. And our fantasy lunch was over, and we were back in Kansas.