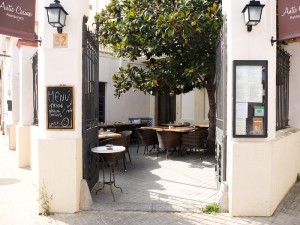 It is a Thursday night in Pals, a small town in Catalonia, just a few miles inland from the Costa Brava in northern Spain. The bar down the road is celebrating its 50th birthday with bunting and beer and cheerful carousing. The street is filled music and laughter, small children and happy people.
On the corner, twenty metres from the revellers and 100 metres up the road from our hotel, there is a corner house with a pretty cobbled courtyard, heavy metal gates, wrought iron railings and a huge magnolia tree. Inside is a cosy, 'pub-ish' restaurant, Antica Casino, cluttered with small tables and comfy chairs. Upstairs there is a series of private rooms with tall, shuttered windows and tiled floors in apricot and grey.  Off one of these rooms is a broad balcony, with room for perhaps a dozen people to sit amongst the rooftops on a balmy summer evening.
Tonight it is not so balmy, and there are huge black storm clouds looming over the Mediterranean. Lightening dives regularly, gleefully at the water. Apart from a very brief, very localized splash of rain, the storm doesn't touch us, but the lightening scarring the sky on the horizon keeps us riveted to the view. We spend a few minutes out on the balcony, admiring the distant storm, before retiring to warmer climes within.
We are six to dinner, tucked into a small room with a large refectory table overlooking the balcony through shuttered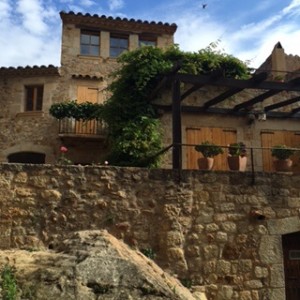 French doors. Energy levels are low. We have just walked through the glorious medieval hilltop town of Pals with its beautiful butter-coloured, roughly hewn stone, fourth century towers and narrow cobbled alleys. In Spanish fashion, and despite the disarmingly bright sky above the town, it is getting late. We need food.
For our friends, summer-time locals, Antica Casino is a regular haunt they have chosen again, and we are happy to follow their lead, despite the visual temptations of some picturesque little cafés and restaurants in the old town. It turns out to be a wise concession.  We settle in with a terrific gin and tonic garnished liberally with juniper berries and lemon. (Tomorrow night, when I drop in for a drink with my daughter, the smiling bar maid will bring the ingredients to a small side table in the courtyard and concoct the G&T in front of us, pouring the tonic theatrically down a cinnamon stick into the glass, which she will then garnish with orange peel and ginger. We will sip it gently under the magnolia tree, decked out in paper lanterns and candle light.)
Now we are hungry and the G&T is put aside while we make some choices about la comida. There are some popular Spanish dishes, and a number of Catalan specialties. We duck and weave indecisively through the menu, only to decide that a selection of tapas dishes is the obvious starting point, and the staff are soon delivering tempting little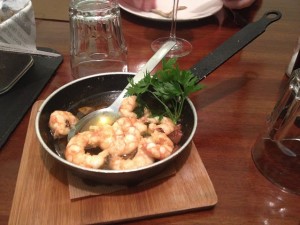 baskets and platters to share. We delve into a box full of fat, round, ham croquettes that are much favoured by our fourteen-year-old friend, and a terracotta dish of firm, plump prawns swimming in garlic butter. A plate of wafer thin tuna carpaccio is dressed with fingernail-sized red radish leaves, ginger and sesame seeds and served with wasabi ice-cream that proves a surprisingly effective combination of taste and texture. A tin lunch box brims with crispy, fried Mediterranean sand eels – sonsos in Catalan – that look and taste like whitebait, especially when liberally doused in lemon juice, and we eat them like shoelace fries. By the handful. My One & Only would have devoured them if he could have been here. Instead Number Two Son and I eat his share. And finally, a dish of crustaceans, baby langoustines, called cigalas: slim prawns with long, crab-like nippers provide little eating and much waste, but sucked out through our teeth, they prove well worth the effort of messy hands and dripping chins. In the blink of an eye all the plates are empty of everything but the detritus of the langoustines. I sit back, replete and satisfied. I would have – should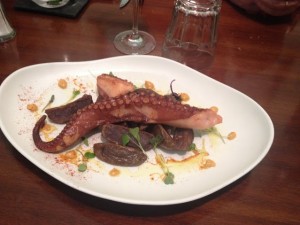 have – happily stopped there, with perhaps just room to share one more dish of garlic prawns. Instead – will I never learn? –   I read through the menu again. Encouraged by our enthusiastic host, I sway between the turbot and the chicken cooked in Guinness. "All is good," mine host insists, and our waiter agrees, but recommends the fish in particular. In the light of my fading appetite I decide una pequeña pieza fish would be perfect. I am subsequently served up with a fillet the size of a house brick, with al dente asparagus and local rice – 'arroz de Pals' – cooked to resemble polenta, but lighter. My neighbour chooses the polpo (octopus), my son a high rise burger with fois gras, and my namesake, her favourite macaroni cheese. All are greeted with delight and hearty appetites.
Our host chooses a local wine from Garriguella in the Empordà region, just forty five minutes north of pals.  The 2012 Finca Malaveina is a single vineyard wine from the Perelada winery, but not a single grape. It is a happy blend of Merlot and Cabernet Sauvignon, Cabernet Franc and Syrah with a 12% splash of Garnatxa Negra, the Spanish name for Grenache. A deep, dark, cherry colour, with plenty of tannin, red fruit flavours and a whisper of balsamic and spice, it is well worth lingering over.
After all that, I had absolutely no room for dessert, but our host chooses to share with his wife what amounts to a deconstructed cheese cake: a squat jam jar two thirds full of whipped Philadelphia cream cheese topped with crushed chocolate chip cookies.
Saying farewell to our lovely friends and the affable, cordial restaurant staff, we wander the short distance home to bed. I would happily visit Pals again, if only for the simple joy of eating under the magnolia tree at Antica Casino. Buon provecho, as they say in Spain.
*Photos care of Google Images, #2 Son and Yours Truly.