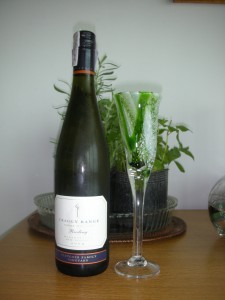 Craggy Range Winery is 'a sometimes contradictory combination of tradition and innovation…art and technology'
'My God! I've bought a desert!'
David Peabody laughs as he remembers his father's initial response to the blind purchase of 110 hectares of old riverbed at Hawkes Bay. These days Gimblett Gravels is one of their key vineyards and is regarded as one of the best vineyards for Bordeaux Reds and Syrah in New Zealand. Craggy Range was established in New Zealand in 1997, a joint venture between Brisbane-based entrepreneurial businessman Terry Peabody and New Zealand's first Master of Wine, Steve Smith.
Terry's younger son David has been based in Manila for almost twenty years. As a Director of Craggy Range Vineyards Ltd., he oversees the Philippines market. Earlier this year his parents Terry and Mary and his sister Mary-Jeanne dropped in for a visit. David took the opportunity to organize a memorable dinner at the Peninsula Hotel, in order to introduce local wine lovers to Craggy Range Wines.
We were greeted at the door with glasses of 2008 Marlborough Riesling from the south island, to accompany some tasty canapés provided by the Peninsula kitchens. Each course had been carefully chosen to match specific wines from the Craggy Range selection, and the dinner was interspersed with short, informative, sorbet-like speeches from chairman and owner Terry Peabody and his daughter, Mary-Jeanne.
By the time Terry Peabody purchased Gimblett Gravels he had already established an eclectic portfolio of businesses, which included thirty years' experience in restaurant management in Canada and Queensland. The idea of a winery had first been mooted by his wife Mary and his daughter Mary-Jeanne several years previously, with the aim of creating a family legacy. The women eventually persuaded Terry Senior to take their idea seriously. Terry and Mary then spent ten years travelling through France and Spain, Australia and the US to find the perfect place to develop top-end, single-vineyard wines to compete with the best in the world. According to David, they eventually 'fell in love with the idea of New Zealand,' and Terry says they have never looked back. Gimblett Gravels was their first vineyard, and is where the Chardonnay, Syrah, and Bordeaux style wines are produced. Their second primary vineyard, Te Muna Road, is a 130 hectare vineyard located in Martinbrough where the majority of their Sauvignon Blanc, Riesling and Pinot Noir wines are produced. Today, there is also a number of smaller vineyards scattered across the north and south islands.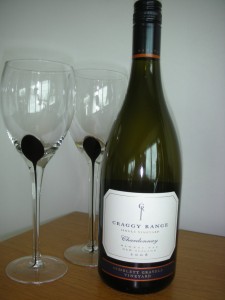 Our first taste of a Gimblett Gravels wine was the 2008 Chardonnay, which is aged in French oak. It shared the limelight with a delicate 2010 Sauvignon Blanc from Te Muna Road Vineyard in Martinborough, a classic cool climate vineyard, and accompanied our entrée, an artistic and tasty arrangement of Arctic sea scallops, smoked black cod and duck foie gras served with a deep red, berry compote.
With vineyards acquired and vines planted, the team set to work designing the buildings with the professional help of architect John Blair and designer Pamela Brown. David says the whole family joined in at every stage of development. Winemaking headquarters were built on Highway 50 and named, aptly, State Highway 50 winery or SH50. Another site was bought at the base of Te Mata Peak (The Sleeping Giant) at Hawkes Bay, and here the foundations were laid for Giants Winery, to include the Cellar Door, the Terroir restaurant, three cellars,  two self-catering guest cottages, offices and three private houses. These take their inspiration from the farm buildings of New Zealand and Bordeaux, and have been encircled by lakes, grapes and green lawns. As David reminds me, if you can 'bring someone once to your winery, you have them for life.' Of course it is not only the beauty of the winery that attracts visitors. The Craggy Range Wines play their part too!
In between courses, a melon sherbet cleansed the palate to prepare us for a rich main course of luscious Angus beef tenderloin and slow-cooked duck breast. These were served with red cabbage, sautéed mushrooms and truffled potato mousseline, and were accompanied by a complex 2009 Pinot Noir, again from the Te Muna Road Vineyard, and one of their Prestige range of wines, a succulent 2008 'Le Sol' Syrah from Gimblett Gravels.
A fellow founder and shareholder of Craggy Range, Steve Smith is the company's Director of Wine and Viticulture Specialist. In 1996 he achieved the prestigious Master of Wine qualification, considered to be one of the highest standards of professional knowledge in the wine industry. He has created two distinct Craggy Range collections: the Vineyard Designated Collection and the limited Prestige Collection. For both ranges, the priority is matching grape varieties with individual terroir. In his wine-making, Smith combines a deep respect for heritage and tradition with an eager interest in innovative technology.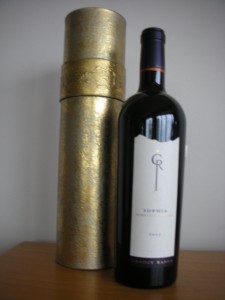 To chaperone a sophisticated cheese platter comes 'Sophia.' Also from the Prestige Collection, 'Sophia' is the company's flagship wine: a provocative Bourdeaux-style merlot blend that gave its name to David's exhuberant two year old daughter. The cheese platter consists of a rich, caramelized goat cheese on fruit bread; a piquant gorgonzola on brioche and a drippingly creamy brie served on compressed watermelon.
I asked David about wine awards, but he says firmly that they generally stay away from wine shows.  Craggy Range is 'less about competitions and more about becoming an icon,' he tells me, 'to be enjoyed with meals.'
The penultimate course was an Interpretative dessert of tangy citrus fruits that were beautifully matched to the superb Fletcher Family Vineyard's 2008 Noble Riesling. An assortment of bite-sized desserts, temptingly labeled 'mignardises' (a lovely new word I shall use often), was served with coffee, which brought the evening's delectable feast to an end.
David Peabody says  'it's the hardest business we've ever been involved in, and the nicest business we've ever been involved in.'
I, for one, will happily raise a glass to their continuing involvement in the wine industry. Cheers!
http://www.craggyrange.com
In Manila, Wurtenburg's are the sole distributor of Craggy Range through their retail outlet Santis. Located at Alabang, Forbes Park, Ortigas,Quezon City, Rockwell, San Antonio Village and San Juan.