"Of all our senses, taste, such as Nature has created it, remains the one which…gives us the maximum of delight."  ~ Brillat-Savarin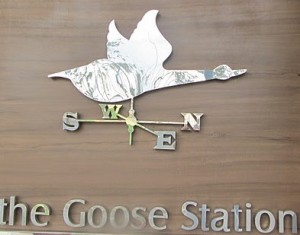 Last month I had the joy of meeting Rob & Sunshine Pengson at Madrid Fusion Manila (MFM). Rob's presentation about his role in developing Philippine cuisine and the innovative, ingenious, inspiration behind their showcase Rizal menu was utterly beguiling. Translating cultural narrative into food? I realized that a visit to The Goose Station was long overdue.
The Goose Station was established in the Fort almost as soon as Bonifacio Global City began developing in 2009 (a  new city for a new cuisine?),  the name a satisfying play on 'degustation.'  At that time, the neighbourhood was largely open grassland. Today the area is swaddled in netting and scaffolding as new buildings rise up almost daily. With ever-changing landmarks, it took a couple of laps before we unexpectedly rounded a corner and spotted the distinctive Goose Station sign with relief. Once inside, we were instantly impressed by the décor. Elegantly intimate, there is plenty of dark wood, a barn-like ceiling of raw beams art and a huge mirror to aggrandize the diminutive dining room. We were taken to a table right in front of the kitchen. This is open to watching diners through a long, narrow serving hatch, framed by attractive wooden shelving stacked haphazardly with a variety of coffee table cook books and ornamental geese. (One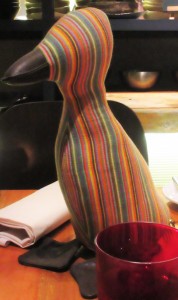 looked more like a penguin, but hey ho, he was friendly enough to pose on our table for photos.) We were comfortable, relaxed, and well looked after by a professional and unobtrusive team of waiters. The scene was set.
When the Goose Station first opened, the menu leaned heavily towards French cuisine. Today, the Pengsons theme is "anything goes": a cosmopolitan kitchen influenced by tastes and techniques from China, Japan and the Philippines, France, Italy and Spain and even Australia. Unfortunately they are no longer featuring the showcase Rizal menu Rob described so bewitchingly at MFM. Nonetheless, by the time our friends arrived through Friday night traffic, we had delved deeply into the new menu, and were wondering where to begin on a menu over-flowing with tantalizing dishes.
I was sorely tempted by the scallops on the à la carte menu, but Rob kindly let us tweak the tasting menu a tiny bit and there was general delight with everything that arrived on the table. I am a natural grazer, so dining on a banquet of canapés suited me down to the ground. Typically hobbit-sized, small tasting serves never seem enough, yet eight dishes later, we came away amply satisfied. We also found that everyone simultaneously pressed the pause button on the conversation, to ensure that we were truly focused on the food – exactly as it should be when 'degustation' means to taste with relish, to savour. Above all, the whole experience was really good fun. So would you like to follow me vicariously through the menu? I promise it will be worth it.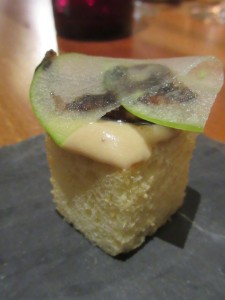 Our first amuse bouche was literally a mouthful: foie gras mousse served on unagi toast and topped with a wafer thin slice of apple.  Unagi is Japanese for freshwater eel. A common ingredient in Japanese cooking, Pengson used it to flavour the spongy, lightly toasted bread.  With an added raindrop of seaweed oil, the delicate flavours of salt and sea contrasted merrily with the rich earthiness of the goose liver.
The second dish could equally well have served as dessert. The generous serve of crab and caviar parfait arrived in a glass dish settled on a bed of grey pebbles. Thick and velvety as pannacotta, and just as smooth, it was interwoven with the subtle flavours of white asparagus, sea urchin – the foie gras of the Philippines – and yuzu, a sour, yellow citrus fruit like a small, wrinkled grapefruit, second cousin to the kaffir lime, visiting from East Asia. The crab meat topping was so fresh it could have walked out of the waves and onto our plates. The sea urchin, of which I have always been rather wary, tonight found a new admirer.
The next to arrive at the feast was a smoky oyster tempura served in a beautiful shallow shell, like a pearl, and topped with a maple-bacon marmalade. I am fascinated by this north American product, notorious in the Philippines now, and happy to be blended into cupcakes, swirled through ice-cream, poured on pancakes or served with fried eggs. The tempura batter was unexpectedly dark and heavy – we were reminded more of Indian samosas than light, crunchy Japanese tempura – but enjoyed it nonetheless, the batter providing a gentle crunch to accompany the soft, warm,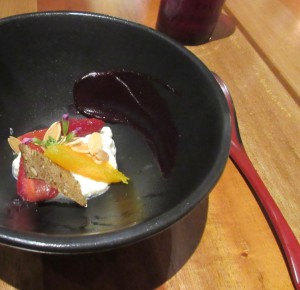 moist oyster.
The deconstructed burrata salad that followed was both colourful and entertaining. The prima donna of this dish was, of course, the burrata, a fresh Italian cheese made from mozzarella and cream, unusually soft and smooth, almost a curd. Like Carmen Miranda, it was bedecked in cherry tomatoes, the most beautifully ripe and luscious strawberries orange and walnuts, with a feathery spray of bright purple sorrel flower. Like a paint palette, the side of the deep black bowl was smeared with a bloody streak of beetroot gel, through which I ran a spoonful of burrata to delightful effect.
Our solitary but jumbo-sized scallop came in one of those roughly attractive Pinatubo pottery bowls, glazed with volcanic ash. Sweet potato and an apple and pear coleslaw added sweet and tart to the firm, ever-so-slightly salty scallop, which was large enough to share out in nibble-sized pieces.
On a square, matt-black slate tile lay a soft, round tortilla, on which sunbathed three squares of fried pork belly, seasoned with cilantro, hoisin sauce and cucumber: a moreish Filipino version of the popular Peking duck pancakes.

Wrapped up, it was easily devoured in three mouthfuls, comfort food at its finest.
Our final savoury dish was a simple but truly cosmopolitan combination of English mash, Aussie-grown Japanese-style wagyu beef and a sprinkling of dehydrated caviar powder (looking like pepper but tasting salty), a kind donation from one of the Spanish chefs who dropped in last week for MFM.  Perfectly cooked in a bag, then grilled, our knives cut through the thick chunks of beef as if they were butter, and the meat was tender as the night.
Let's have a break before dessert, and have a quick glance at the backdrop to this captivating menu. In the nineteenth century, Georges Auguste Escoffier took that sophisticated, somewhat pretentious French cuisine. He simplified its techniques, modernized its traditions and made it accessible to the world. Rob and Sunshine Pengson have taken a simple, home-based comfort-food cooking style into the realms of fine dining, likewise creating a modern, internationally accessible Philippine cuisine, to be appreciated by those of us who did not grow up with adobe, kinilaw and sinigang. They have managed to enhance the traditional, familiar flavours – the gustatory memory – of the Philippines, at the same time highlighting the fact that Philippine cuisine is a fusion of Filipino, Chinese, Spanish, Japanese and American influences thanks to a long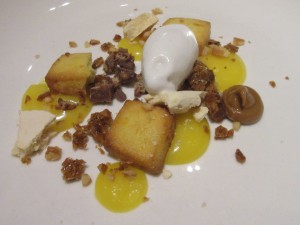 colonial heritage. And they have made eating a fascinating adventure.
The last mouthful was a surprising, refreshing, deconstructed calamansi tart. Reminiscent of the lemon meringue pie, it consisted of a pastiche of tastes and textures: from the small shards of softly melting honeycomb to the crunch of tiny pilli nuts: from the ice-cold, creamy coconut sorbet to the puddles of tart calamansi curd, with just enough sweetness to finish the evening on a high note… and the realization that, like Winston Churchill, "my tastes are simple: I am easily satisfied with the best."