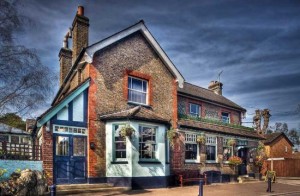 The Victoria is a glorious little boutique hotel tucked away down the narrow suburban streets of West Temple Sheen, just the other side of Richmond Park in London. Obediently, we followed our GPS off the motorway and onto the not-so-beaten-track. I was beginning to think we must have typed in the wrong address, when sure enough, after rounding a tight bend, squeezing between parked cars like Harry Potter's night bus, and reversing out of the way of a large, on-coming van, we finally spotted this jewel hiding down a leafy lane.
Having just flown in from the Philippines on a direct, fifteen hour flight, we arrived with relief, bleary-eyed and feeling a little claggy, to an enthusiastic welcome from both the reception staff and old friends who were meeting us for dinner.
And what a dinner it proved to be! I had discovered this red brick Victorian inn at the last minute on booking.com, and it fitted the bill for price and convenience. It was only later I realized that The Victoria is a top-notch gastro pub, owned and managed by restaurateur Greg Bellamy and British media chef Paul Merrett, who has been adorned with a Michelin star twice for his fine efforts in the kitchen. Together, these creative gentlemen have earned their restaurant an illustrious reputation in the Hardens London Restaurant Guide 2013, where it was voted second best modern British restaurant under £50. And we were unexpectedly delighted to find such excellent food at such a reasonable price.
The Victoria was built sometime around 1845 and registered as a public house a decade later. At that time the neighbourhood apparently consisted of three large estates, and the pub was mostly frequented by the butlers, footmen and coachmen from those landed houses.
Today, the Victoria has been almost submerged in suburbia, the 'local' half way down the street. There is a cosy bar filled with an eclectic collection of sofas and armchairs and rustic tables, a pretty shady courtyard and a large conservatory dining room, as well as seven bedrooms tucked quietly away behind the bar and kitchens.
The current owners discovered the pub in 2007, and restored the bar area to its original glory. It is delightfully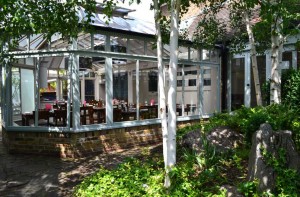 traditional with snug nooks and crannies, and a warm and friendly staff. And for a relaxed family meal, we gathered in the comfortable conservatory dappled in green by the leafy, overhanging trees outside.
Then we shrugged off jetlag, and settled down to catch up on years of news with the aid of a bottle of wine and a delicious dinner. Unfortunately we had missed out on the special Sunday slow roasted belly of Dingley Dell pork, Bramley apple sauce, but I have read rave reviews about it, so I will need to go back. I was more than happy with my chargrilled lemon and thyme chicken, however, served with heirloom tomatoes (real tomatoes with real flavour) and buffalo mozzarella which was served on a wooden chopping board. It's been done before, but somehow it didn't seem self-consciously trendy, just rustic and homely.
A child's serve of fish and chips for our young twelve year old was a great success, and our wine was so good we forgot to stop at one glass each. My teenager loved his rib eye steak and his first experience of 'thrice-cooked chips.
The buffet breakfast next morning in the conservatory was beautifully laid out and really tasty. I do like the notion of cutting your own bread from a hearty, freshly baked loaf, and the fruit, ripe and juicy, the designer yogurts, meats, cheeses and fresh pastries were delicious. (A cooked breakfast was an optional extra, if you fancied a 'very full English breakfast'.)  I particularly liked the freedom to carry my coffee, hot and strong, out into the garden, to sit beneath the trees in the morning sun.
A few things to bear in mind. It was lucky we had a car, as the hotel is quite a walk from public transport, especially when lugging a suitcase. We got a special deal on Sunday night accommodation, but we felt the rest of the week was considerably more expensive. Many reviews say how quiet it is, and the hotel itself has a very calming atmosphere, however, on a hot summer night, with the window open, the Heathrow air traffic can be surprisingly invasive. And why do English hotels all have heavy duvets on the beds even in the middle of summer? Otherwise the room was clean and comfortable, and we were sad to leave so soon. I hope we'll be back.
*With thanks to Google images for the photographs.