Bill Bryson once wrote "Where once we created civilizations, now we create shopping malls."
Nowhere is this more apparent than in Metro Manila, where new shopping malls seem to pop up daily, and like the Once-ler they 'are figuring on biggering and biggering' (Dr. Zeus, The Lorax). Creating malls seems to have become a national passtime in the Philippines, and a global mania over the last century. Yes, I am exaggerating, but only a little.The old-fashioned high street with its individual butcher, baker and candlestick maker has been replaced with increasingly enormous enclosed malls full of franchised diners, cinemas, coffee shops, bookshops, skating rinks, department stores, designer shops and bowling alleys. Indeed the mall has become as much a social and entertainment venue as a shopping centre, shut off from the bother of weather, be it either too wet, too hot or too snowy for outdoor activities. In Manila, you might even find a chapel amongst the stores, at Greenbelt, for example, where the open-air dome sits quietly in the centre of the park, encircled by no less than five malls, both indoor and outdoor.
The first shopping mall in Metro Manila was Crystal Arcade, an art deco building designed by Andres Luna de San Pedro y Pardo de Tavera and opened in 1932 on Escolta Street in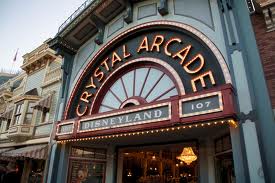 Binondo. The first modern shopping mall arrived in Quezon City in 1976, and since then Manila seems to have gone mad for malls.
I loathe shopping, so, despite sympathizing with Mr. Brown's sense of irony and his underlying aversion to malls, I am not totally averse to having everything I need in a one-stop mall. Get it done and get out has always been my motto. And why walk yourself into a melting puddle of perspiration dashing between street front shops, with the added bonus of choking on black jeepney fumes when you can lose yourself for days down the walkways of the ever-expanding Glorietta in Makati, the SM Megamall in Ortigas or the vast acres of SM Mall of Asia at Manila Bay instead.
One of the latest additions to the local landscape is SM Aura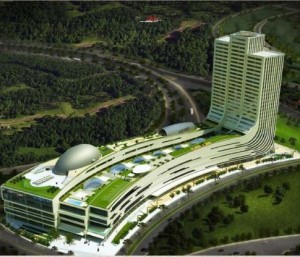 in Bonifacio Global City, an upmarket mall overshadowing the older, more down-to-earth Market! Market! (so good we named it twice?), with its air-conditioned market and its outdoor, covered fruit and flower market. Described on its website as being 'at the forefront of sustainable design and energy efficiency; actively taking bold steps towards a cleaner and better environment for the future' SM Aura truly stands out with its futuristic design. Supermalls have become an addiction for SM – or Shoe Mart – who now has almost fifty shopping malls in the Philippines, and branches in China as well. Starting out in 1958 as a simple shoe store owned by businessman Henry See, it became a chain in the 60s. By the 1970s, Shoemart had changed its name to SM with a full-line department store. The first SM supermall opened in 1985 in Quezon City. SM Malls have since become an empire.
Our own Power Plant Mall at Rockwell is one of the cozier malls in Manila, which suits me down to the ground. While the endless, winding queues and the snail-like pace of the cashiers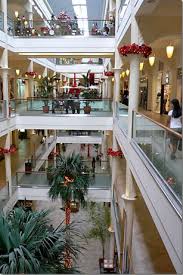 drives me mad, I have learned to duck down early and get everything done before business really gets started. Well, early in Filipino terms, where malls don't open till 11am and stay open till 10pm! I guess the shoppers amongst you think I am missing the point, but it works for me. That way, I maintain my equilibrium, and some poor defenseless shop assistant doesn't have to tolerate me grumping because I can't handle the crush. An added bonus if you live at Rockwell: the staff provide a door-to-door delivery service, by pushing your trolley all the way home.
Dashing over to Rustan's supermarket on a frantic Sunday, I found the mall choc-a-block with families who meet for church in the fourth floor chapel, followed by a family lunch in one of the plethora of restaurants, and maybe a trip for the ladies to Dashing Divas for a manicure.  I had left it too late again! I finally arrived with my trolley in front of a sweetly smiling cashier. Swallowing my Scrooge-like ill-humour, I reminded myself that she was only doing her job, and it was hardly her fault I don't like crowds. We had quite a chatty, friendly exchange as she slowly sorted through my shopping. Thank you so much, I said, for once sincerely, and leaned forward to read her name tag. "Dimple." I couldn't have said it out loud without giggling, but I smiled all the way home.
*With thanks to Google images