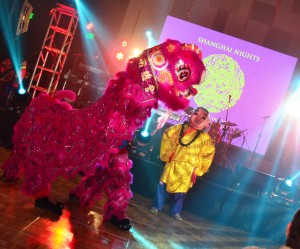 Tickets had sold out before Christmas – an unprecedented occurence even for an event as popular as the ANZA Ball, and it was obvious on the night that everyone had high expectations of a great evening's entertainment.
As usual, everyone threw themselves wholeheartedly into the fun of dressing up to the theme. As we arrived at the top of the staircase, the ceiling was bedecked in Chinese lanterns, while the foyer buzzed with women in brightly colored cheongsam –  those stylish, tight-fitting satin dresses made fashionable by the upper class socialites of Shangai's glory days in the 1920s – and the fellas looked equally smart, either in dinner jackets or changshan, the long Chinese silk embroidered jackets for men. But who was the Scot in a kilt..?
Welcome drinks set the tone for a happy night, and we were  summoned to the ballroom by the sound of a huge gong struck by our Australian Ambassador to announce the opening of the Ball. The walls of the Ballroom were decorated with large Chinese gobos and we were entertained by a talented troop of teenage dancers from the Philippine Ling Nam Athletic Association playing cymbals and drums or costumed as either  shaggy lions, laughing Buddhas or as part of a seventy foot Chinese dragon, .
Past President Bonnie Beach, heavily disguised as Dr. Sum Ting Wong, and our ANZA News editor Kathryn Foster as the elusive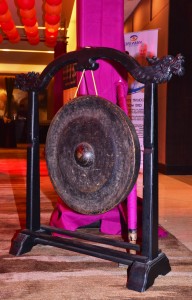 Madam X – and looking most elegant in an azure cheongsam, I might add – later took centre stage as Masters of Ceremonies. (And rumour has it our dear editor was very pleased to be allowed to wear a pretty dress this year, rather than last year's elf costume!)
Thanks must go to Kings School for their generous sponsorship, and to all those who so kindly donated to the raffle and silent auction prizes, with which ANZA was able to raise thousands of pesos for ECPAT Philippines, a non-government organization that supports victims of child trafficking. A short film about the organization had everyone gasping at the frightening figures on child prostitution in Asia. It was a sharp dose of reality to skew the focus of an otherwise glamorous evening, and remind us all of how incredibly lucky we are.
Local band Authority returned for a hat-trick, and had everyone up on the dance floor like greased lightning when they opened with a Midnight Oil cover song, "Beds are Burning." Other Aussie hits were interspersed with international favourites and, given the opportunity, we would have danced all night…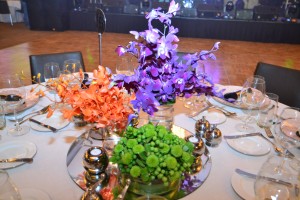 The New World staff provided great service, and the meal lived up to last year's delicious offering. The cream of mushroom soup was piping hot when it reached the table –  surely a first in event catering?  – and I loved my steak with ube mash. The pan-fried salmon looked equally tasty, but I was very sorry not to finish a rather scrumptious-looking dessert before the music called us to the dance floor, as it had vanished by the time I returned. I would only recommend, for the sake of our poor heads, that next year they keep full jugs of water on the table throughout the evening – and leave the local rhum locked in the cupboard.
So, I would like to raise a glass to the Ball Committee for their usual 200% effort to make the Ball quite perfect,  and I think I can safely say I am not the only one already looking forward to next year!
* ANZA = Australia New Zealand Association.         Adapted from an article first published in ANZA News, March 2014.