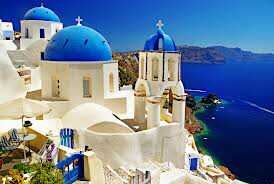 The mere mention of Greece conjures up images of small fishing boats on sapphire blue sea, golden sand, bright, white, flat-topped houses baking in the red hot sun, and luscious displays of fruit and vegetables on quayside market stalls: a rainbow of vibrant, living colour.
Over the centuries Greek cuisine has been heavily influenced by the cross-pollination of cultures and crops, recipes and ingredients from Africa, Arabia, and the Mediterranean. The Ancient Greeks had three main staples: wheat, olives and grapes. As trade developed, spices were introduced from North Africa and the Middle East, while a wide variety of fruit and vegetables were shared around Mediterranean shores, until every Mediterranean cuisine became a mélange of cooking styles and ingredients, while still maintaining its own distinct flavours.
Blessed with a warm, dry Mediterranean climate, Greece never has a shortage of fresh, quality vegetables, pulses, fruits and nuts that form a fundamental part of Greek cuisine. As an archipelago, Greece also has an abundance of seafood, served fresh, or preserved in salt or olive oil.  Meat is generally used only for feast days. An arid, rocky terrain means meager grazing for farm animals, which are often working animals too, so meat can be lean and tough. To ensure it is tender enough to eat can involve hours of cooking.
Quintessential Greek cuisine, therefore, is fresh, simple food, cooked with love and respect, high in nutritional value, and low in animal fat. "Why interfere with what nature has perfected?" seems to be the national culinary philosophy. With such a cornucopia of quality ingredients, combined with a simple cooking style – and a lot of olive oil – Greek cuisine is considered to be one of the healthiest in the world.
So what makes Greek cuisine so healthy?
Firstly, there is the predominance of olive oil in the diet. High in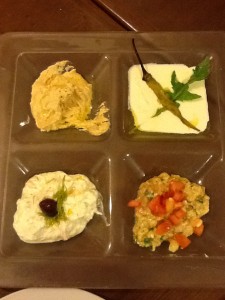 mono-unsaturated fats, olive oil is the perfect medicine for reducing high cholesterol levels and keep heart disease at bay. It is also full of Vitamin E and antioxidants. All these benefits add up to a healthier, longer life.
Secondly, there is a high consumption of fiber in the Greek diet: eggplant and artichokes, chick peas and garbanzo beans, nuts, dried fruits, whole wheat breads, rice and pasta appear regularly on the dining table.
Thirdly, Greek cooking uses dairy and meat only sparingly.
Lastly, the Greeks include one magic element, often undervalued in our busy lives: the belief that dining should be a relaxed, family time and meals should be thoroughly savoured.
All these benefits have resulted in Greece being included in the Blue Zone: those regions identified by experts as promising a longer, healthier life.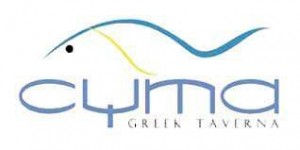 Filipino chef and entrepreneur, Robby Goco, owns Cyma, an authentic and popular Greek restaurant in Greenbelt 2. Chef Robby trained at the California Culinary Academy in the early-mid 90s. In 2000 he went on a pilgrimage to Greece, where he immersed himself in the language, the culture and the cuisine. Then he came home to the Philippines, determined to create an authentic Greek restaurant. Chef Robby opened his first Greek restaurant in Borocay. Cyma means 'to flourish' in Greek, and Chef Robby's restaurants have done just that, evolving into a chain of eight restaurants across the Philippines and Metro Manila. He also owns 'Charlie's Grind & Grill' and Rockwell's Mexican restaurant 'Achiote'. He runs them all with a firm hand on the tiller, keen to build an empire that includes top quality chefs and top notch service. He even encourages his waiting staff to taste everything on the menu, so they can describe every dish from first-hand knowledge.
So what appealed to him about Greek cuisine, I ask. First and foremost, he says, he loves the parallels between Greece and the Philippines. Both countries are archipelagos, where no one lives more than 100km from the sea, so there is a common emphasis on seafood. Also, he says, both the Greeks and the Filipinos prefer their meat overdone, neither likes their food rare or al dente. 'No blood is the rule of thumb!' he laughs. 'For us, meat needs to be cooked inside out,' he explains, 'not seared on the outside and raw in the middle.' His advice is to cook it and then cook it again. 'Cook it to oblivion,' he laughs.
Chef Robby adheres to a strong belief in honest cooking. 'Integrity on a plate,' he calls it. The secret of Greek cuisine is to use the best quality, freshest ingredients possible, 'and then you will never mess up!' He wants his customers to taste the true flavours of the ingredients, without masking them in heavy sauces. 'Filipinos love complicating stuff,' he explains, 'they get distracted.' For Chef Robby, the essence of Greek cuisine is its perfect simplicity. 'The less you process the food, the better it is,' he states firmly.
Chef Robby agrees that sourcing quality ingredients can be difficult in the Philippines, but insists that fresh is best. There are only five basic ingredients required to begin, and they are easily found in the Philippines: lemon, extra virgin olive oil, oregano, salt and pepper. From these foundations, he advises, just add the freshest ingredients you can find, and don't worry if they are not typically Greek, the effect will still be pure and authentic, and true to Greek culinary heritage.
'I am not a big fan of fusion,' he says, 'for me, it is confusing.'
In his own restaurants he keeps the faith by producing as many traditional dishes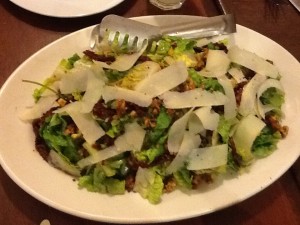 as possible, but he is always happy to create dishes that reflect the essence of Greek cuisine, but have been ever-so-slightly indigenized. To prove his point, he brings out the popular Roka Salata made of fresh arugula (ROKA), chopped romaine lettuce, sun-dried tomatoes, candied walnuts, sundried tomatoes and shavings of Parmigiano Reggiano. The traditional Greek dressing is a little too sweet for my tastes, but nonetheless I almost lick the plate clean! Robby enthusiastically shared several of his favourite dishes with us, including my favourite Lamb Yiouvetsi, finishing up with the simple, sweet and healthy Yiouerti Mi Meli, or homemade Greek yoghurt with honey and pistachios.
Recently, I took some friends for lunch at Cyma. We started with a tasting platter of five dips and pita bread while we read through the menu. Tzatziki  is the classic Greek dip of cucumber, garlic and greek yogurt, cooling and creamy. Melitzanosalata is a Greek version of the Middle Eastern baba ganoush, a dip of roasted and mashed eggplant, tomatoes, garlic and fresh lemon, without that strong smoky flavour. The ever-popular hummus – chickpea, tahini and garlic – is actually another traditional Middle Eastern dish that has wandered around the Mediterranean to Greece. Htipiti is made from creamed feta cheese flavoured with roasted spicy peppers and the ever-present EVOO, its milder flavours a firm favourite with the kids. And finally, taramosalata, a truly Greek, pink dip, traditionally made from taramas – salted and cured cod roe – mixed with bread crumbs, lemon juice, vinegar and olive oil. Sadly, the chef has been a little heavy handed with the vinegar. Usually my favourite, today it takes a back seat to the fresh and zesty melitzanosalata.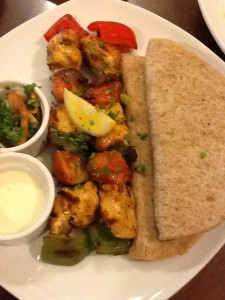 Lamb Yiouvetsi is a large, shared dish of orzo (rice-shaped pasta) served with baked lamb. While the quality of the lamb could have been improved (there was very little meat and a lot of fat), this is usually a really tasty dish. The Greek Phyllo pies are always fabulous. On a good day (go early) you can get a sample platter of them all: Spanakopita (spinach, leeks and feta), Prassopita (onions, leeks and feta), Tiropita (feta, Greek béchamel and kefalotiri cheese, and Kreatopita (ground pork and ground beef with béchamel sauce and sliced tomatoes). My favourite today, however, were the chicken Shish-Kabobs, made from mouthwatering chunks of quality chicken, fresh tomatoes and capsicum slices grilled together on satay sticks and served with pita bread, a small parsley salad and a garlicky yogurt sauce. No room for dessert now, but I'll be back…
Check out the full extent of Cyma's menu on http://www.cymarestaurants.com
*Adapted from an article published in HealthToday magazine, April 2013. Thanks to Google images for the photo of Greek rooftops.