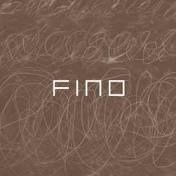 A long, dark  drive through Friday night traffic on a mid-winter evening found us forty minutes from the Adelaide CBD in the small Fleurieu Peninsula town of Willunga, renowned for its weekend farmer's market, and home to a diminutive, unassuming, but acclaimed restaurant called Fino.
Fino has graced the stage as Best Regional Restaurant in South Australia in 2009, 2010, 2012 and 2013. It has won Gourmet Traveller's award for Best Small Wine List three years in a row, and another for outstanding use of regional produce. Our Friend in the Know (FK) claims it is his favourite restaurant in South Australia, so we were very keen to see if it lived up to his expectations.
While our FK advised that a lazy Sunday lunch at Fino is the finest way to appreciate this much touted restaurant, we thoroughly enjoyed the quiet, almost private meal we had there last week, tucked into a cosy corner of dining room, with a view in one direction through the arched window into the kitchen and another out through the French doors to the garden and what seemed to be a large rosemary hedge. Furniture is plain and functional, and the décor is equally simple and unpretentious.  Our welcome was warm and enthusiastic and we were offered a table for six, although we were only four, for extra elbow room. Fino provides two menus: a shorter one on which all the dishes are designed to be shared, and a longer a la carte menu.
The meals themselves are as quietly unassuming as the restaurant: with a  minimum of fuss and flummery, each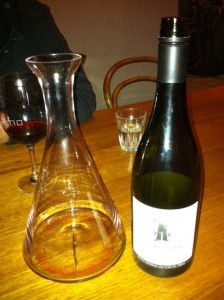 dish was elegantly and simply presented with abundant seasonal vegetables. To get us started a platter of sour dough bread and olive oil was prepared at the serving table beside us, and kept us happy dipping and chewing until the first entrée arrived: poached veal from neighbouring Mount Compass, served with anchovy mayonnaise and green beans. I hate to start on a flat note, but the One & Only agreed with me later that this dish was our least favourite. The veal, only lightly flavoured and cold, was overwhelmed by the anchovy mayo (admittedly never my favourite flavour) so the veal ended up tasting like fish.
The following course, however, won greater acclaim, to the point that I even attempted to reproduce it at a family barbecue the following day. As a huge fan of Brussels sprouts, these were served, steamed and al dente, with melted chèvre, shallots and preserved lemon stirred through them: absolutely delicious winter fare.
A lightly fried Coorong mullet appeared next, with cavalo nero, (a dark green Italian kale or cabbage) fennel and amaranth (a delicate seasonal herb), and this also went down a treat. The mullet skin was satisfyingly crispy, the flesh of the mullet light but flavourful, the accompanying greens adding texture and substance without drowning the flavour of the fish.
The Inman Valley Chicken with a rémoulade of celeriac and horseradish was a little lacking in exuberance for my tastes, but the slow cooked Berkshire pork shoulder served with cannellini beans and glazed chestnuts was a fitting finale of full, earthy flavours and mouth-filling, satisfying textures.   
I have noticed several restaurants lately remarking on the fact that they were specifically serving 'Berkshire Pork'. Unfamiliar with this breed, I went looking for more information. Apparently the Berkshire pig is a rare, but highly regarded English breed of heritage pig, prized for its juiciness, flavour and tenderness. Pink-hued and heavily marbled, 'the wagyu of pork'  has a fat content that makes it highly suitable for slow cooking. In fact the breed has been at home in Australia since the First Fleet arrived, its dark skin more effective in the hot Australian climate than its pale-skinned cousins which are prone to sunburn.  In recent years, partly thanks to the Japanese market, it has revived its earlier popularity in Australia.  While it is not as large as some more popular varieties of pig, and also produces smaller litters, the taste is exceptional.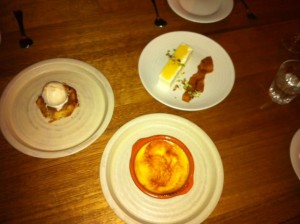 Although we were close to bursting at the seams by now, we decided that between the three of us we could manage to squeeze in a little dessert. Perhaps we should share one? But, then which ones to leave out? Should we skip the sheep's milk and lime parfait, served with crushed pistachios (and a most unnecessary cube of roast quince)? Perhaps we could neglect the Crema Catalana, with its lightly caramelized top layer? Or we might forget about the apple tarte tartin and ice cream, with its beautifully light and crispy filo pastry? Of course we ordered them all, and needless to say we virtually licked the plates clean.
The non-designated drivers rounded this off with a bottle of 2010 d'Arenberg "Noble Wrinkled" Riesling – I think they just liked the name – while I sipped contentedly on a perfectly acceptable coffee. While I may not be prepared to give Fino a perfect score this time, I would love to go back for that long lunch, and the chance to savour tastes and textures in their sunny court yard through the soporific hours of a warm Sunday afternoon.