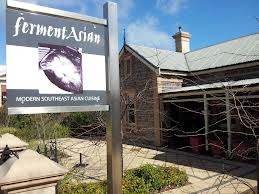 FermentAsian has rapidly become the hot spot to dine in the Barossa Valley for Modern Southeast Asian Cuisine. Open for lunch from Thursday to Sunday and for dinner, Wednesday to Saturday, this unique dining destination is set back from the main road in the heart of Tanunda, just over an hour's drive from Adelaide.
In the two and a half years since it opened, the restaurant has already won several accolades, including Gourmet Traveller's Top Ten Regional SA restaurants and Chef of the Year at The Advertiser's 2012 Food Awards. Bloggers and journalists alike give rave reviews, and having heard about it almost a year ago, I had been eagerly awaiting the chance to drop in.
Spending a few days in the Barossa with my mother earlier this month provided the opportunity. Being winter, it was dark by five thirty, so despite an early six o'clock sitting (we had left booking till late, and it was now or never, so popular is this relative newcomer to the restaurant scene) we had to do several laps of the main street in Tanunda before we were able to spot the restaurant. FermentAsian does not look like your average Asian city restaurant with glass front and Asian window dressing, but resides in a lovely old Victorian sandstone villa with a wide veranda.
As the name suggests, it is a blend of Asian flavours, although the primary influence is Vietnamese. FermentAsian is owned by Vietnamese Chef Tuoi Do and Grant Dickinson, who defines himself as partner, wine person, musician. Tuoi Do explains her inspiration on their website.
'The food at FermentAsian has its roots firmly entrenched in my Vietnamese heritage… To these traditional dishes we have added dishes inspired by our favourite Australian restaurants serving Southeast Asian cuisine.'
Tuoi Do not only supports local food producers, many of the ingredients come from the family's own kitchen garden, managed and maintained by her parents, who followed her to the Barossa in 2010.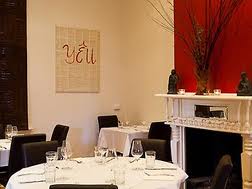 Inside, the décor is  minimalist: red feature walls and large canvases covered in news print with red Vietnamese writing don stark white high-ceilinged walls. White linen clad dining tables with black chairs are laid out in the various rooms with plenty of space and we loved the eye-catching artwork by local photographer, Serbo-Australian Dragan Radocaj, which warmed up the somewhat austere atmosphere considerably. We were greeted by a genial staff member, who showed us to our table and made sure we were comfortably settled, indulging in a little repartee and opening our bottle of wine promptly.
Apparently the wine list is extensive and aims for diversity (rumour has it that Mr. Dickinson also works at Rockford's), but my mother had been given a special  bottle as a birthday present from a wine maker buddy. Please note the only down side to FermentAsian: corkage is a steep $15 per bottle. So our gift ended up costing us quite a lot – particularly for a screw top! I will, nonetheless, look forward to exploring the wine menu on our next visit, particularly after reading Grant's titillating introduction:
'…Because the food ranges from dishes of great subtlety and delicacy to dishes with robust, spice-laden (though rarely fierce) flavours, I have tried to select wines which pirouette rather than stomp; I have deliberately avoided the lead–footed, the over-extracted, the over-ripe, and wines with high alcohol or obvious oak pulling focus.'
How to resist, if such lovely, poetic language is a reflection of the quality of the wine..?
As there were only two of us, we decided on the tasting menu in order to sample and appreciate as many of Tuoi Do's highly praised dishes as possible. We had been warned not to overdo the rice, as the dégustation menu is long and filling, and this certainly proved to be good advise.
 Our first dish, presented by our gregarious and enthusiastic waitress, Maddy, was a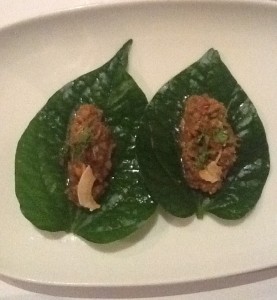 caramelized Berkshire pork in fresh betel leaves 'with incendiary components' (aka spicy, but again, I was impressed by the imaginative use of language).
 The heart-shaped, peppery, wild betel leaves proved to be a bit of a Vietnamese favourite: the grilled wagyu beef was also wrapped up in them. A mild stimulant with medicinal properties, betel leaf has long been popular in SE Asia for wrapping around bite-sized parcels of meat. We devoured them all, trying not to eat too fast, wanting to savour every beautifully balanced mouthful.
 Another Vietnamese favourite are Hanoi spring rolls, which were filled with fresh herbs (presumably from the family's veggie patch?) and served with traditional Vietnamese dipping sauce: a light and cheeky mouthful. Maddy popped by to make sure all was well with our food, pour us more wine and amuse us with her light, happy conversation.
 Dinner flowed on through a fabulous grilled Barossa Black Angas Beef salad with beansprouts and my favourite zesty tang of lime juice, and a platter of perfectly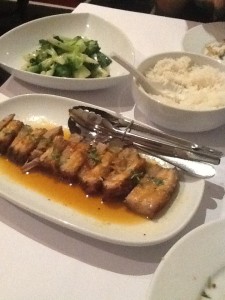 cooked and crispy Berkshire pork belly with ginger and orange sauce.
 By the time we reach the red duck curry with lychees and pineapple – perhaps more Thai-with-a-twist than Vietnamese, but nonetheless delicious – we had slowed down to a crawl, despite minimizing on the rice, and ended up taking a large portion of it home with us.
Yet despite our sated stomachs, we still craved a little sweetness, and we debated over the lime brulée, a chocolate and lemongrass mousse, or black sticky rice and caramelized banana. These may not be traditional Asian desserts, but the ingredients were Asian, and the combinations sounded irresistible. We succumbed to the lime brulée with two spoons, the lime effectively cutting the usual creamy sweetness in half and providing a flawless finishing touch.
All in all, our dinner was an unmitigated success, and FermentAsian proved the perfect place for a significant birthday celebration. The décor had a cool, statuesque elegance, the staff were amazing and made us feel as special as if we were at a private dinner.  And the food was fabulous. We relished every last mouthful, and I can't wait to go back!
*Photo of FermentAsian's dining room care of Google Images.