Antonio's has long been a popular destination with wealthier Manila residents for a luxurious Sunday lunch away from the madding crowd, so I  had booked a table  for a special family occasion. It is a bit of a trek – the drive can take an hour and a half to two hours from Makati – but it's well worth the effort.Tucked away down a sleepy country lane, the huge wrought iron gates opened wide to allow us onto Antonio's driveway and down to the grand entrance. There we were met by uniformed staff and ushered through the grand front doors of this splendid colonial style house.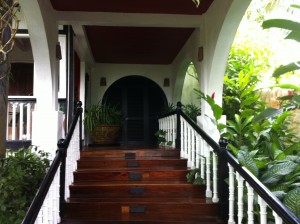 Stepping through those doors is like stepping back in time. As we walk down the broad wooden staircase to the restaurant, I imagine myself in crinolines and long, sweeping skirts. Antonio's is airy and elegant. Black and white tiled floors and white linen table cloths, gold glass goblets and ornate Venetian glass chandeliers, antique furniture and giant green fern: it is a dream of nineteenth century aristocratic living – all very Oscar Wilde!
We are running a little late, so every table but ours is already seated. Yet despite a full house, the setting inspires quiet, subdued conversation, and even the children are speaking in muted whispers. It is gloriously soothing after the ceaseless noise of city living, and the ambiance is tasteful, peaceful, decadent and self-indulgent.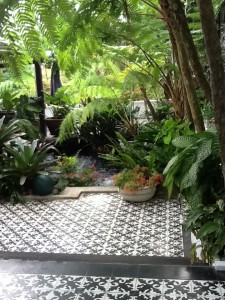 There are dining areas arranged on several levels, amongst the verdant green of the lush tropical garden that surrounds it. We pass a small pond full of deep orange koi, and a waiter ironing the tablecloth – on the table – before the next guests arrive.  As we settled into sumptuous, high-backed chairs, we are offered a set menu of salad and soup, a generous choice of main courses and a dessert.
First things first however: what about a jug of sparkling sangria made with Prosecco? Well it is a special occasion! Fresh juice and bubbles – it is a glorified mimosa – goes down all too smoothly, accompanied by warm, freshly baked, bite-sized, buttered rolls that we gobble up eagerly, having arrived so late and feeling decidedly peckish.
Our host, Australian-trained chef and owner Antonio Escalante, has prepared a menu of simple, gastronomic delights. (Check out his portrait in the main dining room.) We begin with a fresh mesclun salad, scattered with crunchy sugared walnuts and creamy gorgonzola, and dressed in a delicately sweet raspberry vinaigrette. (Antonio has an organic farm next door, where many of the ingredients are grown. On our way out, we will stop to take photos of neat rows of frilly lettuces behind wire fencing.
The soup of the day is roasted pepper and tomato. It is creamy and light and perfectly blended. It is followed by the arrival of a scoop of watermelon and calamansi sorbet to cleanse the palate. It is only gently flavoured, but it is very refreshing nonetheless.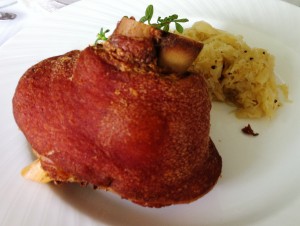 Our choices of main course are varied: an Angus beef steak served with a béarnaise sauce; a large and crispy pork knuckle with sauerkraut and boiled potatoes (an old favourite); a ravioli of minted veal cheeks with goats cheese in a creamed tartuffo sauce, and Antonio's Trio, a selection of three small steaks in different sauces that saves having to make the difficult decision of choosing between them.
We finish up with a dense slice of chocolate ice-cream, like a thick and creamy frozen mousse. It is described on the menu as "Felchlin Maracaibo Chocolate Terrine with Double Cream and Roasted Pistachio." Felchin Maracaibo is a premium couverture chocolate from Venezuela, and this is without doubt a premium dessert.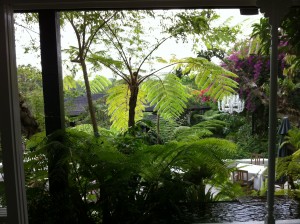 Before we leave, it is necessary to take a walk in the garden: a garden full of pathways and hidden nooks, a delight on the senses, luxuriant and shady. We meander across wide lawns and along pathways hemmed in by giant ferns. We find a waterfall and a tree that has been crowned in a huge white chandelier. A gentle breeze cools the air, and we lean over the railing of a broad wooden deck to gape at the thick jungle below. O for a croquet mallet and a parasol!
For  sumptuous dining experience: http://www.antoniosrestaurant.ph/