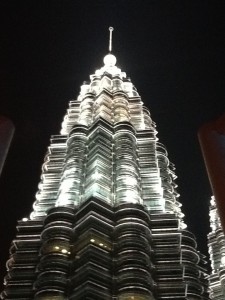 I have not been to Kuala Lumpur in years – since 1998 to be precise – and my goodness it has changed! Development has obviously been fast tracked since we left and I found myself feeling quite bemused by the size of the city, not to mention the myriad new roads, overpasses, underpasses and intersections. The city centre is a spectacular display of attractive high rises, and the suburbs appear to have sprawled out in every direction. In spite of this, the city planners have managed to maintain enough parks and trees to save it from turning into yet another concrete city, and the multiple new high rises are architecturally appealing and endlessly creative. Of course the Petronas Twin Towers still stand out, head and shoulders above the rest, and the atmosphere in the City Park behind them is inviting and convivial. What a truly multi-cultural, colourful city it is! And this is reflected not only in the faces and clothing of the locals, but also in the food.
Malaysian cuisine has a culinary diversity arising from its multi-cultural population, and the influences of passing traders, European colonial powers, and neighbouring countries such as Thailand to the north, and Indonesia to the south. Dishes have been adopted and adapted, cross-pollinated and indigenized from Malay, Indian, Chinese, Nyonya and the Indigenous Bornean cuisines. It is a gastronomic rainbow! Walking through any neighbourhood mall made my mouth water and my stomach grumble at the alluring aromas wafting out from every café kitchen. It proved impossibly difficult to choose a favourite, when even the street cafés with plastic seating served food I didn't want to miss. We used to have a favourite place below an overpass in Ampang called The Pink Tablecloth (a plastic one, of course). I wonder if it is still there.
Son Number One providing the perfect opportunity to travel to Malaysia (a rugby tournament) and a good friend hospitably offering accommodation, I jumped at the chance to revisit some old haunts, with the aid of 'Daniel' the GPS navigator, as my sense of direction was hopeless in this 'new' city!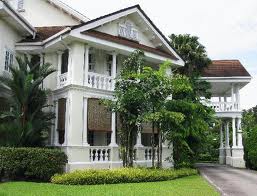 My favourite rediscovery was Carcosa Seri Negara, two colonial stately houses sitting in secluded splendour on adjacent hills above the Lake Gardens, and overlooking the city. Carcosa (possibly cara cosa, Italian for dear place) was built in 1896-1897 as the official residence of the first British High Commissioner in Malaya. Seri Negara (beautiful country), now a luxury hotel, was built later on the neighbouring hill, and used as a guest house. During the Japanese occupation in WWII, they housed the Senior Japanese Officers.
In the late 90s I would take guests here for a thoroughly British afternoon tea. Back then, the house was somewhat dated, reflecting a faded glory that was nonetheless appealing. Today, it has been gloriously restored, and afternoon tea is now served in a drawing room decorated in deep red armchairs and floral curtains. The menu offers a wide array of teas, real cucumber sandwiches, and scones with clotted cream! Available only on weekends, there is also a Malay Afternoon Tea that includes chicken satays, prawn fritters and Malay curry puffs with quails eggs. Alternatively, you may sit on the wrap-around veranda in deep rattan arm chairs with a view across the manicured lawns. It is the perfect opportunity to don a pretty frock and feel like the British aristocracy at play – something I definitely plan to do on my next visit!