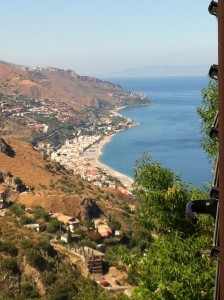 Almoezia. A three star B&B on Sicily's east coast. A broad sunny terrace flanked with colourful pots overlooks the coast from Siren's Bay to Capo Sant'Alessio on one side, and the seemingly inaccessible mountain top town of Castel Mola on the other. Old and new homes cling with fierce determination to the steep, dusty-dry hillsides. The Mediterranean sparkles and shimmers with the lustre of a polished sapphire, its surface as smooth as perspex, boats and cruise ships lying motionless, becalmed in the numerous bays and coves along the coast. In the distance, to the south, Mount Etna puffs away like a chain smoker all over the daring but potentially endangered villages clustered around its lower flanks.
Our lovely host Sebastiano suggests taking us on a day trip to Mount Etna and the Alcantara Gorge, where the water is icy. Driving tortuously winding roads for the questionable joy of climbing Mount Etna, blackened and desolate, in 35 degree heat does not appeal to me one iota. So I farewell father and son to bond and explore without me, and set myself up on the swing seat on this glorious terrace above our cool, cave-like bedroom.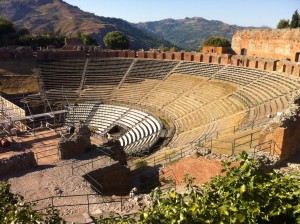 Down below, Taormina's narrow lanes are crowded with pretty cafes and tourists, sunny piazzas and panoramic views, pedestrian staircases cluttered with geranium pots and tiny tables and smatterings of centuries-old souvenirs. Here, the air is still, the rooftops quietly roasting in the sun. A local gardener has used up every inch of his hillside plot to plant plum trees and grape vines, fig trees and fennel, rosemary bushes and pocket-sized citrus trees, cacti and olives. Large white butterflies flit silently from bush to branch to flower. A gecko squiggles across the burning tiles near my toes. The peace is broken by the occasional rooster, the desultory chirruping of heat struck birds, or the sudden outbreak of pealing church bells across the valley at seventeen minutes past the hour! The twenty first century butts into this unchanging medieval landscape with an insistent telephone or a chain saw Vespa grinding up the steep mountain road.
Amoezia was the name given to Taormina by Saracen conquerors in the 9th century, and is also the name of the B&B we found tucked beneath the Saracen fort, high on the hilltop 
above Taormina. The town has been a tourist resort since the Ancient Romans laid claim to the island, with its Greco-Roman  amphitheatre that is currently dressed for a summer film festival. I should wander down  into town for lunch, but 500-odd steps in the midday heat appeal as little as mountaineering! Instead, I will survive on the doughnut shaped peaches and the sweetest, reddest mouthfuls of cherry tomatoes we found in the market yesterday…
…And save my appetite for dinner, when we will wander 100 metres up the road again to Il Saraceno ristorante, a pure gem on a terrace perching above a sheer drop over limestone cliffs that are covered in outcrops of prickly pear, and over looking the sea and the city lights.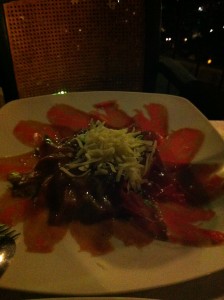 Il Saraceno's 
menu abounds with local specialties. We share an antipasti platter of 'siciliana rustico' that is  dominated by eggplants and capsicums: a serve of Caponata; another of Melanzane Parmigiana; a third of Pepperonata, as well as some warm, spicy olives and a slice of crumbed and fried cheese. (These popular vegetables reappear in a mouth-watering pasta al pesto siciliano with cherry tomatoes, basil and garlic). A second platter of carpaccio di carne on rucola is sprinkled with pecorino cheese. This is accompanied by a lovely cold bottle of local Chardonnay – unexpectedly zesty compared with our more buttery South Australian variety –  and home made bread, heavy and saltless, from a baker across the hill in Castel Mola. 
As always, seafood dominates the menu. I try a grilled grouper steak dressed in a tangy caper and olive sauce – the combination is overly salty, the fish overcooked and a little rubbery, but the sauce is perfect with the bread. A squid and clam pasta sauce is a delicately flavoured and highly acclaimed speciale served with angel hair pasta, and a pancetta and mozzarella pizza for one curls luxuriously over the edges of a large dinner plate.
And below, as we sip on a chilly limoncello and a splash of espresso, the earth seems inverted as the coastal lights twinkle like stars.
To stay with Sebastiano, you can see his website on www.villalmoezia.it or contact him on: info@villalmoezia.it