Parents have many different priorities when choosing schools for their children, and it becomes a particular concern when resettling families in a foreign country. Some want to find exactly what they feel their kids lost on leaving home, others want to broaden horizons and make sure their children get to know their local community. Some want space and state-of-the-art facilities. Others, I discovered, find the larger schools prohibitively expensive, preferring the smaller schools, which may not have the extensive facilities, but are cozier and more cost effective. So here is the final selection of schools from the wide variety available in Metro Manila, and hopefully one will meet your criteria.
"Opportunities for excellence"
The original Brent School was founded in Baguio in 1909 by the eponymous Charles Henry Brent, then Episcopalian Bishop of the Philippines. Today, there are three Brent schools at Baguio, Binãn, and Subic. All three are under the guidance of Mr Dick Robbins, who became Headmaster at the Binãn campus in 1994. These days he spends much of his time travelling between the three schools.
Recently, I spoke with deputy head, Jeffrey Hammett, who has taught in the Philippines for thirty four years, twenty years at the International School Manila at their Makati campus, the last fourteen at Brent, where he was involved in its construction.
Designed by the same team of architects who created ISM, Brent has three libraries, an auditorium, a dedicated chapel, landscaped gardens for quiet meditation, and even a dormitory, once used for students commuting from the city, now used to house visiting teams. An Early Learning Centre was opened on the opposite side of the campus in August 2001, and a recently completed roof-top pavilion will house a fitness centre and a covered Physical Education space.
Mr Hammett talks about the school demographic, which is made up of 28% Filipinos, 24% Korean, 17% American and a sprinkling of other nationalities including Aussies, New Zealanders, Brits, and Japanese. 1,050 kids in total.  Class sizes, therefore, need never exceed 18-20 students.
Raymond and Atcha Azurin are parents of three past and current Brent students. They agree that a smaller school community is great, because "everyone knows everyone else," and this makes the kids feel really secure.
Raymond and Atcha migrated to Australia in 1988. Posted back to Manila in 2002, they stayed three years, then returned again to the Philippines in 2008. This time they needed to find a school for their growing family. Brent came highly recommended from Aussie friends, and when they went to check it out, the Azurins liked what they saw. Brent is Presbyterian, and the religious aspect of the school was a definite plus: the couple appreciated the Christian values and the balanced discipline: both, they felt, was a good foundation on which to build a solid school community.
Mr Hammett points out that Brent is religious but not evangelical. "We just ask that the students be respectful of others religions," he explains. Religious studies, which includes both Comparative Religions and Bible Studies, are part of the curriculum. Both feed into Theory of Knowledge, in the IB program.
Atcha has been heavily involved in the PTA, and praises the strong parental presence in the school. Various inclusive school events help to build the community, she says. She then describes the annual International Food Festival that provides the opportunity for the Juniors to raise funds for their school Prom, and brings the entire school community together for a day of games and international food booths, culminating in a student talent show and fireworks.
Located just off the South Luzon Expressway, in the middle of a gated community, Brent is less than half an hour from Makati, and provides a really safe and clean environment for the kids, Raymond said. Brent owns a fleet of buses for transporting the students to and from school from various parts of Metro Manila, including Pasig and Makati. The Azurins agree this is an excellent service, which also makes allowances for after-school activities by having three separate runs in the afternoons.
Mr. Hammett describes the broad range of extra-curricular activities available. Firstly, there is a strong music programme that works each year towards a week-long music festival showcasing the numerous bands, orchestras, dance groups and choirs.  Atcha and Raymond tell me proudly they virtually have their own band, their children play so many instruments between them, all thanks to the encouragement of the music program at Brent.
Sports also plays a large role at Brent, and Mr. Hammett was keen to show me over the state-of-the-art facilities, which include two full grass football pitch, a baseballs triangle, three full sized gyms, a brand new multi-purpose pavilion, and a covered, heated swimming pool. Brent is also a member of the Asia Pacific Activities Conference (APAC), which unites twelve regional schools for regular competitions in various sports, dance and music, model United Nations, forensics, mathematics and theatre.
Academically, Hammett boasts, the IB results at Brent are amongst the best in world, and many students end up in top universities, with as many as  65% going to the US. Raymond points out that the school has also developed 'a strong culture of critical thinking' of which he thoroughly approves, although he adds that this approach to education can seem strange to Asian families who may be more used to a system based on rote learning.
The Azurins say they will see their youngest daughter through Brent. Apparently, she will not have it any other way. If her siblings got to graduate from here, so will she!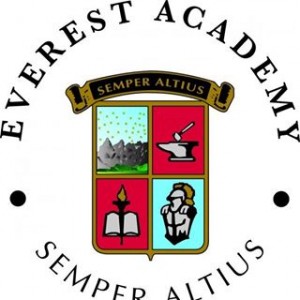 Everest Academy
Semper altius: always higher
Opened in 2007, Everest Academy is tucked away off College Road in the Fort, the only Catholic International School in Manila. Everest is the first Asian campus in a network of 237 schools across Europe and America directed by the international Catholic movement Regnum Christi Movement and the Legionaries of Christ. I spoke with the Mexican Executive Director, Beatriz Rivera, who talked in clear, measured English about the school's mission to create caring, responsible members of the community, lifelong learners and critical thinkers and strong, self-disciplined leaders. The school website states that at Everest, teaching "focuses on the complete development of all dimensions of the person: intellectual, human, spiritual and apostolic," and these values form a cross-disciplinary theme.
Currently the school starts at Kindergarten level and goes up to the end of Grade 8, but is adding an extra grade each year. The student population of 284 is set to grow to 350 next year, and the school administration will shortly start work on building extra high school classrooms to accommodate its growing population. The additional High School building should be completed by the middle of next year. At that point construction can then begin on a final building to house the gymnasium, an auditorium and a cafeteria.
That final building will fill every available square foot on the property, which will then allow for a maximum student capacity of 650. A property in Nuvali has been earmarked as the future site of a second Everest Academy in the Philippines. While open space is limited, Everest has adapted to accommodate the need for sports facilities. The campus has one full-sized undercover basketball court, and uses the Polo Club on McKinley road for football training.
The curriculum is designed by National Consultants for Education (NCE) in the United States with a couple of local variations: students learn conversational Tagalog, as well as Spanish and Mandarin; and social studies classes focus more on an Asian perspective than their American and European counterparts, to give the students an appreciation of the regional environment. Smaller classes, Ms Rivera says, allows teachers to provide personalized attention and develop each child to his or her full potential.
Everest Academy's elementary course was recognized by the Philippine Department of Education in 2011 and in 2013, it was granted AdvancED accreditation. AdvancED is the world's largest education community, providing education for more than 16 million students.
In the earlier years, classrooms are mixed, but it is school policy to separate the children for academic classes at Grade 4, to allow for the different pace of development between the sexes. Each child has a mentor for one-on-one discussions of their progress through their personal development plans. Everest also has a highly visible, pro-active, no bullying policy in place.
Today the school is 50% Filipino, around 30% Balikbayan (dual passport holders or returning Filipinos) and 20% international, mostly from America and Korea. The staff is predominantly Filipino, with a handful of internationals.
Maya is American, her husband Filipino and her oldest daughter started at Everest last year. Previously home schooled, eleven year old Sahel 'campaigned for a year to be allowed to go to formal school.' When her parents eventually succumbed, they visited every school in Metro Manila, and Maya is delighted with their choice.
Sahel is really active at school and participates in everything, her mother tells me. Sahel loves her friends, but she especially loves her teachers. The younger girls, seven year old Miel and Selma (9) will start next year, but the school has already adopted them into the community, inviting them to join all the school activities such as the Christmas pageant and the barrio fiesta.
Maya has no reservations about their decision, although she says for them it's sometimes hard adjusting to school routines. They chose the school because they felt it focused on character formation and solid values, and most reflected their home environment. Each month the teachers introduce a specific virtue, which involves inter-disciplinary discussions. Maya also likes the fact that the kids are taught to be good citizens, and she says the teachers really engage with the kids.
Maya feels strongly that she, too, has a place in the community and has become increasingly involved in school. Settled far from her own family, she appreciates her 'surrogate family,' describing how other school families provided support for all the children for their first communion. "Friends are always leaving in the expat environment,' she says, but "here there are more local kids, so the community is less transient." After six years in the Philippines, Maya says "it is the first time she has felt truly anchored."

Chinese International School, Manila (CISM)
Ignore the inference in the name: this is not an international school for Chinese students. Rather it is an international school for English speakers with an interest in building understanding between China and the west, as China's role in the world expands. Classes are taught in English, but there are daily Mandarin classes for all ages. Ironically, there are few Chinese students at the school.
CISM is non-sectarian. It accepts students from aged four (pre-kindergarten) to eighteen (year 12). Currently there are 220 kids, which will grow to 250 in the next year, with a maximum capacity of 500. Classes are capped at twenty, and then split, although most classes have no more than fifteen students. Headmaster, Mr Wycherley, says this allows the teachers the time and space to develop a real awareness and knowledge of individual students.
Mark Wycherley came to CISM eighteen months ago and loves working here. After four years at BSM, he and his wife Wendy moved to the Gulf, with plans to return to the Philippines to retire. Two years later they were back in the roles of Headmaster and Lower School Director at CISM. They are delighted to be back so much earlier than anticipated, although their busy days at CISM seems a far cry from the plans of a gentle retirement.
CISM is located at McKinley Hill. Like many of the smaller schools here, the academic results are excellent, but sporting facilities are hampered by lack of space. However, like many smaller schools, this makes them innovative. Swimming classes are held at the Polo Club, there is a covered basketball court on the roof, and the school has links with a number of local sports clubs. In-house, the school teaches badminton and volleyball, fencing and taekwondo. The school also has a dance studio and a modern dance instructor, and there are plans to introduce ballet next year.
And despite the lack of outdoor space – or perhaps because of it – CISM is very creative about its extra-curricular activities and after school clubs which include not only orchestra and singing, but typing, taekwondo, gymnastics and Chinese cooking!
Academically, the school is thriving. Mr Wycherley makes no apologies for the fact that the school is selective, and all new students sit an aptitude or IQ test. There is no ESL program at CISM, so fluent English is vital.  However, teachers are available every afternoon between 2.30 and 3.30pm for extra coaching in all subjects, and Mr Wycherley even has a list of preferred external tutors if parents wish, with whom he works closely to ensure they are closely following the school curriculum and keeping the kids on track.
The current year 12 has had such excellent university offers in the US, Canada and the UK that it has generated a surge of interest in the school, and Mark says he is meeting prospective parents daily.
Demographically, Mark says his staff come from everywhere. He doesn't notice nationality, he simply wants the best, and he is obviously proud of his talented faculty. The parents also play an important role in the school, through a highly involved and active PTA.
One particularly interesting aspect of the school was the charity work in which it is involved. An annual regional seminar for students – the Global Issues Network – inspires a student lead initiative to look at various community issues, choose one, and work on that for a year, with great results.
Kellie and her family moved from Singapore to Manila late last year.  Her daughters Ivy (4) and Scarlett (6) started at CISM in January. Coming from a tiny nursery school in Singapore, many of the larger international schools seemed huge to the little girls, so a smaller school provided an easier transition for them.
Kellie says the smaller cohort means they not only have the security of smaller classes, but there are more opportunities for the kids to take part in community events.  A school-wide talent show is now being organized, for example, in which all students are encouraged to participate, be it to sing, dance, play an instrument or tell a joke. Normally quite shy, even Scarlett is excited at the prospect, and is planning to sing her favourite song from the new Disney hit Frozen – in Mandarin!  Kellie says that 'Chinese was key for us, as they were learning Chinese in Singapore and we wanted them to continue that.'  The girls also have a tutor from the school to teach them more conversational Chinese.
Kellie finds that the demographic of the student body is broadly international, although her blond blue-eyes daughters stand out in a predominantly Asian or dual-passport community, but then they are used to that from Singapore, and barely notice the difference. And the benefit of having a large local population in the school is that it provides a stability that is often less achievable given the transient nature of many international schools. It also gives the students direct exposure to the local culture, not to mention the culture of many other nationalities.
Although obviously happy with the school, I ask Kellie if she has any reservations. Only one, she says, and it is simply that she would like to see better – as in more up-to-date – communication between teachers and parents. In these days of modern technology, they are still using notebooks for homework, and she says she would find it much easier if feedback and notes from teachers were sent by email or perhaps through a class Facebook page.
However, Kellie thoroughly approves of one particular communication tool: the entrance lobby is filled with posters proudly exhibiting the individual successes of the students, and she thinks it is really cool that these kids get recognized. She also thinks it is awesome that the school corridors are lined with all the kids' artwork. And her girls are happy.
To be published in the ANZA News, July/August 2014.