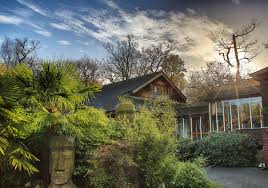 An unexpected shake-up of carefully choreographed plans found me spending my birthday, not in the south of France with a good friend, but in the country lanes of Hampshire with our older son, on the rim of the South Downs National Park. I was aiming for Winchester, en route to the New Forest, but after trawling the internet for last minute options, we ended up a few of miles out of town, amongst woodland and wintry fields and strangely, most unexpectedly, beside a zoo.
One of the "bespoke" series of hotels that claim never to be "off the peg" or "run of the mill," the Marwell is certainly an unusual hotel, sitting amongst the trees beside Marwell Wildlife conservation zoo. Built in 1989, it was designed by an architect who had been inspired by a colonial safari lodge "Treetops" in Africa. The rooms are housed in four lodges connected by glassed-in breezeways, and while we may not have been quite amongst the treetops, we were certainly looking out at a stand of deciduous trees and down upon bright clusters of primroses peeking out from under the leafy ground cover. Inside, our room was perfectly comfortable, although the bathroom was a little 'tired' (A little sprucing and spring cleaning might be overdue.)
However, jetlagged and dusty, we arrived after lunch, dumped our bags, and decided on a long walk while the daylight lasted, not too bothered by the lack of bathroom allure. Tramping up hill and down dale, briefly lost, then found again, we returned in the dark with muddy shoes and a hearty appetite, but no energy left for our original idea of heading into town to hunt for food. Luckily the Marwell had an attractive dining room and a promising menu full of locally sourced ingredients that I had checked out earlier, just in case.
The dining room was beautiful in daylight, with huge windows and a high, oak-beamed ceiling. Light, airy and spacious, it had become a little frosty on that early Spring evening, so we simply kept our jackets on, as the menu looked as if it might be worth flirting with the chill factor.
Our waitress was a joy. Intelligent and well-informed about the food she was serving, she dealt with our requests in a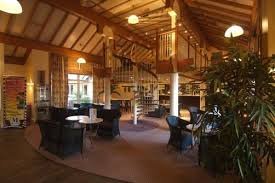 capable and friendly manner. We found ourselves at a small table beside the window and – gratefully – beside a low oil heater. The menu was a short set menu, for which we were grateful as neither of us felt up to difficult and lengthy decision-making. Executive chef Phil Yeomans described his menu as 'English cooking with a modern twist.' Simple, but interesting, there was definitely a recognizable lean towards British comfort food, albeit with a soupçon more sophistication than your average pub menu.
Shortly after sitting down we were presented with a variety of freshly made rolls. All good, our personal favourite was a neat little number flavoured with sun dried tomatoes. Moments later an amuse bouche arrived: an espresso cup of onion espuma.  Espuma is the Spanish word for foam or froth (think cappuccino, zabaglione or even whipped cream) and this onion espuma was lightly flavoured, warming and, of course, frothy. Espuma has become a firm favourite with trendy restaurants who want to emulate the popular molecular gastronomy or deconstruction techniques favoured by the likes of Ferran Adria and Heston Blumenthal. Although it was no longer the surprise Blumenthal was out to achieve, it was delicate, delicious and wonderfully warming.
My appetizer deserves only praise. When living in Sydney, we always judged a restaurant on the state of the scallops, and the Marwell passed with flying colours. I would happily have ordered a second round, as my usual anguish with scallops is that no restaurant ever serves more than a mere morsel of these dulcet dainties. (Anyone remember buckets of prawns?) Simply presented, lightly grilled with a delicate sauce, these little wafers of delight were perfectly cooked and slipped down with effortless grace. My son's pumpkin ravioli was equally well received: a triumph of perfectly cooked fresh pasta filled with a soft pillow of pumpkin.
I am, however, getting a little tired of chefs who provoke me by insisting I eat rare lamb. I love raw fish, and I am happy with rare beef, but I like my lamb well cooked, even a little crisped at the edges, and definitely no bleating. To me, undercooked lamb lacks flavour and texture, and when I ask for medium to well-done, I really wish they wouldn't assume I am ignorant and serve it rare to almost medium. It might be the fashion at the moment, but it's not to my taste. Unfortunately for our kind and understanding waitress, it was the third time this had happened to me in as many weeks, so yes, I did risk the wrath of the chef and sent it back to the kitchen for further discussion with the grill.
On the other hand, my son's pork was a huge success, and it is safe to say not a squeak was left on his plate.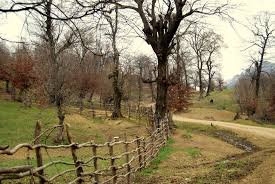 Filled almost to overflowing, we were not particularly interested in dessert, but our waitress insisted we sample the honeycomb, which was apparently handmade from the honey of local bees – a peculiar claim, as honeycomb is generally made from golden syrup, bicarbonate of soda and lots of sugar. But I was too tired to think of that until later, so I didn't query it. And who knows? Maybe this was a special recipe. Anyway it led to a long, cosy discussion about her upcoming travels in Australia, so we nibbled and chatted on in an almost empty dining room until other waiters started to clear the table for breakfast and our pillows called.
PS: If you are interested in the zoo, check out the website. We didn't make it next door this time, but with a carful of smaller kids than mine, I suspect it would be well worth a visit.
*With thanks to Google Images, coz we were talking too much to remember the camera!