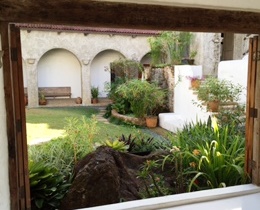 Last weekend we had a long, fume-laden trek through the traffic to the Pinto Art Museum in Antipolo. Fortunately, and to our very great joy, it turned out to be well worth the effort. Winding up through the hills above Manila, we eventually ourselves in a quiet, leafy subdivision high above the city.
Here, tucked away behind wrought iron gates, through a walled courtyard, and along a cobbled path that led into an enchanting garden, we met our friends for a delightful lunch in the garden café, where we sipped on my favourite Sauvignon Blanc (Craggy Range – so far the only Sauvignon Blanc I truly love) and eating a heavy-duty, mouth-watering, barbecue lunch of deep fried pork knuckle, beef steak and dinosaur ribs. Actually, they were really beef ribs, but they were large enough to make me seriously consider dinosaurs or genetically modified cows. And they were overflowing with flavour. The meat literally fell off the bones and I don't think I have consumed so much protein in one sitting EVER, but I loved every mouthful, especially from our prime position under the trees, looking out across wide lawns and alluring flower beds.
Later, my One & Only – an avid trawler of art galleries – was in seventh heaven as we wandered through room after room of paintings and sculptures.  And it was also one of the most attractive galleries we have ever seen with its high ceilings and plenty of natural light. The buildings, roughly plastered, whitewashed and flat-roofed, have a thoroughly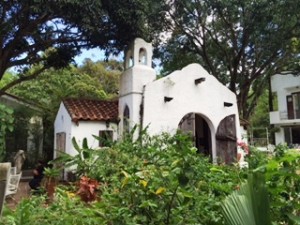 Mexican, or Mediterranean flavour. They spill down the hill in a series of rooms, galleries and courtyards, filled with a huge variety of contemporary Filipino art. We were lucky enough to have four of the artists dining with us, which delighted my One & Only in particular, as he thoroughly enjoyed the opportunity to discuss Filipino art with some of the artists themselves.
I was equally blissed out by the surrounding Silangan gardens, beautifully landscaped and scattered with intriguing
sculptures, many made from recycled household objects – the dragonfly with wings made from pieces of a wire fan guard, for example, or the bulldog made of what looked like the offal of an old car engine. And everywhere we walked there were lovely old wrought iron, four poster beds topped with comfortable mattresses on which to lounge beneath shady trees, or on patio areas by the pool, or out on the flat rooftops of the house and museum. Victorian birdcages hung from trees and verandas, housing brightly coloured parrots, parakeets and lorikeets. There was even a small, white private chapel in the garden, decked out with statues and an amazing sculpture of a seemingly airborne Christ above the altar.
Pinto, it would appear, is a peculiarly apt name for this wondrous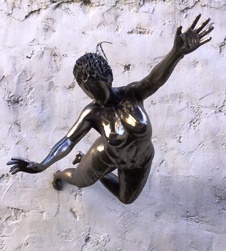 art museum, as it is not only the word for "colourful" in Spanish and "painted" in Portuguese, it is also the Filipino word for "door."   And entering through the pretty little arched gateway is like stepping through the wardrobe to Narnia or through the looking glass into a wonderland of creativity and artistic fantasy. I would highly recommend that you take a day off and head for the hills, to experience this glorious spot where art and nature meet and blend.  Take your time. Wander. Absorb. Enjoy. Tours are available, for those who don't have the artists on tap, and there is much to see and explore. We will definitely be calling in again, despite the traffic. And with a very reasonably priced entry fee, it is even more tempting to visit again and again.