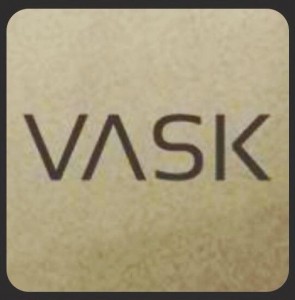 On a half-constructed street in the north-west corner of Bonifacio Global City, above a carpark filled with designer cars, perches Vask. Usually providing a delicious array of modern Tapas and degustation dining, this week the chefs at Vask have taken a turn at creating a special menu – and a special performance – to showcase Filipino cuisine.
Kulinarya was inspired by the travels of Chef Juan Luis Gonzalez and Chef Julieta Caruso, who spent a month wandering through the Philippines 'to source and experiment with everyday local flavours… and native produce.'
The results were truly inspirational. A degustation menu filled with magic and mystery: how to foil the diner into believing his tuna is a slice of veal; making a dumpling filled with egg yolk and floating it in duck broth to create the flavour of balut without the traditional challenge of being eye-balled by a tiny duckling.
As we watched from the front of the stalls, these wizard-like Chefs spun their magic spells in the open-plan kitchen to produce the essence of Filipino cuisine and its flavours in an entirely new format. The results took our expectations of Filipino food to new heights.
"Everything in the hotels is imported," Gonzalez tells us. "Filipinos don't value their own products."
Obviously, these chefs do. The menu was lengthy, and the Spanish wine was excellent, but I still remember every glorious mouthful. There were thirteen courses, and I cannot keep you here all day, so I will describe only a small selection, a soupçon.
So let's skip the rather lackluster shrimp balls and move on to the sea urchin. I have to be honest, I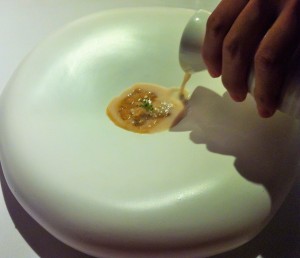 cringed as a dollop of sea urchin, the colour of baby poo, arrived in the concave centre of a pale grey plate shaped like a mushroom. Happily, though, it tasted much better than it looked. As the waiter poured kinilaw (a local vinaigrette) over the top, I anxiously lifted my spoon… and quickly stopped scrunching my nose. Sea urchin has a very strong flavor of the sea, and a silky texture. Its richness was further enhanced by pork fat,  then balanced by the sharp snap of the vinaigrette poured over at the last moment by our waiter. The combination slid smoothly, effortlessly down my throat. Like chilli, the flavor, instead of receding, expands after each spoonful. I was still tasting it on the top of my tongue minutes later, and loving it.
Next up was a sinigang, that Filipino version of Thai tom yum, and undoubtedly the best sinigang I have ever tasted. The crockery and cutlery being just as much part of the show as the food, the soup was poured over the pulled pork in a dainty cylindrical jug with a narrow spout, while the waiter explained that sinigang is the only Filipino dish unaltered by any foreign influence. The light, sour broth cut, but did not disguise, the richness of the pulled pork. YUM, seconds please!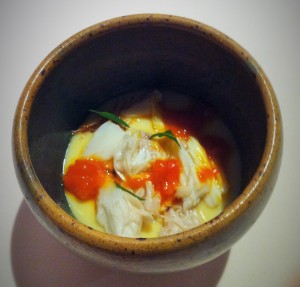 My husband christened the next dish a deconstructed corn chowder: fresh crab meat, a corn-flavoured
custard and cilantro. I had to close my eyes while I was eating this one, to focus on the flavours and textures of such an exquisite offering. As is often the case with any good degustation menu, one mouthful was not nearly enough.
Have you had enough yet? I hope not. We are only half way through! So…
Entitled 'malunggay' (my favourite local spinach, thick with vitamins and fabulous as a pesto) this was actually a stew of malunggay, smoked maya maya (the local sunset-coloured snapper) and boiled spring onions that tasted like celeriac with a creamy, lingering smoothness and a tiny explosion of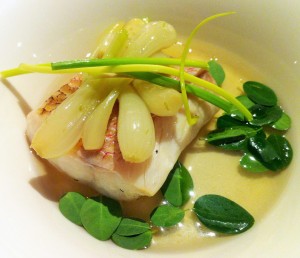 the bulb, all afloat in a light lemongrass broth. May I say "YUM" again?
Steak was the misleading title for the next dish. The subtitle: talinum – kangkong – native basil only
described the foliage. It was obviously some kind of trick, as we were asked to guess. Well, if you were reading closely, you will have noticed I gave the game away earlier – but the waiters were keen to keep the secret, and my irritation was palpable before the Chef put me out of my misery. Apparently it was specially designed to taste like red meat when in fact it was tuna. (Other guesses included pigeon, veal and pork.) Whatever it was, it tasted perfectly nice, but I was too cranky to care, and slugged back a substantial Spanish red in retaliation.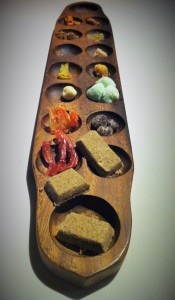 However, the wagyu steak totally restored my humour and my sense of well-being. Grilled to perfection, with a dash of crispiness aound the edges that I adore, it was served with a spoonful of tiny chícharos, or Mexican peas that practically popped against the roof of your mouth, and local mustasa or mustard greens.
And that was the end of the savoury courses, to be followed by not one but three desserts. All were amazing, but I will just share my favourite here: an espresso cup of Arabica Kape (coffee), which was a glorified tiramisu in three textures: crunchy, creamy and smooth.
The final act was a play on the game sungka, that Filipino game played with cowrie shells or seeds distributed across a number of shallow bowls or pods cut into a thick wooden platter. But instead of shells or seeds, Chef had filled the pods with an assortment of different amuse bouche – like Filipino Quality Streets without the guide – an amusing finale as the curtain descended.