"All you need is love. but a little chocolate now and again doesn't hurt"  – Charles M. Schulz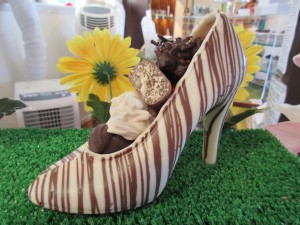 A coquettish breeze. Turquoise skies smudged with wispy clouds. A broad deck overlooking bare, craggy hills and milky blue bays, sailboats, sunshine and… chocolate?
For chocolate worshippers everywhere, I have found your Mecca. Head south to New Zealand, then south east to Christchurch and the curvaceous Banks Peninsula. Here, at Governor's Bay, you will discover the decadence of 'She Universe,' the ultimate chocolate café destination.
The menu sets the tone as soon as you are seated, inviting you to "lead an extraordinary life," by dining on delicious dishes laced with chocolate and choc-a-block (pardon the pun, it really was unintentional) with 'superfoods' supposedly thick with vitamins, minerals and antioxidants. While the cynic in me denies this marketing tool has any scientific basis, the descriptions are nonetheless tantalizing.
The menu, pages long, offers brunch, lunch, snacks, drinks, desserts and truffles, all containing at least a pinch of chocolate. "She" even holds classes to 'learn about, taste and create with chocolate.' If you have even the mildest obsession with chocolate, the dessert menu will have you dribbling and doubtless camping on the doorstep for days in order to work your way through every offering. There is a tiramisu ice cream cake – Tiramisu to Tango – served on a base of chocolate brownie drenched in coffee, and garnished with almond flakes and cream. Or you may want to indulge in "She's Infamous Brownie" packed with walnuts, dripping with chocky sauce and accompanied by raspberry coulis and vanilla ice cream.  For something a little different, slaver over an avocado and chocolate torte on a base of almond and cashew. This weighty cake has been lightened with the sharp zing of berries and a spoonful of yoghurt. Or you may like to explore the history of chocolate by sharing a Chocolate Lover's platter that takes you on a journey from the bean to the truffle via a chocolate fondue. Is your mouth watering yet?
The latest craze is for the cacao elixir. In the language of fine wine, stone ground single estate beans from Peru and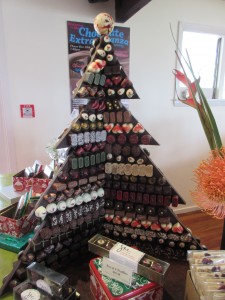 Samoa are used to create hot chocolate 'the Ancient Way.' After seeking advice from our lovely waitress, I chose one made with Samoan beans. Apparently it is made with water, not milk, as the thick chocolate paste does not blend well with dairy. I am dubious. I always hated watery chocolate. Remember that 'cheap' version when we were kids? I don't know about your mother, but mine would rarely waste money on Nesquik or Milo. So it was a teaspoon of  cocoa powder, hot water and a spoonful of sugar? It resulted in something barely drinkable, the sugar never quite dissolving, but sinking crunchily to the bottom of the mug, the cocoa never quite dissolving and floating, dry and dusty, to the surface. So lame.
This cacao elixir, Single-Origin-66%-Peruvian-sweetened-with-organic-fair-trade-can-sugar was quite different. Yes, really! I know the marketing hyperbole is a little distracting, but it truly tastes much better than it sounds. The thick chocolate paste actually does blend comfortably with hot water, and makes a surprisingly filling, pure and tasty drink. The consistency fills your mouth and lingers on tongue and teeth, the texture is smooth as silk. The chocolate is distinctively more bitter than the average commercial chocolate drink, but the sugar syrup takes the edge off it beautifully. It is awfully rich  though, so you will only need a small cup – or maybe that's just me! Suddenly the Belgian Hot Chocolate made with milk and whipped cream and 'hand rolled chocolate flakes' looks and sounds thoroughly ostentatious, overly sweet and unappealing.
If chocolate is not really your bag – and it isn't mine particularly – there are a selection of dishes that only give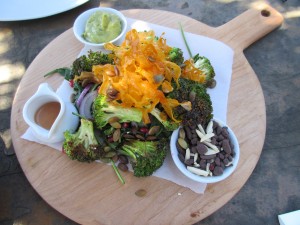 chocolate a passing glance. Rather than a full-on starring role it's just a cameo performance. But it is good. Several of the savoury dishes have been spiced up with chilli chocolate jam, cacao nibs, chocolate balsamic dressing or a chocolate mole over chicken. We ordered a sample, sitting out on the balcony overlooking Lyttleton Bay and the surrounding hills. An overly boisterous breeze forced us to move back into a more sheltered nook, where we indulged in fish cakes and salad. Oh OK, more detail required? So. "Akaroa salmon, dill and wholegrain mustard fishcakes with orange, pomegranate and fennel salad and chilli chocolate jam." There, is that better? Our additional superfood salad included more pomegranate seeds, broccoli, avocado, kumara chips and a bowl of trail mix (a hiking snack of nuts and chocolate). We shared everything happily, including a moreish Lotus Heart Shake, with banana and dates, cashews and almond milk, cacao and coconut oil.
And yes, before we left, I handpicked a selection of truffles to take home, all with extra-ordinary fillings: a zesty lime and black pepper; the more earthy beetroot and balsamic; a white chocolate heart filled with vanilla and rosemary; an El Mariachi of salted lemon, caramel and tequila and Hot Lips, a dark chocolate mouth filled with chilli and Indian spices. It was worth the expense, and I may never let a mass produced milk chocolate bar pass my lips again!