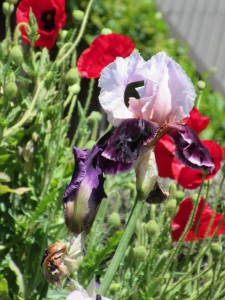 Gardening is not usually my bag. My mother has the green fingers, and the tendency to arrive home with clippings from friend's gardens, Botanic Gardens, woodland or verges. But I do appreciate other people's efforts, and I can name a handful of English wild flowers and trees thanks to a primary school nature program and my sister's Flower Fairy Books. So, in late November, when I was lucky enough to make a spur-of-the-moment trip to New Zealand,  I was delighted to land in Christchurch in time for the Open Gardens weekend on the glorious Banks Peninsula.
The Banks Peninsula, lying south east of Christchurch, was created by the eruption of two volcanoes. Shaped like a piece of fan coral, it is lace-edged with coves, bays and beaches. Inland, the peninsula consists of two deep sea harbours, hilly farmland and native bush criss-crossed with walking paths. It is also home to some rare and endemic flora and fauna, such as the tiny white Lyttleton forget-me-not, ironically in serious danger of being lost and forgotten due to grazing sheep and wild goats.
First settled by the Maoris, it was later named by Captain James Cook after the ship's botanist, Joseph Banks, as they circumnavigated New Zealand aboard the Endeavour. Observing it to be a barren and uninviting island, Cook sailed on without further ado. Other explorers, however, saw more potential in this remote region. In 1838 a French whaler, Langlois, provisionally bought land  from the Maoris, with plans to establish a whaling station. Unfortunately for the Frenchman, he was upstaged by the British who rushed in to claim sovereignty for Britain as he headed home to gather settlers from Europe.. Nonetheless, Langlois was still able to  establish a small settlement on the banks of Akaroa Harbour, which has left its mark. Street signs read Rue Benoit and Rue Balguerie, Rue Jolie and Rue Lavaud; older buildings are built in 'the French style,' and there appears to be a lasting local penchant for French wines. The gardens, however, speak of a more Anglo-Saxon heritage.
Initially, it is the proliferation of roses that catches my eye:  red, pink, apricot and white, thick as clotted cream, the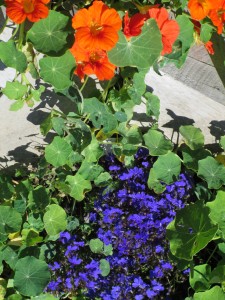 fecund blooms top heavy on drooping stems, like busty matrons. Yet they are, surprisingly, lightly scented, as if all their energy has gone into the visual. Chubby peonies have collapsed onto the ground in drunken, overblown splendor. Lupins and lavender, pansies and espaliered pears, delphiniums and daisies fill the flowerbeds, reminiscent of an English country garden. Meanwhile a bustling stream, rimmed with buttercups and arum lilies, rushes towards the sea, overlooked by a stand of silvery eucalypts. Delicately curling ferns, like babies fingers, snuggle in the shade of leafy walnut trees. A pohutukawa, resplendent in scarlet baubles, heralds Christmas. The spiky orange blades of the libertia line a gravel path. Acres of perfectly manicured green lawns stretch down to a Monet pond coated in lily pads. Contrasting floral cultures intertwine like the honeysuckle and the bindweed.
We drive out to the Valley Road Vineyard, which lies on gently rolling hillsides across the Bay from the township. We park the car outside the cellar door (an old timber barn complete with loft-style accommodation) and wander up a leafy track. Around the bend, a couple of muddy ponds are tucked into the elbow of neat green hills, while a mulberry-coloured maple snags the eye among the long green leaves of iris and agapanthus. On a plateau at the top of the drive stands the original straw-bale home. It is obviously a house well versed in entertaining, with an outdoor pizza oven gracing the back patio, and spectacular views across vineyards and harbour. A flower bed of lavender and lemon trees buzzes with the sound of satiated bees.
Back down the hill we drift through the cell door… and behold the New Zealander with his Filipino family! We  happily compare notes on our experiences of Manila and New Zealand as I sip on the wine: a pair of Pinot Noir, a much-medalled Pinot Gris and a rosé of the palest pink perfect for an afternoon picnic. Feeling ever-so-slightly fuzzy-headed, we move on to a neighbouring orchard, where we picnic among the fruit trees, lolling on the sun-speckled lawn, our esky – sorry, chilly bin – spilling cheeses, dips, fruit and biscuits onto the grass.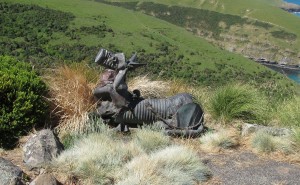 Replete and re-energized, we drive east to the coast, skimming past Akaroa and getting ourselves ever-so-slightly mislaid on steep, gritty farm tracks before finding our way to Fisherman's Bay. This glorious garden is undoubtedly the jewel in the crown of the New Zealand Garden Trust, and is looking absolutely glorious on this effervescent afternoon. Perched high above a stretch of weathered and dramatic coastline above the Pacific Ocean, this private garden boasts breath-taking views and appealingly unexpected nooks and crannies. Corrugated iron sculptures of Herbina the Cow and Marcus the Goat guard the windswept cliffs, while the rainbow colours of spring climb joyfully up the steep hillside towards the house. Behind the house stretches a feminine, textured,  pink and purple border. Our hosts are serving afternoon tea on the terrace: tea, coffee and an impressive selection of home-made cakes and slices, including the indigenous Afghan biscuit. We sit peacefully in the shade, sipping and nibbling and chatting to other visitors, garnering tips on their favourite gardens.
We drive into Akaroa, and unload the car into our bach (a New Zealandish weekend cottage) before heading out to eat. Again. Dinner is booked at a pretty Italian restaurant by the waterfront. On the back veranda, overlooking a graveled courtyard neatly trimmed with olive trees and climbing red roses, we laze in the cheerful glare of the evening sunshine. It isn't long before we are replete on goat's cheese and beetroot chutney, a hefty steak with salad for me, and a couple of glasses of local Pinot Noir, also for me. Afterwards, in need of a walk, I stroll home through the fading light, admiring one voluptuous garden after another, all accessorizing the prettiest little weatherboard cottages, while the scent of lavender drifted sensuously through the air. And tomorrow we have more to explore. In the meantime, I pause at a picket fence to smell the roses…
 *Adapted from an article first published in Inklings, January 2015.