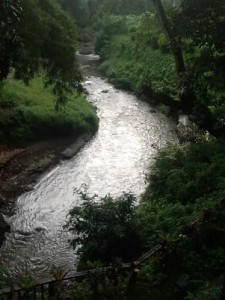 In the Redgum song of my youth, Bali was a land of monkeys and mercurochrome, Bali belly and mozzie coils, Kuta Beach and Ubud, that hippy haven in the hills.
My first trip to Bali, however, was spent in the lap of luxury, swanning around in a five star villa near Canggu, with no call for mercurochrome, only a brief sighting of those overfed monkeys (and let's not mention Bali Belly), but with thanks to the generosity of a dear friend who was celebrating her fiftieth birthday in style.
I knew very little about Bali before I arrived, other than the song, but I can tell you that this popular and predominantly green island off Java is a ninety minute flight from Jakarta and is approximately 95 miles long x 70 miles wide. It is also almost 85% Hindu, with a population of more than four million, and I guess that doesn't count the deluge of tourists that have been pouring through the Denpasar airport for decades.
My destination was not a hostel full of backpackers, nor a beach-side resort, but Villa the Sanctuary,  a small slice of heaven hidden down winding lanes, between village temples and hidden among the trees. It is, undoubtedly, the most luxurious place I have ever laid my hat, and I enjoyed every glorious moment.
Situated on a steep two hectare property, a river gushes effusively at the bottom of the hill, winding its way round lush lawns and between leafy trees. Stone steps lead down to the dining pavilion with its high peaked ceiling and its vast, polished, teak dining table, down and down to the narrow eternity pool and the games room with billiard table and bar, across manicured lawns to a thatched bale for a peaceful, post-prandial massage as the river burbles away below.
Several opulent villas are scattered across a property that can accommodate up to thirty five people (including a bunkhouse for twenty kids). With only seven of us in residence, there was enough space for everyone, without any sense of overcrowding.
My villa sat high above the river, the stately four poster bed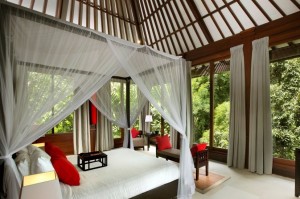 wrapped in a sheer mosquito net, so that I could lie, safe from insects, and listen to the river rushing past the window and watch the leaves fluttering outside the eight foot windows. It was like camping in a luxury tree house.
There was water everywhere: river; moats; ponds; pool; waterfalls trickling gently in the background; a sudden downpour from heavy clouds that battered the surface of the pool, as the landlubbers scuttled for cover and the bathers revelled.
Wine and cocktails flowed like the rain, and hilarity was constant, apart from the quiet times, when the heat drove us home, heavy and sleepy, for a nap amongst a mountain of pillows, gentle aircon breathing a cooling breeze across hot shoulders.
Then there would be show-and-tell in the pavilion, amidst shrieks of childlike enthusiasm over successful shopping trips to Ubud for lamps and shoes and quilts and dresses, and prayers that suitcases would miraculously expand like Mary Poppins carpet bag. Friendly staff brought snacks of nasi goreng or hot chips and pecel sauce (spicy satay sauce) to top us up until dinner time, and we all looked forward to trying the local speciality: babi guling, or roast suckling pig. 
When the evening closed in on party night, candles and lamps were lit, while bowls of hot coals threw fiery reflections across the surface of the pool.  A huge feast – enough to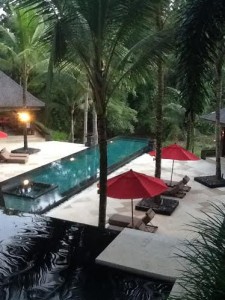 feed half the island – kept us all quiet for a while, as satays and steak, prawns and salads were piled high on groaning plates. Later, as the music was cranked up – a playlists of Australian anthems and hits of the 70s and 80s – frogs, crickets and geckos set up an alternative orchestra, and well-oiled guests added to the chorus. I won't say we danced till dawn – well, let's face it, none of us is seventeen – but it was a party night and the cocktails seemed bottomless.
A final night, and Marcel drove us down the road through acres of terraced rice fields to a resort on the edge of the sea, where we floated across the golf course, twirling like Julie Andrews at the opening to Sound Of Music, to watch the sun set softly into the waves, casting its final pink and gold beams on Tanah Lot Temple perched on a rocky outcrop beside the sea. A fitting finale to a wonderful weekend.