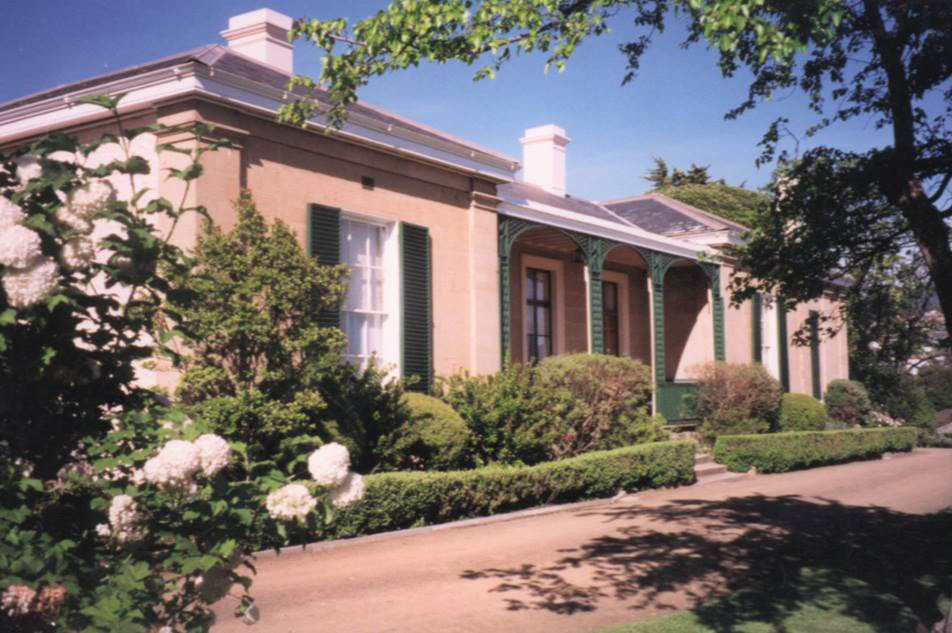 'Scrimshaw.' My favourite new word for the week.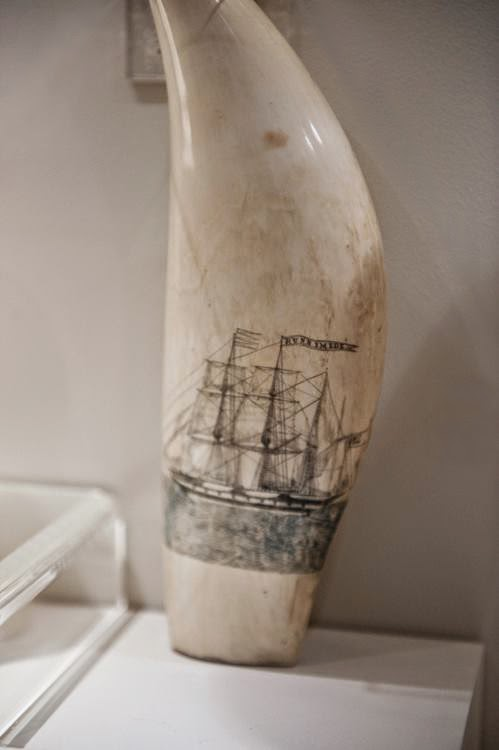 What is scrimshaw? A character from Harry Potter perhaps? No, not quite. That was Rufus Scrimgeour, I believe. Scrimshaw is, in fact, the art of engraving images on objects made from whale bone, baleen, or the tusks of walrus – once considered waste products of the nineteenth-century whaling trade. Objects such as walking canes, knife handles, pill boxes, or simply ornaments. The scrimshander (one who makes scrimshaw) would use pumice to smooth the surface and a small knife or a sailmaker's needle to etch in a design. Ink or lamp black was then rubbed into the image to make it stand out. Such artistic endeavour was apparently a popular pastime for bored mariners working on whaling ships. Their artistic endeavours could then be kept as souvenirs, or given as gifts, or even traded.
I discovered this lovely word at a National Trust property in Hobart. Once the home of a Tasmanian whaler, Captain Charles Bayley, who carved several pieces of scrimshaw himself – now on display at the property – Runnymede is a gracious sandstone house in New Town. On the day we visit, our guide, Christine, is full of detailed information about the house, its history and the families that have lived here.
It was originally built in 1836 for Robert Pitcairn, a Scottish lawyer and free settler, renowned for campaigning against convict transportation to Tasmania. Two miles beyond the somewhat seedy, smoky settlement at Hobart Town, Pitcairn hoped to create a safe country retreat for his family, where his young daughter could recover from typhoid. He called his new home 'Cairn Lodge.'
In 1850, Pitcairn sold the house to Francis Russell Nixon, the first Church of England Bishop of Tasmania, who arrived in the colony in 1843 with fifty pieces of luggage – including an organ – his large family, and a governess. Bishop Nixon renamed the house Bishopstowe and added a substantial music room. In 1863, after travelling widely throughout his extensive diocese, creating a cathedral, establishing three schools and a family of eleven children, the Bishop travelled back to England in poor health, never to return.
Bishopstowe was then sold on to our artistic whaling captain in 1864, who renamed it Runnymede, after his whaling vessel. Dying childless, he left the house to his brother and business partner, James. Runnymede was to be the Bayley family home for almost a century, until the last remaining daughter of the family passed it to the National Trust in 1963.
The house stands on five acres of land that originally descended down to the Derwent River, in a cove deep enough for Captain Bayley to park his whaling ship. The cove has since been reclaimed and built upon, but the five acre garden remains, and has obviously been well maintained by its various owners. Today, it is full of large and aged fruit trees, hedgerows, heritage roses and a plethora of red and white geraniums, to match the Runnymede's ensign.
Inside, each room depicts a different era of the house's history. In the dining room, a curious, mahogany dining table, circular but extendable, has centre stage. And the elegant wallpaper is an accurate reproduction of the original, designed with the help of notes from the Bishop's lady, Anna Maria Nixon. Hidden on the inside of a cupboard door, pencil marks delineate the heights of all the children who have lived in the house.
A small room near the back of the house – probably a housekeeper's sitting room – has been decorated with a variety of craftwork that the ladies of the house may have indulged in. Sewing was a marker of genteel femininity and accomplishment for the middle class lady who did not 'need' to sew, but could direct her artistic urges into pretty and decorative, often sentimental art with which to decorate the home. On display is a beautifully handstitched crazy patchwork quilt, framed pictures done in cross stitch, and the tools for lacemaking. Known as 'fancy work', such household crafts played an important role in the lives of many middle class women, as an acceptable means of self-expression and a worthwhile social activity.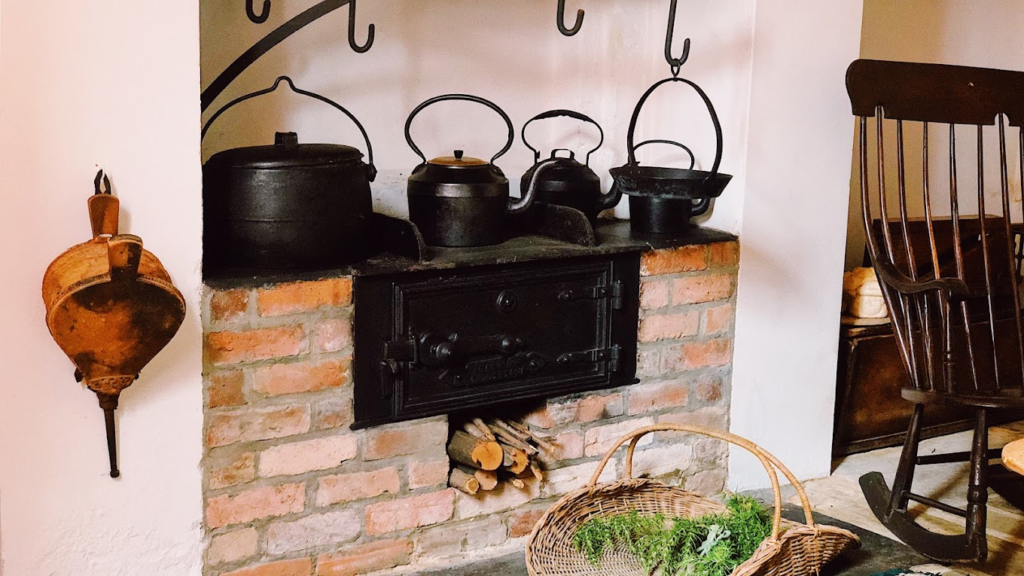 Of course, my favourite room is the kitchen. Once separate from the main house, in case of fire, but now connected, its grey flagstone floors are cool and uneven. The dairy, unlike its counterparts in the grander homes of the Mother Country, has no marble surface on which to make butter and cheese, but otherwise has all the tools of the trade. Although, to my surprise, it backs onto the fireplace that houses the cast iron range. Surely not the coolest spot in the world for making butter?
There is a great collection of art work at Runnymede, much of it down by past inhabitants, and some beautiful Huon pine furniture. Oregon pine floors. Commodes galore. An elegant library. There is a wealth of historic detail in the furnishings and furbelows of this elegant homestead.
* * *
From the sublime to the ridiculous, we left New Town and headed north along the Derwent River, to visit MONA, the Museum of Old & New Art. We first heard about MONA just after it opened, as the home for 'Cloaca,' that bizarre construction otherwise known as the poo machine. It was designed by Belgian artist Wim Devoye, whose neo-conceptual, often somewhat shocking artwork, we had come across in Luxembourg, where the Mudam ( The Contemporary Art Museum of Luxembourg) had its own Cloaca on display.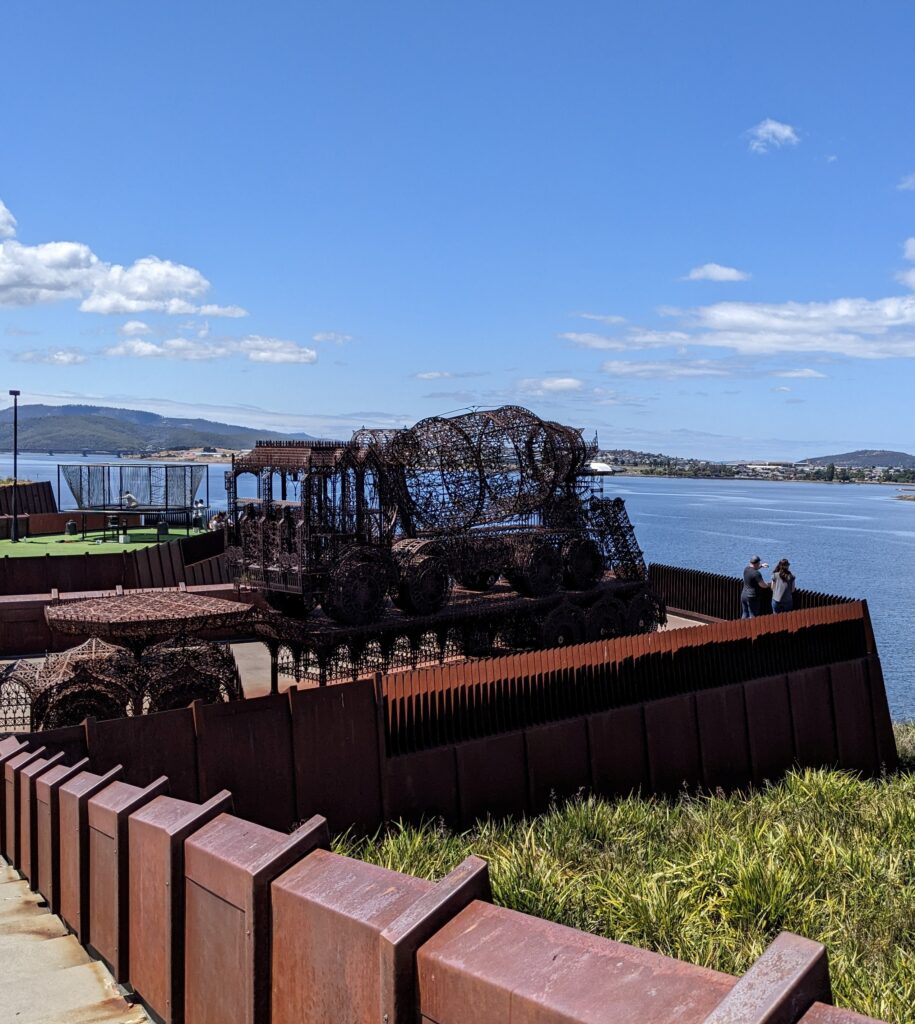 Now a major Tasmanian tourist attraction, MONA is the creation of millionaire art collector and professional gambler, David Walsh. Opened in 2011, I had been looking forward to visiting this iconic gallery for years. But I have to say, this cultural pygmy was seriously underwhelmed.
The brochure struggles to define this extraordinary space, but the one that struck home with me: 'not sure about the art but the architecture is amazing.' I agree on both counts. An app is available to guide you through the galleries, and provide the titles of the artwork, without ever trying to define or describe what each piece is actually about – and generally, they were beyond my wildest imagination, subversive and dark, full of sex, death and despair. The Gallery itself is also dark. Sunk into the rock of the Berriedale Peninsula, a network of industrial walkways and circular staircases link the various galleries. Darkness and dim lighting is the overarching impression, which, for me and several others, quickly became claustrophobic. A spiral staircase drifts down to the lowest level, and from there, you work your way up, through a maze of dimly lit rooms and broad corridors.
Feeling hemmed in, I left the One & Only behind quite promptly, and found my way to the surface at record speed, out on the plaza overlooking the Derwent and the hills beyond. More stairs led up to a selection of dining outlets serve food, coffee, Tasmanian wines and craft beers, overlooking an outdoor stage surrounded by an eclectic collection of seating, from giant beanbags to tree trunk stools.
Is it simply an expensive and elaborate marketing stunt? I guess that depends on your taste and perspective. Our own South Australian marketing stunt, the blue cube at d'Arry's in McLaren Vale, certainly pales by comparison. And the views alone make it worth a visit. Whether the $35 entrance fee to the Art Gallery is justified, I will leave you to decide.
* * *
Once upon a time, back in the 1970s, I went to Wales with my parents and siblings, aboard our campervan Bella Bus, to stay with some distant cousins on the south coast. Lawrenny is a tiny community, upstream from Milford Haven, within the Pembrokeshire Coast National Park. It was established centuries ago, and maintained by fishing, boat building and as a staging point for shipping limestone from quarries further inland. One of its lesser known sons of dubious reputation, made his way to Tasmania in the early 19th century. In 1803, Lieutenant Edward Lord joined Lieutenant-Colonel David Collins to sail to Port Phillip. A year later, he was part of the first contingent to sail to Van Diemen's Land to establish a settlement on the Derwent. Some years later, Lord, soon to be cattle baron, acquired several thousand acres in the Central Highlands, and named the estate after his family's estate in Wales. Over the next hundred and twenty odd years, Lawrenny changed hands several times. Eventually, at the end of WW II, it was sold to the government and subdivided into 200 acre dairy farms as part of the soldier settlement scheme.
These days, the house and some 400 surrounding acres, are owned by two former Queenslanders, Ross & Mary Mace, who came in search of a sea change back in 1991, and discovered the remains of this beautiful property on the upper reaches of the Derwent. Over the years, they have restored the homestead, an elegant two storey Victorian wedding cake of a house, and bred Black Angus beef cattle. And they now produce a collection of spirits made from the crystal clear waters of the Derwent River: whisky, vodka and gin. Having initially caught my eye with its link to childhood memories of Pembrokeshire, what further temptation did I need? A visit was slotted into the agenda for our final lap of Tasmania. We packed up our bags and boxes in Hobart and eagerly headed north.
There are about seventy gin distilleries in Tasmania these days, apparently, and I'm sure many are excellent. However, the setting for this particular distillery is something special. We found the farm on the outskirts of Ouse, and followed the signs down the long avenue, past the glorious two-storey homestead with its wrought iron balcony railings, and drew up beside the cellar door, housed within a beautifully restored, century old barn made from roughly hewn Tasmanian Oak. Wandering in, we admired the shiny copper stills, and rows of old oak barrels in the adjoining barn. I ambled across to the tasting bar as the One & Only explored the buildings. As our hostess introduced me to an array of pretty bottles, their labels bearing an image of the Victorian homestead, we chatted about the property's history and it's rebirth as a distillery. Lawrenny Estate Distilling is apparently one of only a handful that produce 'paddock to bottle' single malt whiskies, growing the barley they use to produce it. Once harvested, the barley is mashed, fermented and distilled in the copper stills that sit ponderously around us.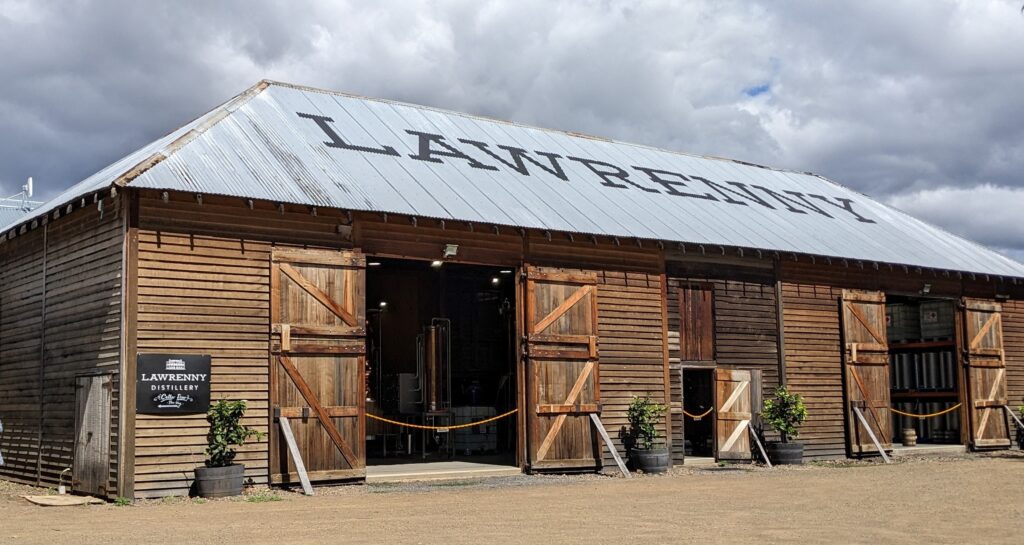 Sadly, I have never learned to enjoy whisky. The One & Only loves it, but he had a long drive ahead of him that afternoon, so I got to dip into the Lawrenny gins on my own. The language of gin is similar to that of wine, but with different flavour profiles. The botanicals used are generally taken from Lawrenny's own orchard and gardens, and the descriptions I was given were full of flowers and fruit, herbs and spices: positively poetic.
After I had tiptoed my way through an array of gins, a vodka and an unusual cold brew coffee liqueur, I eventually succumbed to buying a bottle of their Settler's Gin, and much to my surprise, their St Clair Vodka. To quote their website:
The [navy strength] 1818 Settlers Gin is a tribute to those that withstood adversity — those with strength, persistence, and full of character. Bold juniper comes through both on the nose and the palate, as herbal notes from the property's own rosemary intertwine with the freshness of caraway. All bolstered by the warming spice of pimento berry and cassia bark. The 1818 Settlers has a mild smokiness, not usually associated with gin, from a careful blend of the intense botanical brown cardamom that graces the finish, without dominating the dried fruit notes below.
See what I mean about poetry? And how about this for a view?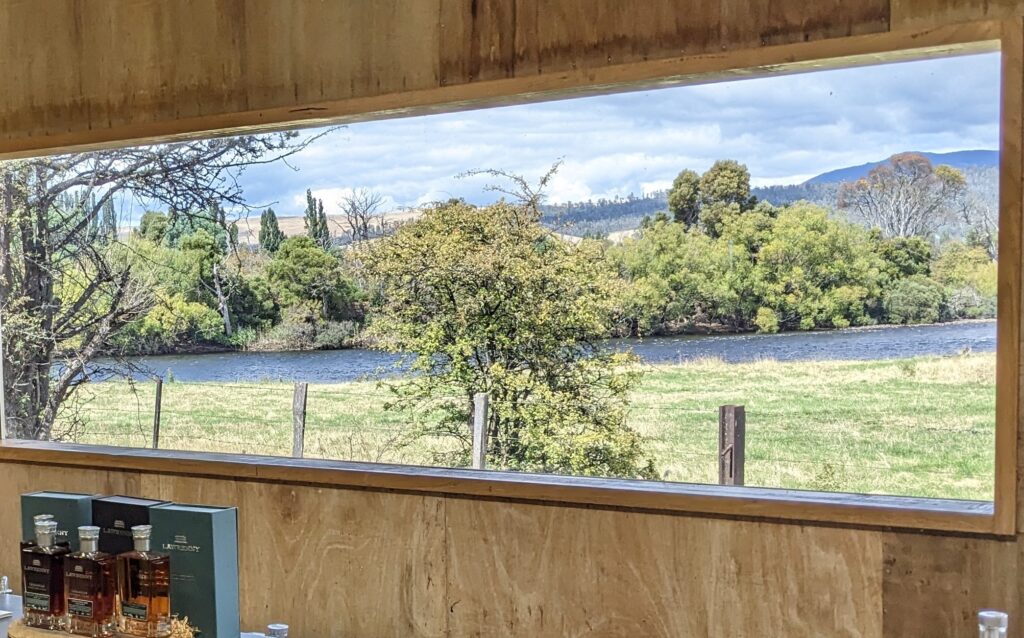 The Vodka sounded – and tasted – equally lyrical.
The crystal waters of Lake Saint Clair are some of the world's most pure. Swept by wild Antarctic winds, these pristine waters meld gently into the River Derwent, and down through Lawrenny Estate. Saint Clair Vodka incorporates these pristine waters, truly encompassing the purity of the region and delivering a crisp and clean palate. With a very careful selection of botanicals, such as rose buds found in the gardens, herbaceous thyme and classic lemon zest, we ensure that the signature style of Lawrenny is found in each glass.
Honestly, who could resist? After a brief spending spree, we pulled out our picnic lunch and sat in the shade of a bouquet of deciduous British trees – a perfect little arboretum – on the lawn in front of the barns. Behind us, the broad, shallow Derwent ran blithely by, heading towards – or probably away from – the smoky grey hills in the distance. The sun shone, the birds chirped. Feeling mellow, serene and a little sleepy, we reluctantly clambered into the car and headed back to the road. It had been a blissful interlude.