An opal-hearted country,
A wilful lavish land –
All you who have not loved her,
You will not understand –
Though earth has many splendours,
Wherever I may day,
I know to what brown country
My homing thoughts will fly.
For many Australians, the words of poet Dorothy McKellar 'I love a sunburnt country' are more familiar as a song, and, like the National Anthem, we may only know one verse. This Christmas, however, I was given a beautiful book of traditional bush poetry by my younger son, which introduced me to the fact that this is actually the first line of the second stanza of her iconic poem. And my favourite verse is actually the last one, that I have copied above.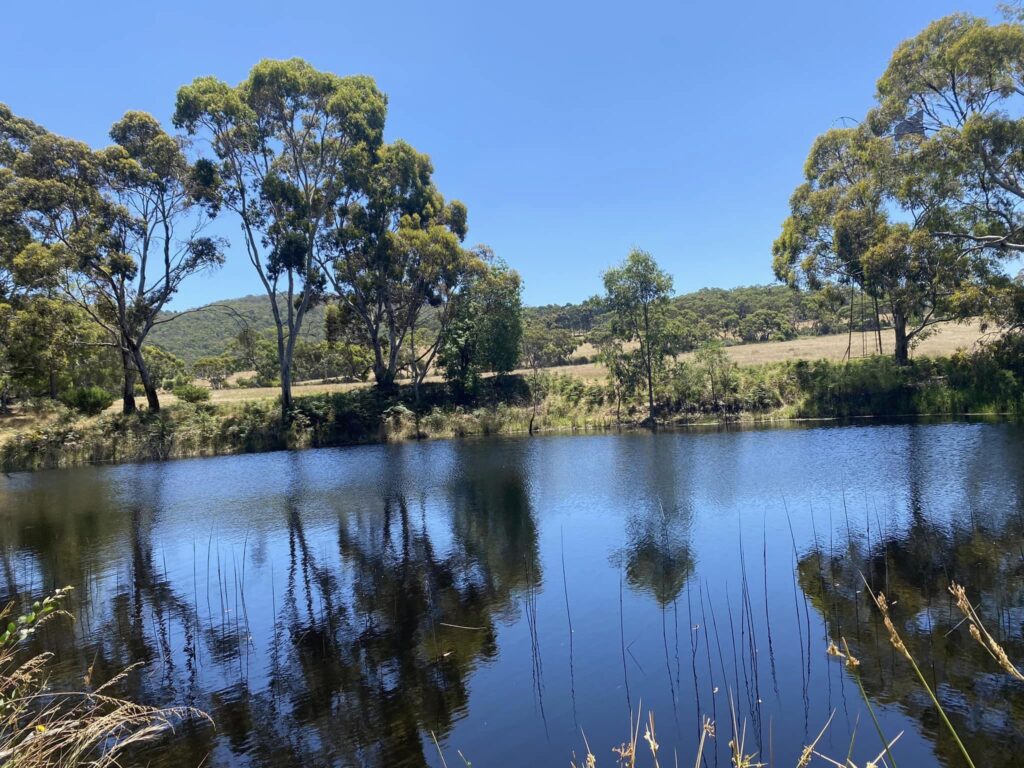 In Australia, it is common knowledge that our population is now – and has been since the settler colonials first encroached on this glorious southern continent – largely urban. And yet the romantic myth of the past persists: that we, as the second wave of Australians to inhabit this sunburnt country, are as embedded in the stark contrasts, challenges and ethereal beauties of rural Australia as the First Nations peoples. Even my One & Only, raised in the suburbs by the sea, a first generation son of European migrants, has recently discovered an attachment to the outback that has crept unexpectedly over him.
In the early days it was all about plunder: grabbing land we could develop as we had done in Europe, planting crops and breeding animals that did nothing to sustain the fragile environment onto which we had trespassed and unwittingly, ignorantly despoiled. Today, there is a strong sense that the time has come to reverse that trend and redress the balance.
In the Hindmarsh Valley, on the traditional land of the Ramindjeri people, is a farm of around 600 acres. Owned by the Retallick Family for over twenty two years, Gary and Sandy have been breeding alpacas and providing sanctuary for endangered native animals such as the brush tailed bettong and the southern brown bandicoot, both previously threatened to the point of extinction by feral cats and foxes. They have also planted around 65,000 trees, thus reinvigorating land that had previously been aggressively cleared for grazing sheep and cattle. Alpacas were chosen to replace the ungulates, as their soft, padded feet are kinder, minimizing the impact on pastureland. Originating in South America, these gentle, doe-eyed animals are bred for their super-soft fleeces, and the Retallicks' brood have become incredibly successful, boasting a room filled with ribbons, cups and awards for their excellence.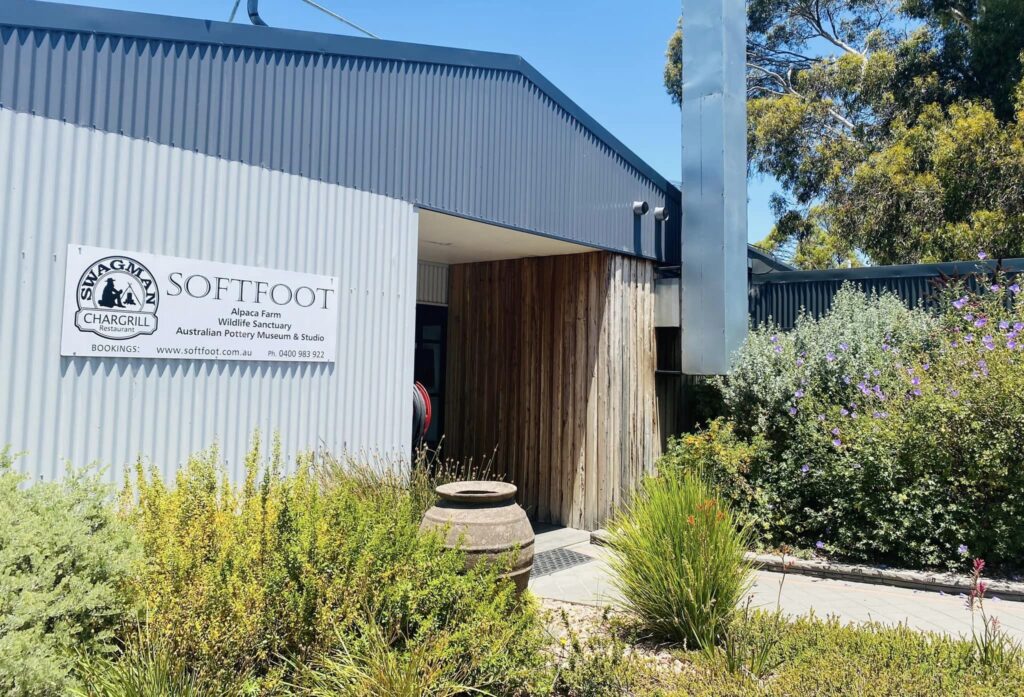 We first visited Softfoot Farm last year, to dine at the Swagman, another great business venture on the property. Beautifully situated above a billabong, the Swagman is rural chic with a nod to poet Banjo Patterson:
'Once a jolly swagman camped by a billabong,
Under the shade of a coolabah tree.
And he sang as a watched and waited till his billy boiled,
"You'll come a waltzing matilda with me."'
In the old days, particularly in the 1890s and the Great Depression, many swagmen wandered the country roads looking for work. With few possessions, they carried a bedroll (a swag, 'shiralee' or 'matilda') and slept under the stars. A 'tucker bag' held basic ingredients for cooking, and a billy can for making tea or cooking stew over the fire.
In my teens, I discovered the Australian writer, D'Arcy Niland. His novels 'The Shiralee' and 'Call Me When the Cross Turns Over,' are both about itinerant Australians, a habit we seem to have caught by osmosis from First Nations peoples, who traditionally, go "walkabout" as a rite of passage from adolescence to adulthood.
The Swagman restaurant is a hidden gem. As it says on the website, 'Our passion is bringing you a taste of Australia. We lovingly create delectable foods with native bush herbs and spices, the majority being grown on-site in our native gardens. We are committed to providing signature house-made flavours unique to the Swagman.'
As always, we all try to order something different. A rack of lamb, chicken pie, crocodile tagliatelle and grilled flathead are preceded by oil and salt bush dukkha served with damper style bread. It is a slow food experience, and surely, there is no rush. We are more than happy to take our time, sipping bubbles from the Adelaide Hills, admiring the display of pottery in the next room, and enjoying the view. And the food is worth the wait. We all savour and share what we have chosen. The chargrilled lamb smells divine, served with salsa verde and wedges tossed in native herbs, and my chicken, leek and mushroom pie flavoured with lemon myrtle, and also served with those tasty wedges, is delicious. The crocodile did not come out of the billabong at the bottom of the hill, (thank goodness!), but is still firm and fresh. And there is more perfectly grilled flatfish than my friend can possibly eat. Shall I help?
After lunch, I have booked a tour of the farm with Gary. He escorts us to a buggy fit for five, and we rumble off down the dirt track. While explaining the history of the place in his quiet, slow voice, Gary briefly interrupts himself to rev the engine and race across a creek, filling the footwell (and the One & Only's boots) with water, and splashing the rest of us with mud. It's obviously the highlight of his afternoon, and we all shriek in what must be a very satisfactory result. Gary also introduces us to the remaining herd of alpacas in their variety of newly shorn coats: black, chocolate brown, honey, blonde. Often used on the farms in the Adelaide Hills to ward off dogs and foxes, they are generally docile animals, and greet us cautiously.
The Retallick family has a strong focus on sustainability and reducing its carbon footprint on the world. Planting trees, digging out billabongs and creating wetlands, there are also four fenced sanctuaries. All these areas provide a variety of natural habitats for endangered marsupials, rare native fish and freshwater crustaceans, a huge variety of birds, echidnas, and long neck tortoises. They have also effectively eliminated the need for chemical pesticides and their dreadful effects on flora and fauna.
We weave our way through the scrub and around the sequence of billabongs, two natural, and a handful more that Gary has dug out himself with his trusty earth mover. Towering eucalypts shade the creek and the wildflowers bloom, brightly pink among the native grasses. We follow the fence line surrounding one of the sanctuaries that range in size from two to fifty two acres.
Over the creek, and we come across three cabins – Billabong, Coolibah and Ironbark – the latest additions to the family business, completed only last year. With huge windows looking out on native forest, paddocks and grazing alpacas, it is a serene and alluring retreat from city life. There is even an outdoor bathtub on the veranda, and the opportunity to join Gary on a night tour of the nocturnal animals on the property.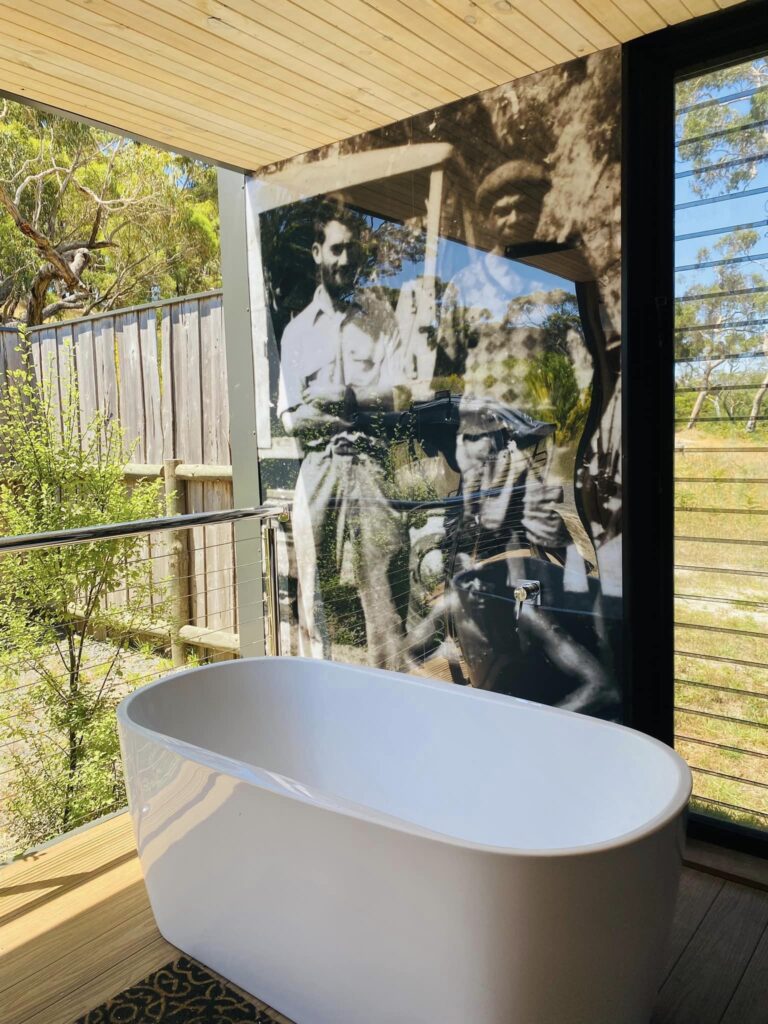 All these business ventures – alpacas, restaurant, cabins, tours – help to fund the Retallicks' numerous conservation projects. One of their most recent projects has been the construction of a three kilometre fence across the neck of the Dudley Peninsula on Kangaroo Island. This will give them a chance to clear out those ubiquitous foxes and feral cats, and thus provide a safe refuge where they can relocate their growing family of endangered marsupials. Sandy, Gary and daughter Clancy see their role 'as custodians of the land during their lifetimes, and to be responsible for the health of the soil, plants and animals that fall under their care.' They seem to be doing an impressive job of fulfilling their remit.
And so, back at the Swagman after our tour, we sit down to a final glass of wine and/or dessert, where I indulge in my new favourite: an affogato with Cointreau. Happy, happy, happy….
With thanks to my friend and partner-in-crime, Vicki, for sharing her photos.