These eight, somewhat startled-looking women were all born during Queen Victoria's reign, in the colony of South Australia. Meet Annie and Clara, Edith and Grace, Lily and May, Christina and Kathleen. All sisters. Another sister, Alice, died as a toddler. The industrial revolution was changing the social and global landscape, but in the face of such great and rapid change, people tended to cling more tenaciously to traditional social norms. In settler-colonial South Australia, a middle-class woman's accepted role was to be subservient wife and mother, 'domestic goddess' and 'moral keeper of the keys'.
Yet, if we look more closely at the lives of these eight women, we can see that very few of them followed that remit. Born in Adelaide, to colonial settlers from Herefordshire, Matthew and Elizabeth Goode, these middle-class ladies all led unusual lives. As single women, two went as missionaries to China, two more to support them. Two were feared lost during the Boxer Rebellion. One was a doctor in England and Shanghai. Lily, the artist, travelled the world. Four ended up living in Canada. Two married in Peking, two in Portage la Prairie, one in Tokyo, one in London. Only one of them married an Adelaide boy and remained in South Australia, and even she made several trips overseas, in the days when it was not a simple twenty four hour flight to Heathrow, but four weeks on a ship to Portsmouth.
We will learn more about those seven sisters another time. For now, I am going to focus on just one: Christina Love Goode. Born on June 16, 1874. Died, August 25, 1951, her death remarked by a brief two lines in the Adelaide Advertiser.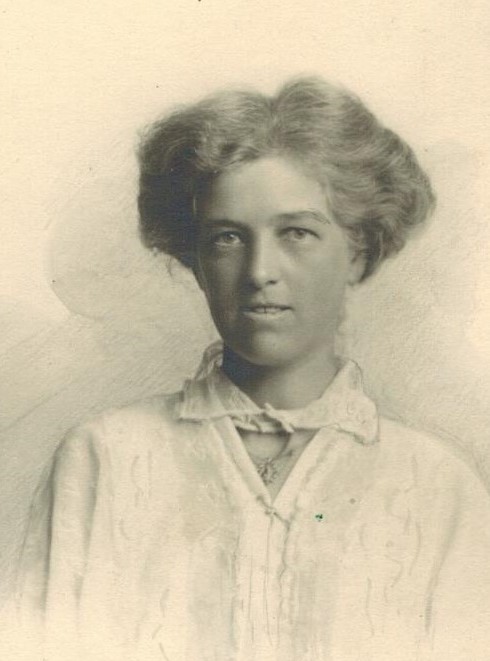 Christina, Chrissie, 'Johnny', Dr Goode, Auntie Chris, Dr Krakowsky, Mummie, Madame Krakowsky, Grannie … and my great grandmother. For years, I have been fascinated by her story. So many different names, so many different roles, but who was she? How did she live her life? And why? White, well-to-do and intelligent, she was born into privilege. Yet, she also had the determination and ambition to make her own way in the world.
In 1899, at the age of twenty four, Christina became the second South Australian woman to register as a medical doctor in Adelaide. She then went to England, where she worked for fifteen years, eventually marrying a Russian doctor with whom she had one daughter. They lived and worked together in China, before returning to Australia.
For years, this was all I knew. As I got older, I wanted to know so much more, but could find little information beyond this cursory synopsis. So, who could tell me about her? By the time I seriously went looking for her, my grandmother – her only daughter – was dead. If she ever did speak about her mother, I was too young to take any notice. My father, her only grandchild, remembers very little. He was only nine when 'Grannie' died and by then she was old, frail and blind. The only relatives who might have remembered her were far away in the Canadian prairies.
From the little I know, I assume she was a bright, independent young woman, keen for adventure. She showed no interest in following the beaten path to marriage and motherhood, a dependent spouse with little to do but drink tea, play bridge and wear pretty hats, defined by her role as dependent spouse, mother, sister, daughter. Instead, she grabbed the opportunities for education and travel in both hands and chose a more adventurous road.
I hit the library, but the history books were no help. I had to read between the lines, trawl through various Minute books in the Mortlock archives, delve into university calendars at the Barr Smith library, rummage through second handbook shops and disappear down the mighty wombat hole that is Trove. At least there she had a presence: a doctor at Renmark Hospital; a society hostess; a Girl Guide Commissioner; a doctor on North Terrace; a President of the Lyceum Club, of the Mothers and Babies Association, of the Woodlands Parent Teacher Committee.
Other fishing lines that I flung out into the murky waters of memory got caught up in flotsam from long-lost Canadian cousins, jetsam from another third cousin in New Zealand I had never met, two volumes of diaries written by a would-be minister who grew up in Japan and introduced Christina to Dr Alexander Krakowsky, the man she would marry. My father has attempted to write his biography but ended up with more questions than answers.
In the Barr-Smith library, I discovered that she completed her medical studies with Violet Plummer, Adelaide's first female GP; that she worked alongside Dr Helen Mayo OBE, who has her name on a plaque in front of the Natural History Museum for her strong social conscience and her promotion of children's health. On a trip to Renmark, I saw the hospital where Christina had a maternity wing named in her honour, and a small country church where her name is on a foundation plaque. In Wakefield Street, Adelaide, I found the house they bought when they first returned to Adelaide (Trove again). Another home in Glenelg was bulldozed years ago.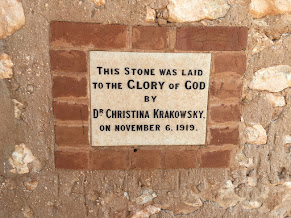 Christina received an award from the French Government, another from Lady Baden Powell, and a letter from the Tsarina Alexandra of Russia. Yet not one word about her could I find in the history books. And her husband? He turns out to be even more mysterious. A man of smoke and mirrors, with a past we could not pinpoint: five children from a previous marriage, no fixed abode and an assumed name, who fled from exile in Siberia in his twenties. Who was this remarkably unremarked couple?
I was bequeathed a Chinese cedar chest in which Granny kept a glorious selection of dress-ups – clothes both she and Christina had worn in the 1930s, including a wedding dress. My first real connection with Christina was her grey chiffon evening gown that I wore to a school dance.
I have spent two year trawling through the Mortlock Library, the Genealogy Library in Unley, the Barr Smith library, and a box of secrets my father unearthed in the cellar. This last turned up all her medical certificates, that letter from the Tsarina, a family bible, some stray photos and a diary. Then we found a wallet full of letters from her sisters. I spent weeks transcribing them. They illustrated how closely these women had kept in touch, despite the miles that separated them. I was hooked. Here were eight feisty, strong-willed young women who exhibited no fear, who took the road less travelled, supported financially by the family business, sent out in the service of God.
In this day and age, where a family of more than four or five (2 adults, two or three children) stands out like a sore thumb, imagine being one of eight girls, then add three brothers to the mix.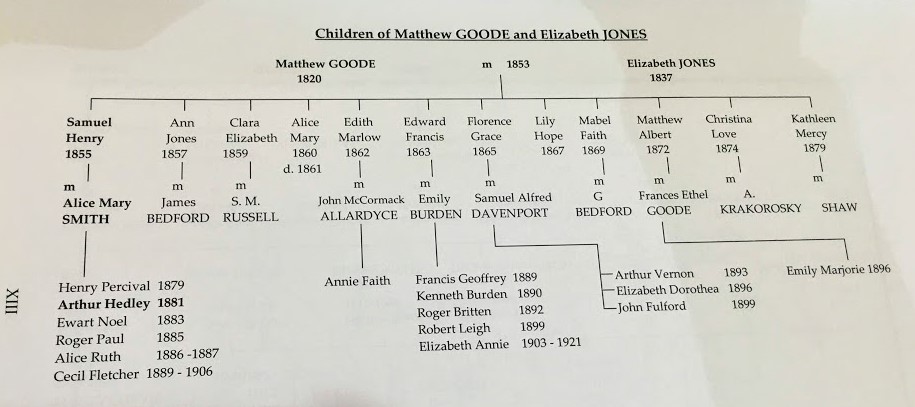 My great grandmother Christina was daughter number eight (counting Alice), the penultimate child of twelve. I discovered she went to boarding school in McLaren Vale, before going to the University of Adelaide to study medicine. She moved to Melbourne University to complete her studies, when a dispute between the Adelaide Hospital, the Medical School staff and the Government closed the Adelaide Medical School for five years. She then sailed to England, where she worked and studied in London, Dublin and Bristol. She travelled extensively. Just as World War I broke out, aged forty, she met and married a Russian/British doctor Alexander Krakowsky. Together, they went to China to work in Shanghai. In 1916, aged forty two, she returned to Adelaide with her husband, for the birth of their daughter, Olga Elizabeth. Here, the couple had a medical practice together on North Terrace, and Christina became deeply involved in charity work.
So, what makes her story significant? Is it just because she is my great grandmother? I believe not. Christina was an enterprising, unconventional, ground-breaking young woman in an extraordinary age, who followed her dreams to a university education only a year after South Australia's first female medical student, Laura Fowler, had graduated. Not for her, the Victorian premise of woman as wife and mother, economically dependent on her husband. She had a good brain, and thanks to the added advantage of an encouraging and well-to-do family, she was able to study medicine and work abroad, without the need for a husband to support her financially. Women in South Australia were being accepted in tertiary education, and by the age of twenty two, Christina was also allowed to vote and stand for parliament. The opportunities were there, but it took a strong-minded woman to grab them, to buck the social conventions of the time, and to choose her own road to self-fulfillment. She deserves a place in the history books.