A week or two of wild winds, white skies, where's-my-dressing-gown? Autumn has arrived. And then suddenly the wind drops, and the sky is clear, azure blue again. The trees stop churning and the pool glitters serenely, tempting me to cast off clothes and submerge over-heated limbs in its chilly embrace.
On these warm days, the beach – so often quiet and empty these past two years – is swarming with kids and cars and boats and beach towels. The sea is placid and clear, a giant lake with barely a ripple, and the line between sea and sky is hard to discern.
While I love the peace of winter sands stretching unmarked along the coast, on sunny, summer days by the sea the liveliness and joyous sense of freedom is tangible. Laughter floats on the air, rising above the roar of motorboats and jet skis tearing across the horizon. Dogs gallop into the water, barking bravely at the waves. Walking along the rim of the sea, we dodge holes and castles dug by small, eager hands.
And it's not just the beach that's busy. It's lovely to see all the cafes and shops humming with activity too.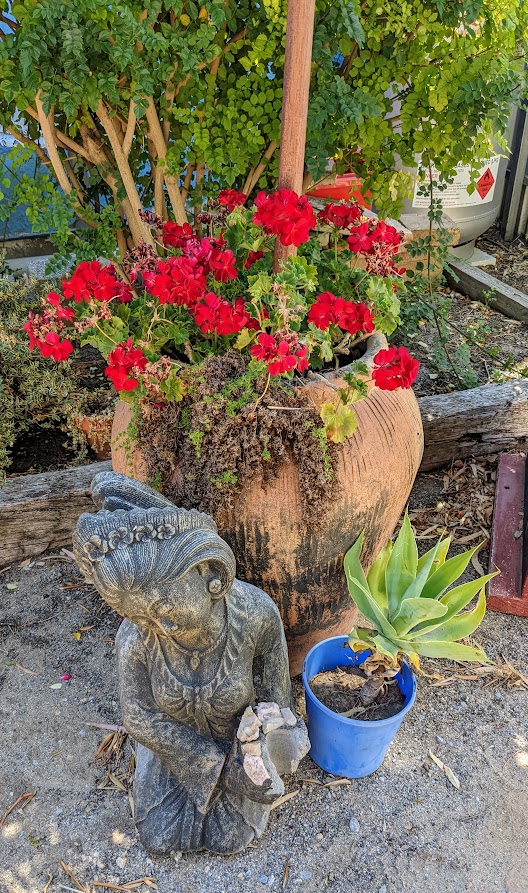 Caffe on Bungala – our tiny, overgrown creek, only eight miles long – is just across the road from the Normy pub. It changed hands recently, to great effect. Francis and Ian moved from NSW in 2020 and opened here just after Easter last year. I have already found my favourite spot in the pretty, shaded courtyard garden out the back. The back gate had been locked since we arrived, as Covid restrictions changed the dynamics of dining out so dramatically. Now it is open, with a welcoming sandwich board sitting beside it. This is not a smart city coffee shop, but a low key, friendly, rural café, the courtyard a homely and friendly place to hang out, to see friends, to read a book, to write a blog, and watch the birds skimming in and out of the giant gums next door. Dogs are welcome – kids too! There's an olive tree, a couple of overgrown geraniums, an eclectic selection of tables, barrels and chairs, and there is a smiling LGBT Pride flag hanging cheerfully from the pergola. It can sometimes be a bit of a wait for food, if it's busy – but you are probably here on holiday, so relax and soak up the atmosphere. It's lovely inside as well, with another catholic collection of retro chairs and tables, old sofas, a bench or two. Or you may prefer watching the world go buy from the pavement seating out the front, on the brightly coloured chairs beneath the freshly painted orange veranda.
I walked in late this morning to see the cook sorting out a box of huge, beautiful mushrooms, as big as bread-and-butter plates, and my decision was made. 'May I have those, but with smashed avocado please?' The resulting plate of scrumptiousness might keep me here all afternoon. (Note: they also know NOT to heat a croissant in the microwave, which is fabulous. I had one in town last week that had been squashed flat as a pancake in a sandwich press.)
I have somehow finished my enormous breakfast and found room for a coffee. Great coffee. And HOT! Francis stops by for a chat in the quiet zone between the last of the brunch crowd and the next influx of lunch guests. Before they rush in, I am off, to wander the long way home as the day heats up and the pool beckons, a gentle breeze whispering through the trees, the birds chattering emphatically as I pass beneath them…