We were asked to write a piece for the ANZA News on where we lived in Manila and why. It was a good excuse to consider and re-assess…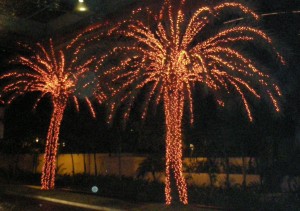 When  we first flew into Manila, a realtor took us around Makati and the Fort. She showed us houses in gated communities, apartment blocks, condominiums. Several things made us head away from village life to our current apartment overlooking the Pasig River.
1. We wanted something we could readily lock up and walk away from when travelling.
2. We wanted easy access to a mall, particularly for me and our two teenage boys.
3. We wanted a pool and grounds that wouldn't be our responsibility (see 1)
4. We wanted to be an easy distance from the boys' school and my husband's office.
The Rockwell Centre is an oasis in the desert of concrete that is Metro Manila; a retreat from the traffic and mayhem of downtown Makati; a garden of Eden separated only by a wall from the Sodom and Gomorrah that is Poblacion's red light district. Rockwell is 15.5 hectares of land that used to be a thermal power plant owned by the Lopez family, owner of Meralco, the major electricity supplier in the Philippines, which is hardly surprising news when you see the volume of fairy lights at Christmas.
The part that still makes me smile is the private entrance at the bottom of the garden into the food court of Power Plant Mall. I will forever feel like Lucy going through the wardrobe into Narnia.
Our oasis has easy access to EDSA, the central artery of Metro Manila, as well as The Fort, Glorietta and Greenbelt (nearby shopping precincts). Rockwell is bordered by the gated community of Bel-Air to the south, the Pasig River to the north, and the working class suburbs of Guadalupe and Poblacion to east and west.
Our apartment is a spacious 4 bedroom, all with ensuites, and a maid's room that is one of the best we saw anywhere – so good in fact that, for us, it doubles as a guest room and den for the boys, even if the ensuite is a little basic. (N.B. maids accommodation is standard in almost every house or apartment, however small, but most maids quarters resemble a tiny walk-in wardobe, and as Aussies unused to live-in help, we sometimes found such contrasts a little hard to swallow).  The kitchen isn't huge, but its perfectly workable, although it is worth negotiating for quality white goods – may apartments make do with sub-standard stoves and refrigerators. There is plenty of wardrobe space, and the Master bedroom –  well, let's just say I have lived in smaller houses!
Our private entrance to Power Plant Mall is absolutely brilliant for a quick dash to the supermarket for milk and chocolate or the hardware store for light bulbs; to the ATM machine when I run out of cash ; to Chillis when the boys are screaming for red meat and there's none in the freezer, and to a selection of coffee shops and cheap eateries for meeting friends, ours and theirs, which is all too good to be true after years spent on the outer rim of suburbia where we needed a car to get to the corner shop. Feel the need for a Sunday night movie? There's a cinema on the top floor, right next door to Manila's best bookshop, Fully Booked. Want a moment of quiet reflection? There's a chapel two doors down from Toys 'r' Us that bursts at the seams on Sunday mornings.
Joining the Rockwell Club is a drawn out process (a common denominator here) but it's well worth the patience. Margaritas-by-the-pool was a lifestyle choice I had flaunted in front of my friends before I left Sydney, and one I wouldn't mind indulging forever, although I have since discovered that the Mojitos are better if you don't mind picking out the mint from between your teeth. Also, the gym is a godsend if I am not going to turn into a total blimp in the tropics. There is a good restaurant – although we've only been once – and Rocky's café is not too bad if you avoid the fried food – unless you have a penchant for cheap past-its-used-by-date coconut oil, which I don't. I am racking my brains for a negative twist – you can see I'm scraping the barrel!
Rizal Tower has the largest apartments but no balcony, and you pay in floor space if you choose Luna Gardens for a little fresh air, but the gardens are great for toddlers and small kids to ride bikes over your toes and throw balls at your head, and the ya-yas all congregate at twilight to give their charges a run around before bedtime. We have a car park or two, engineers on tap who do try to fix any problems, and friendly security guards who say hello every time I walk past, and can generally inform me where my teenagers are hanging out.
I do miss a barbecue on the patio, but only in the cooler months. And waiting for the lifts can be painful if you're in a hurry, and it's stopping at every other floor, and then you've forgotten your phone… but a front row pew for the fireworks over Rockwell at Christmas, New Year and whenever else the Filipinos feel like a firework extravaganza make up for minor irritations. Heaven help me if I ever complain. Hardship posting? Hardly! We are living in a bubble of luxury.