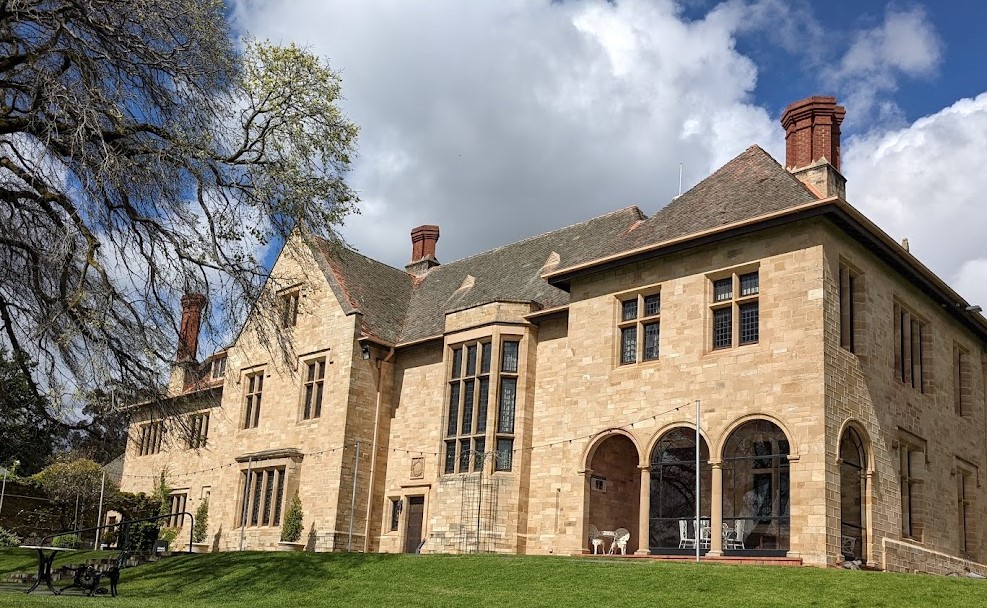 On a prime position, in the southern foothills above the Adelaide plains, sits a beautiful house that looks more like it belongs in the lush green English countryside than in the hot, dry southern hemisphere. Built in the late 1930s, it belonged to a well-to-do Adelaide couple, Sir Edward and Lady Ursula Hayward. The couple travelled to Europe for their honeymoon, and returned with a wooden staircase, fireplaces, doors and oak panelling from a stately home in Staffordshire that was being dismantled and demolished. Local architect, James Irwin, then designed a house to match its Jacobean plumage, using a creamy stone from Basket Range that was reminiscent of that honey gold Cotswold stone. When the Haywards died, not having had any children, they left their home to the people of South Australia. Almost seventy five years later, the property, in the care of the Carrick Hill Trust, is one of the few period homes in Australia to survive with its original contents almost intact and its grounds unabridged.
Edward (Bill) Hayward's father owned the Adelaide department store, John Martin's. At his father's request, Bill joined John Martin's in 1931 and soon became a director. In 1933, during the Depression, he initiated the store's annual Christmas pageant, to lift the spirits of Adelaide's children. The floats and costumes, and the 'magic cave' in the store, where the children could visit Father Christmas, were designed and produced by John Martin's, and the 'Johnnie's' Christmas Pageant continued to be an annual event in the city until the government took it over in the 1990s when John Martin's was sold.
Ursula Barr Smith, Bill's wife, was the daughter of a wealthy South Australian pastoralist. She and Bill were married in 1935 and her father presented the couple with one hundred acres of land at Springfield as a wedding present.
While it was made to look as if it has stood on the hillside for centuries, Carrick Hill also boasted the latest 1930's technology: heated towel rails, ensuite bathrooms and electric bells to summon servants. Ursula designed a gorgeous garden around the house, in the style of an English manor house, and the views from the terrace across the city to the sea are spectacular.
As the Haywards prepared to move into their new home, war broke out in Europe, and Bill was soon on his way to serve with the Australian Imperial Force in the Middle East, where he became one of the famous 'Rats of Tobruk.' Later, he transferred back to Australia and his duties as a Lieutenant Colonel took him all over the Pacific.
After the war, the Haywards began collecting art and antiques that reflected their personal tastes and broad interests: from Georgian and Victorian furniture inherited from Ursula's family to the Jacobean oak furniture they bought in England to match the fittings at Carrick Hill; from souvenirs of their travels to the paintings of close friends such as William Dobell and Russell Drysdale, Hans Heysen and his daughter Nora, Ivor Hele and Jeffery Smart.
I went up to Carrick Hill recently for a tour of the art works there and instantly fell in love with this bright and elegant house that combines history and modern luxury so beautifully. Entry to the house is $17 for adults and includes a guided tour of the house at 11.30am or 2.30pm Wednesday to Sunday. The gardens are open to the public from 10 am to 4.30 pm on those days, and there is a Literature Trail for children, where scenes from 20th century children's books have been created for the kids to discover.
Through the 1950s and 60s, Carrick Hill was a focal point for the Adelaide Establishment, artists, musicians and actors, the house constantly filled with sophisticated guests, music and dancing, fine wine and food. Visitors included such famous names as Sir Robert Helpmann, Katharine Hepburn, Sir Laurence Olivier and Vivien Leigh, and Barry Humphries.
This week, continuing past traditions, the guests at Carrick Hill were a troop of multi-talented Shakespearean actors from England, Australia and Africa, performing Twelfth Night in the natural amphitheatre behind the house. At twilight, the audience set up their picnics and deck-chairs on the lawn and crossed their fingers that the wet weather would pass quickly and quietly. It didn't. It continued to drizzle until the actors sang their last song and danced up the steps to dry off in the house. But no one seemed to mind. The audience was responsive and enthralled throughout, and the actors' spirits were unquenched despite the damp, monotonous drizzle, somehow maintaining a high level of energy and joie de vivre from start to finish.
Shakespeare South Australia have had a sell-out run at both the Botanic Gardens and Carrick Hill this summer. The show features original music – a delightful blend of modern and mediaeval – by Michaela Burger on the dulcimer, who also plays the Fool, Feste, with exuberant brilliance, in colourful pantaloons and a quilted jacket I long to own.
Artistic Director, Alys Daroy, also plays Olivia, the reluctant focus of Orsino's besotted courtship, who then falls violently in love with Cesario. Alys is a recent 'boomerang,' a term to describe one born in Australia, who has travelled overseas and returned home years later. She found herself back in Adelaide in 2019 for a short visit and ended up staying. Last year, she founded Shakespeare South Australia which opened at the Botanic Gardens in October and has just completed 'an encore' at Carrick Hill, most fittingly on the Christian twelfth night. Originally a Catholic holiday, the twelfth night after Christmas was an excuse for pantomime and revelry, when servants often dressed up as their masters, men as women, and women as men, a 'traditional atmosphere of licensed disorder.' Already a play about the cross-dressing Viola, other gender-swapping included the Fool and Antonio, who were both played by women. Although we only saw 'Antonia' briefly, Britt Plummer plays the very bolshy and articulate pirate queen with aplomb.
Other great performances came from Paul Westbrook as the irrepressible drunkard, Sir Toby Belch, and Michael Baldwin as the pompous, over-bearing Malvolio in yellow stockings and cross garters, cut down to size by the cruel but clever antics of Sir Toby and Mariah, (local actress Kate Van der Horst). And David Daradan put in a dazzling, quick change act when he doubles as Sebastian and Sir Andrew Ague Cheek battling behind a bush.
After surviving a grizzly childhood in war-torn Liberia, and grim years as a refugee, Shedrick Yarpai has found a new home in Adelaide, and does a superb job as Orsino – although in my humble opinion, we didn't see nearly enough of him! (Apparently, his life story has been told by American playright Charles Smith, in his play Objects in the Mirror.) And of course the Anne Hathaway look-alike, Melanie Munt, did a great job of the Viola/Cesario role, sent to woo the lady Olivia on Orsino's behalf.
It was a splendid night of fun and high jinks, despite the poor weather, and I wish the company continued success in presenting us with choice Shakespeare productions in such glorious outdoor settings.
*The photo of the SSA is borrowed with thanks from their programme.