We drove across the Fleurieu recently, to meet our daughter in McLaren Vale. Unfortunately, it was unseasonably chilly, so my plan for lunch on the lawn at Chalk Hill was scuppered by a general consensus that it was far too windy and far too cold for a mid-winter picnic. So, we drove down into town, to find somewhere warmer to eat. Pausing at the intersection, my eye was caught by flags flapping outside the church opposite, pronouncing Pasta Pizza & Platters. Perfect. We found a park nearby and strolled in. A table on the patio near the front door was dressed in a red and white gingham cloth. Apparently, we learned later, this is to indicate when Sabella's is open for business. A man with a magnificent moustache was waiting near the entrance to welcome his guests.
The McLaren Vale Congregational Church on the Main Road in McLaren Vale was opened in 1862 and closed in 1974. For many years it was a concert venue and a marketplace. In March 2019, it was finally auctioned off. This small, sandstone gem was bought by local winemakers, Joe Petrucci and his son, Michael of Sabella Wines, their vine only five minutes out of town, just the other side of Wirra Wirra.
Joe has been growing vines for over forty years and making his own wine since 1999. But Sabella's had been a 'homeless' winery (without a cellar door), until the Petruccis bought the church – just as Covid struck and shut down the state. They used the opportunity to renovate the church and transform it into a dining area with both an indoor and an outdoor bar, and a courtyard for entertainment. Covid may have slowed down the opening, but last weekend, the place was alive and buzzing.
Giuseppe (Joe) Petrucci was born in Italy, north-east of Naples, where his family were farmers. His family migrated to Melbourne in the 1960s. In 1976, Joe and his wife Rosa moved to McLaren Vale, with their kids, Michael and Maria, where they had bought their first vineyard in McMurtrie Road. Since then, they have increased their acreage considerably: from 25 to 110 acres. At the beginning, Joe sold the grapes to various neighbourhood wineries. Then, in 1999, he decided to keep some back for release under their own label, and Sabella's was born. Joe's son Michael took on the role of winemaker while Joe continued to look after the grapes. While still fairly new to the game, they were delighted to win the George Mackey Award in 2009 for the best wine exported from Australia, for their 2005 Cabernet Sauvignon. They are now exporting to Singapore, Malaysia Japan, Hong Kong, China and New Zealand. But there is no need to travel so far – you can try these lovely wines right here.
Despite a couple of covid-related hiccups, Sabella's cellar door is now happily ensconced in the freshly renovated church. And it's truly a family business. While Joe and Michael look after the drinking side of the equation, Joe's daughter Maria manages the cellar door, ably supported by her kids, nieces and nephews. And in the kitchen, you'll find Nonna Rosa cooking up a storm: pasta and pizza and a couple of desserts that change as the mood takes her. As Maria says, they want to keep it sweet and simple. It's about the wine first and foremost, with food on the side. Nonetheless, the food is great, and the setting is gorgeous.
You can sit inside or out – we've done both – but the live music is generally on a small stage at the back of the garden, near the outdoor bar. Inside, there is still the calm of a church, even when it is chock-a-block with people munching and chatting. Stained glass windows filter the light like a prism and the wooden floor is highly polished. A high bar has been built where once there stood an altar that also served bread and wine. The kitchen may be small, but it's effective.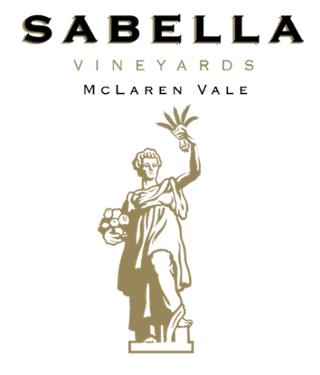 On our next visit, I wander in at noon, with the One & Only, only to find them still setting up. Stupidly, I hadn't checked the website and Sabella's don't open till 1pm. Oh well, time to stroll along the Shiraz trail to the edge of town and back, and build up an appetite. For future reference, Sabella's is open Fridays and Saturdays from 5-10 pm, and on Sundays from 1-7 pm, with live music till 5 o'clock.
This weekend LizBiz is singing enthusiastically as we sip our drinks and munch into a pizza, the base thin and crispy, generously smothered in prosciutto and mozzarella and scattered with chilli and olives. We also share a tasty bowl of penne with a pork mince sauce. We add the chilli this time. My toes tap to the music, But I resist the temptation to join in the singing – at least while my mouth is full of pasta.
Later, I find Maria has a few minutes to spare and we sit down for a chat in the courtyard, while LizBiz takes a well earned break. Maria recently gave up a teaching job in the eastern suburbs to join her parents business in McLaren Vale. She now works as many hours at the cellar door as she did in school, she says, but work at the cellar door takes up her weekends instead of her whole week. And at least here she can have her family around her at the same time.
For some years, Maria tells me, the garden beside the church was known as the Groove Garden, where local bands would gather, and Joe would sell his wines at the bar. So, nothing has changed there: the bands still come to sing on Sundays, and Sabella's wines are still lined up on the bar. Maria has retained many of the town's favourite performers but has sourced a few newbies as well.
Maria says there's still a lot she would like to do here, but for now they are all happy with the way things are going. And so are we. It was a lucky find, the day the wind blew us off Chalk Hill. (And in a whispered aside, I was even more delighted to realize that this was the church my great grandmother attended when she was at boarding school in the village in the late 19th century.)
Unfortunately, Joe is not in situ this weekend. Apparently, he's recovering from a recent operation. So please get better soon, Joe, as next time I visit, I'd love a chance to talk to you about your wines. I have only tried the delicious, deep red rosé made from Aglianico grapes (pr. Ah-LYAH-nee-koh) which are popular in the Campania and Basilicata regions of Italy. (I I looked them up on Google maps. If you didn't know either, Campania is on the calf, or the south-west coast, its capital Naples; Basilicata is a region of forests and mountains in the instep of the boot.) I now have a bottle in my fridge which will be perfect for summer… when it finally gets here!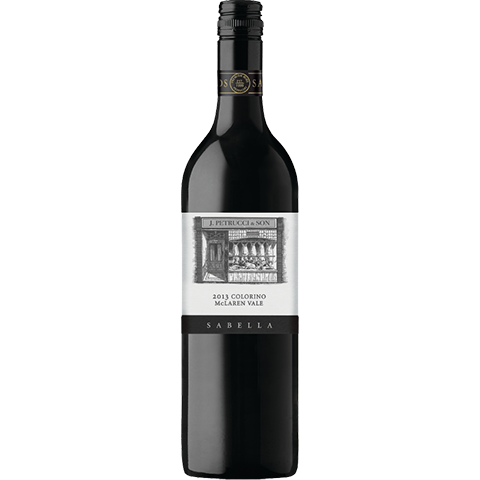 Sabella's boasts not just one but two interesting labels. The traditional label looks like the sister of New York's Statue of Liberty. It is in fact an image of the statue of Abundance, a 17th century tribute to Joanna (Giovanna) Archduchess of Austria and Grand Duchess of Tuscany, wife of Francesco de Medici, whose daughter, Marie de' Medici, married King Henry IV of France. Carved by a series of three sculptors, she is made of white marble and clutches a bronze bouquet of wheat.
Maria explains how Joe came across this beauty in the gardens of Boboli, at the Pitti Palace in Florence, and instantly fell in love. So, what could be a better tribute to a favourite lady than to put her on a wine label?
The second label is in a completely different style and depicts an old fashioned butcher shop window, complete with porcine carcasses. I am fascinated. Why a butcher's shop on a wine label? Maria has no idea. She thinks her dad just liked the art work. Well, it's definitely different and certainly eye-catching, and Joe uses to represent Sabella's premium wines.
One last point. Why did they call the winery Sabella's? Why not Petrucchi's? Apparently, it is a pseudonym for the Petrucchi family, derived generations ago from Joe's great great grandmother 'Isabella,' a name that would still be recognised in the town of his birth today. Of course. Why didn't I think of that? Now, where did I put my glass…?