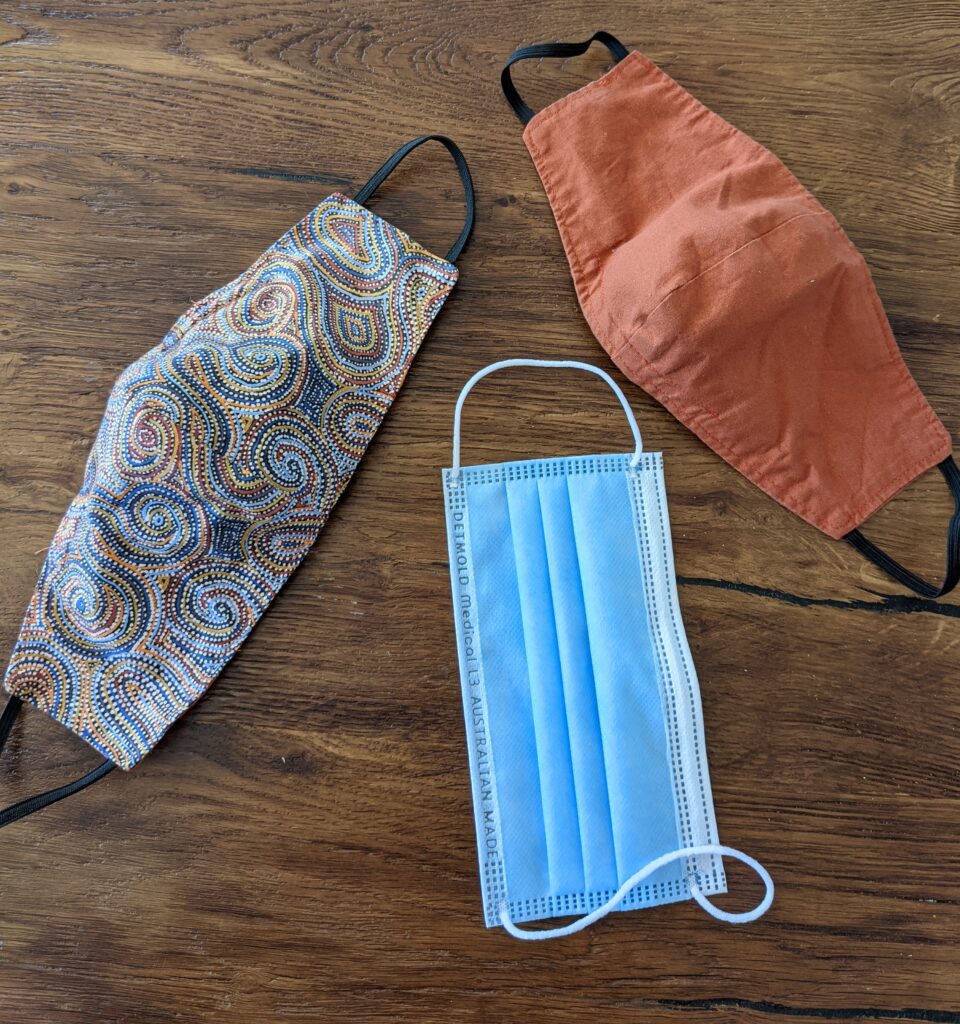 The irony of my blog's name struck me anew this morning. No borders, only horizons? Uh huh. Not much truth in that, these days. Not that I'm complaining. South Australia has been spectacularly well protected from the horrors of a virus that have hit the rest of the globe so hard. And my biggest gripe is having to wear a mask everywhere, despite two covid jabs. How annoying to have to blinker my vision and steam up my glasses every time I leave the house! And what's with that terrible whiff of baby pooh when you've been wearing a surgical mask for more than two minutes? Is my breath really that bad? If I'm honest, I haven't really minded sitting still for a while, I am only antsy because – it turns out – I'm not very good at having others tell me how to live my life.
And we are exceptionally lucky down here on the Fleurieu, with the sea so close and at least a daily glimpse of the horizon. Keep counting your blessings Madame, and life is looking pretty good compared with stories I've been hearing from interstate, not to mention the rest of the planet. My own niggling frustrations seem ridiculous in the face of far more serious consequences. But as I see so many other countries accepting the new normal and stepping back into action, so many overseas friends travelling internationally as the wider world re-opens the stable doors, I am glad to read that moves are afoot for Australia to come out of quarantine soon. Much as I have thoroughly enjoyed re-establishing myself in Australia after so many years abroad, I am certainly looking forward to dusting off my passport and queuing to board a plane.
We are the lucky country in more ways than one, I know that, and the way we have kept Covid and an excessive death toll at bay is fabulous. It's certainly been good for the environment, as plane travel has been at a virtual standstill, and cars remain in their garages, while everyone that can, works from home. And yet, I suspect there will be a huge price to pay for putting our lives on hold for so long. One that may take decades to calculate.
While some families may have enjoyed the simplicity of a life in lockdown with their nearest and dearest, for others, it's been their worst nightmare. In Australia, those graduating from high school and tertiary education over the past two years have missed out on all those coming-of-age celebrations. Friends in the Philippines have been home schooling their children for 18 months – and that must be particularly tough on 'only' children, who miss out on all the socializing that goes hand in hand with education. And this, even though we understand that the junior portion of society is the least vulnerable to Covid. (When is the last time you saw a kid in a mask?) So why have we put their lives on hold? Not to mention the poor teachers, who have worked their fingers to the bone trying to re-write school syllabi to operate on Zoom?
Crisis lines have been running hot, particularly from those cities where endless lockdowns have left the lonely and isolated even lonelier and more isolated. Mental health issues have spread as virulently as Covid 19 and will take longer to repair. Small businesses are suffering too, particularly in areas such as hospitality, and how long will the economy take to recover from that? And what happens when the next Pandemic sweeps through? Can we afford another global shutdown? I'm not talking simple economics, as I've always bemoaned the modern mindset of constantly 'biggering and biggering' as selfish and self-destructive, never mind the cost to our beautiful, beleaguered planet. But I do worry about the fabric of society; of a basically needy and sociable human race being constantly shoved into isolation. Even the introverts among us must have found such enforced seclusion hard to bear.
I spoke to friends in America only this morning – easy enough with Zoom, Skype, Facebook messenger et al, I know. Yet somehow, we have all found the mindset of lockdown blinkering us to the possibility of being able to communicate by phone with family and friends, wherever they are. So, I am looking forward to that northerly wind to blow away the cobwebs in my head, and a resurgence of hope and happiness. We may have escaped lightly in South Australia, but I am still aware of a general tone of negativity, a glass half full attitude to a world that many say has changed forever, that nothing will ever be the same again. And I think we all need to stop thinking like that.
We may all be cautious for some time to come. But every small freedom returned to our daily lives must surely have a positive effect? If only that we to have come appreciate the little things more; to see the 'normal' freedoms as the luxury they most certainly are, rather than that previous sense of entitlement, of human right. So, here's to a renaissance of positivity with a liberal dose of appreciation for the gifts we have – and the opportunity to hug all our neighbours again!