Last week I caught an Uber back to the Cubby Hole. For once, my taxi driver knew the street – 'it's just around the corner from my uncle's restaurant,' he assured me. Hoping I didn't sound too un-p.c. I said cautiously, 'not the Namaste?' Yes! He cried, 'That's it! Do you know it?' After five minutes of 'compare and contrast,' I was extended an invitation to pop in with him to see if we could share some left overs.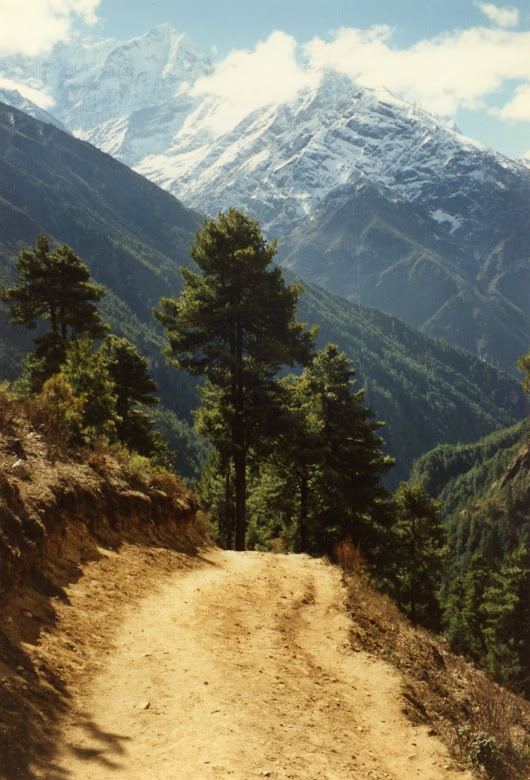 'Namaste' was the first word I learned when I landed in Kathmandu thirty-something years ago. Derived from a Sanskrit word it is a respectful greeting, used at any time of the day, in much the same way Italians use "ciao" or Aussies say "G'day."
The Namaste restaurant was one of the first Nepali restaurants in Adelaide, established in 2003 by husband and wife team, Somnath & Sashi. You'll find it in a pretty 19th century cottage on George Street, Parkside. We have been driving past for years, on every home leave back to South Australia, and have been forever mumbling that we really must drop in one day. This year, we made it through the front door at last. And already we have clocked up multiple visits.
As Namaste is a popular greeting across South Asia, so this restaurant features dishes – often fusion creations – from India, Tibet, Nepal and China, combined with a few more local ingredients like lamb, tomatoes and peas.
Takeaway from Namaste is perfectly acceptable, if you want to eat in your dressing gown and Ug boots, but then you'll miss out on the homely, welcoming atmosphere in each of the various dining areas. Depending on where you sit, the space may be conducive to a romantic date night or an intimate family group. On a wet and windy winter's night, it was lovely to sit in the warmth, with sunny yellow walls and a cosy fire. The banquet seemed the easiest thing to do when there were six of us talking hammer & tongs. Well, it saved interrupting the flow of trying to catch up on all the family news in one evening!
We got off to a flying start with a selection of delectable starters: momos (Nepalese dumplings) sekewa (classic Nepalese chicken skewers), mammoth-sized samosas and phulaurah: black lentil patties with traditional Nepalese spices (my favourite, dipped in the green sauce). We even stopped talking for a few moments to fully savour each mouthful. The main courses weren't quite as distracting, but probably because we'd already taken the edge off our appetites.
Since then, we have nipped around for takeaway a couple of times, and recently we took the whole brood for a birthday dinner. They have long been faithful adherents to Indian cuisine – I think the youngest was barely three when we introduced them to butter chicken with spectacular results – but they came away from Namaste quite smitten with the joys of curries in a lighter format. Butter chicken and saag paneer still topped their list, but they were just as delighted with some new tastes and textures. We introduced them to momos, and a light Jhaneko Daal of yellow and black lentils cooked with Nepalese herbs and spices. I'm still not sure how those spices differ from traditional Indian ones, but there was definitely a difference – somehow more subtle than the heavy, sensual attack of Indian curries that generally leave you feeling bloated and a bit queasy. Or maybe that's just for the gluttonous among us! We shared a hefty lamb shank (which could have been cooked a little longer, but the flavour was excellent), and an even better lamb dish. And of course, there were the ubiquitous baskets of papadums and roti.
Despite the annoyance of face masks, the staff remains friendly and cheery – showing greater patience than Yours Truly, who is getting increasingly crabby about the need for them in Covid Free South Australia – and treats everyone like family. Sadly, after over-indulging on the savoury dishes, no one had room for dessert, not even for the sake of somewhere to stand a candle. But that's OK. We all know our way back! And despite the volume of food we had all devoured, there were no complaining stomachs.