"Blow, winds, and crack your cheeks! Rage! Blow!
You cataracts and hurricanoes, spout
Till you have drenched our steeples, drowned the cocks! ~ Shakespeare's King Lear
We were back on the road this week, but without poor Barney, who is currently in therapy, awaiting a new engine. Our last foray north found us nursing Barney beside the Prince's Highway, just shy of Crystal Brook, as he hemorrhaged oil and black smoke in equal measure. Luckily, we can get him a transplant, and hope to have him back on the road next month, but in the meantime, I am 'camping' at Stone Hut (a whistle stop on the Horrocks Highway) in a corrugated iron cabin. In the paddock next door is a petting zoo containing two alpacas, a pair of goats, two kangaroos and a couple of emus for the amusement of the kids – and me!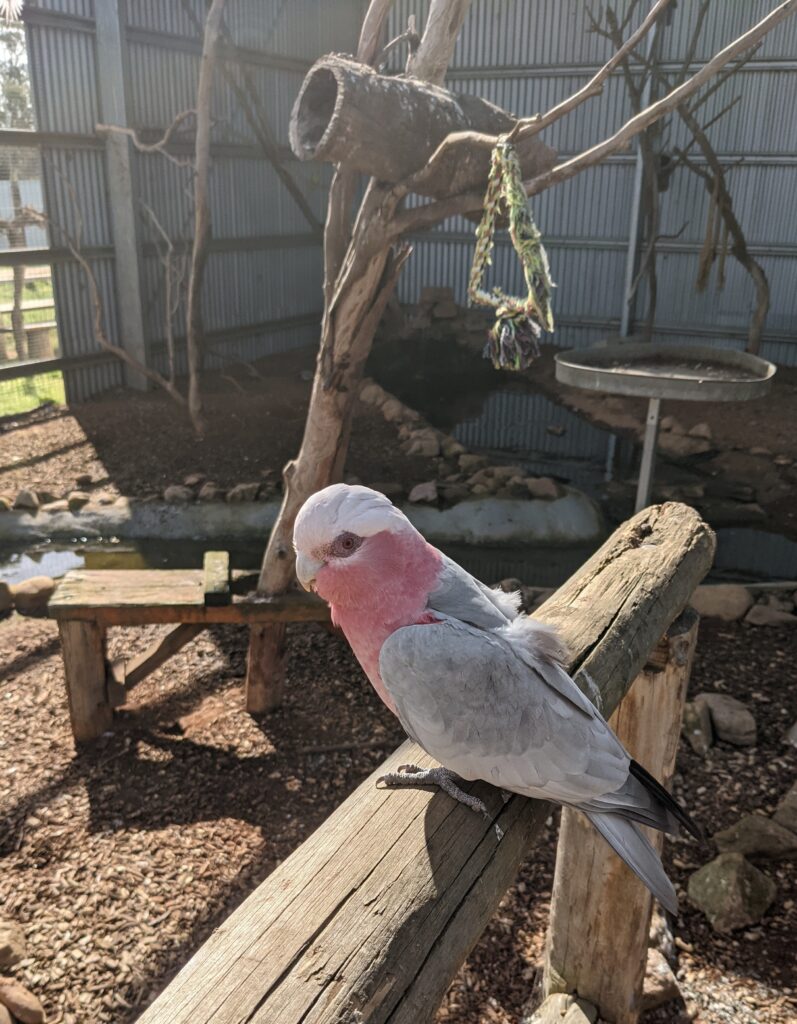 There's also an aviary filled with a variety of parrots. A sulphur-crested cockatoo known as Trevor (who can apparently swear like a trooper) is trying to tunnel out. A bossy lorikeet pushes aside the larger birds for a chance to lick my hand with a surprisingly long tongue. A young galah with fierce pink eyes sits on my shoulder and attempts to nibble a chip off my earlobe.
Our cabin backs onto the Stone Hut Bakery, a well-known pit stop for motorists, who crave a break and a taste of the odd but delicious selection of homemade pies and classic cakes. I have bought a kangaroo and red wine pie for dinner, but I could have chosen croc and coriander, chicken satay pie or simple chunky beef. And there is a piece of passionfruit cheesecake and a banoffee pie in the fridge for later.
The One & Only is back on the Heysen Trail, filling in a few kilometres between Wirrabara and Melrose before the heat and the flies take over, and trekking is no longer a joy. The first day, we drive through Wirrabara Conservation Park past the Ippinitchie Campgrounds and out to The Bluff. This is a brand new lookout point on the edge of the ridge – officially opened only the day before! And suddenly this road less travelled is bumper to bumper with cars, dodging and weaving through heavy clouds of dust. It's worth a little unexpected traffic. A small car park, and a short walk, and we come upon a new steel platform facing west. We gaze out upon the cobalt blue waters of the Spenser Gulf and the ports of Pirie, Germein and Bonython. Behind us, to the east, steep hills and gullies are cloaked in gum trees before the landscape flattens out and farmland takes over. It's a breath-taking view I could look at for hours – if the wind wasn't so unpleasant. Yes, I hear you, I should know better, but I came inadequately prepared for chilly winds. I head back down the steep, single-lane, switchback road as the One & Only dons his backpack and heads off into the bush to clock up the miles on foot.
Meanwhile, I'm off to do some exploring of my own. With wheels. This chauffeuring gig has taken me down some of the most beautiful back roads of South Australia, in search of the next drop off or pick up point for my Happy Hiker. Here, in the Southern Flinders, the hills are effervescent under acres of golden rapeseed flowers, in stark contrast to the dusty green gum trees. Kangaroo ears often peek curiously above the yellow blanket and there are infinite numbers of ostentatiously clothed parrots lining the roads, as if awaiting a Royal Procession. I bow my head and wave as I pass by.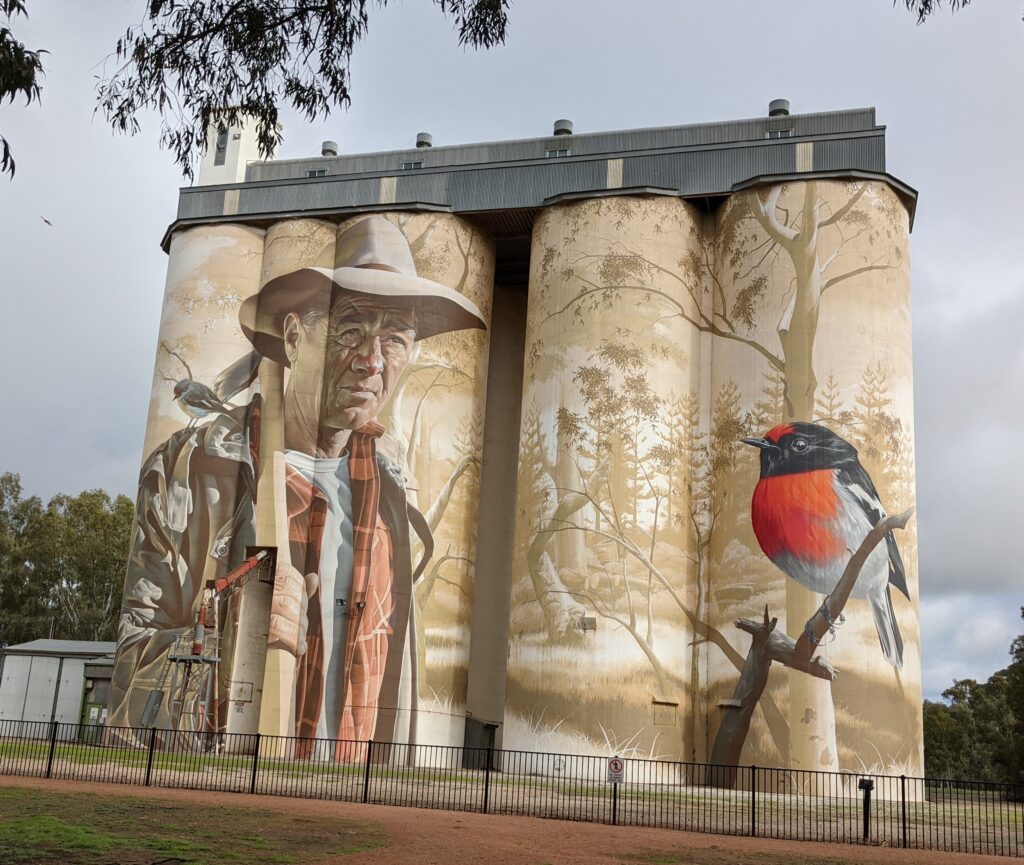 So. What to do today? A quick stop to admire the art work on the silos in Wirrabara. Next? Shall I drive down to the coast for a coffee in Port Pirie, or perhaps revisit Blesing's Winery? I found this little gem on an earlier trip north. Tucked away in a nook in the hills, just off road that runs through the glorious Germein Gorge, this family farm makes some rather nice little wines, and I wouldn't mind a couple more bottles of the Nebbiolo to put in the cellar. Or maybe pause for a chat and a couple of scones, jam and cream with the lovely Margot. On second thoughts, as the rain races through again, furiously pounding the windscreen, I might just hang around our cabin and talk with the animals, like Dr. Dolittle. (I spend the day dodging the rain, but it seems the sun shone upon the Heysen Trail all afternoon. Hmph.)
At the end of the day, scrubbed clean from the dust and grime of the road, we head to the North Laura pub for 'schnitty' and chips and battered garfish. Hopefully there'll still be room for sticky date pudding with home grown Golden North ice cream, too.
A warm, sunny day is followed by a day of intermittent showers and high winds. Who would guess it was spring? Changeable and unpredictable, this month has not made planning easy, and I decide to take cover in a coffee shop in Melrose and catch up on some emails.
Unfortunately, my idea of retreating into a quiet country café never quite happens. The coffee shop is awash with the chirrup and chatter of a thousand cyclists, and I eventually give up and leave, concluding I can probably work better in our peaceful little cabin. I consider a walk through town first, and maybe a visit to the museum or the swing bridge, but its blowing a gale and I am not warmly dressed. Again.
So, it's back to Stone Hut. The internet may be a little unreliable, but I can get some writing done at least. And if I need a break, I can pop across to chat with Trevor & Charlie, and the two hand-reared galahs who only like women to scratch their heads and will cheerfully take a chunk out of any male who gets too close. There's another young galah with a cheeky inclination to climb onto my shoulder, whip off my glasses with a flourish, and toss them in the pond. An elderly corella dances to the music in his head, twirling on the fence post and taking a dizzy bow. Indian ring necked parrots in blue, grey and yellow are curious but nervy and won't let me get too close. And it's raining again, anyway, so back under cover I go, until the One & Only calls to say he's had enough for the day and its time for a beer and a hot shower. And Banoffee Pie!