Sunny day, sweepin' the clouds away
On my way to where the air is sweet.
Can you tell me how to get,
How to get to Sesame Street?*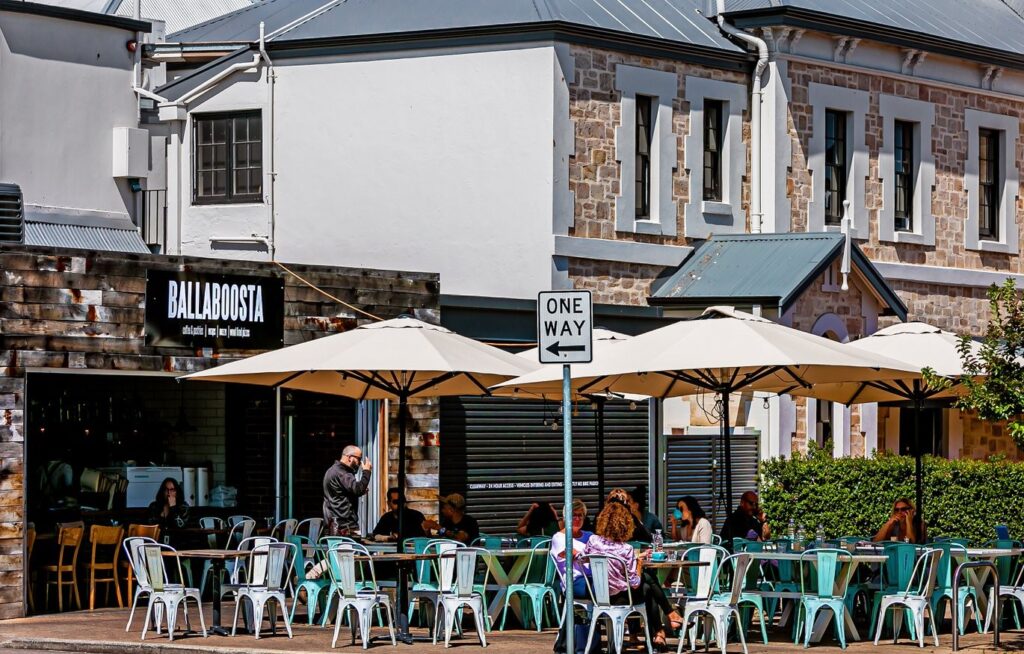 Ballaboosta (and you will find a variety of spellings) is a Yiddish term to describe the person who takes care of everyone; traditionally the homemaker, the one who brings the family together, who cooks for them and cares for them.On Halifax Street in the southeast corner of Adelaide CBD, Ballaboosta is touted as the café where "Where Mediterranean meets Middle East" in a custom made wood fired oven, and boasts that most of their menu is made from scratch.
Ballaboosta is open from 7.30am – 9.30pm every day but Sunday, when it closes at 3.30pm. I first came across them when I was desperate for coffee at an hour when every other coffee shop in town had closed for the day. Not only did I get an excellent coffee, but I found a tempting range of home-made pastries and desserts.
The inside is tiny, but there is plenty of space on the pavement when the sun shines – or even when it doesn't, as there are outdoor heaters and umbrellas when needed.
Staff are friendly and the food is a little different. For once, you can enjoy brunch without a whisper of smashed avocado. Don't get me wrong, I'm a smashed avocado fiend, but it seems to have become ubiquitous on every breakfast menus, in Australia at least, so Ballaboosta's offerings make an interesting change.
So, what do they serve for brunch, if not smashed avo?
Well, there are breakfast pizzas on flat bread (great for the kids), oven baked eggs with middle eastern spiced lamb mince, or wild zaatar and cheese in an eastern Mediterranean version of the quesadilla, to name but a few.
I particularly enjoy the dishes on 'Betty's Menu' defined as 'traditional soul food, made with love, by our very own Ballaboosta.' These include chicken (shish tawook) or lamb skewers (kofta) and a marinated fish served with chilli, tahini and of course pita bread,and malfouf, like the Greek dolmades, only made with cabbage leaves not vine leaves. All theses dishes are great for sharing, for brunch or lunch. Mix them up with some of the mezze dishes for a real feast!
A few quick tips: Ballaboosta gets terribly busy over the weekend, so do book ahead – and don't be in a hurry, as you may have to wait a while, even for coffee. (Well, I'm not the only person in town to think it's a cool place to go!) I highly recommend going with someone you are happy to chat with while you wait. Tripadvisor gives it mixed reviews, and I have to agree that some days are better than others, but I have always enjoyed the food, even when not quite what I had expected. And the pita bread, freshly made in the wood oven, in whatever format, is always great. When the staff are on song and the day is sunny, Ballaboosta has got a happy, breezy vibe, where dogs and kids are welcome, and it makes me think of the Sesame Street song!