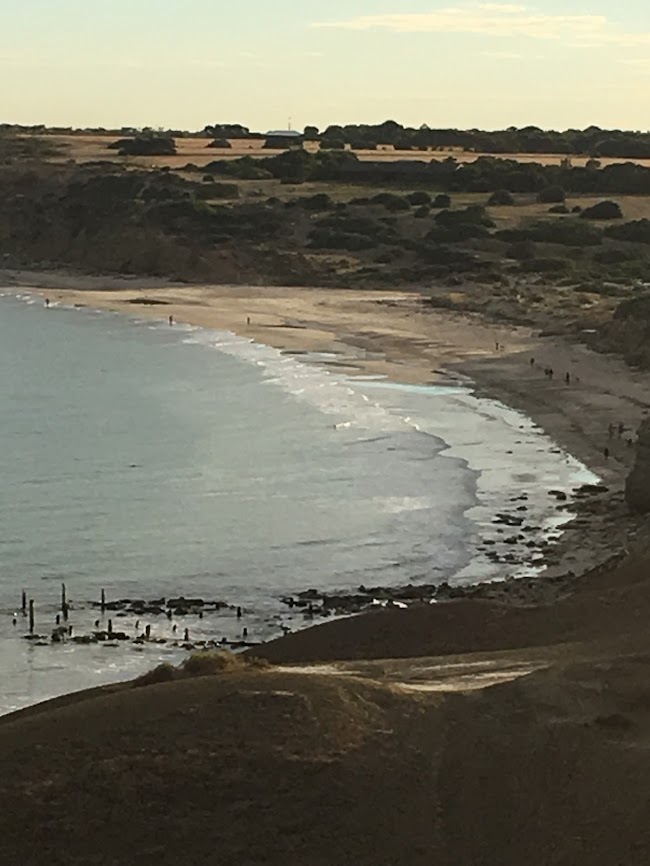 At last, the rain took a day off and we could get down to the beach this morning for some much needed fresh air.
While we have been hiding away – partly the weather, partly a brief South Australian lockdown – the wind and rain have been having a jolly old time scattering foam and seaweed, cuttlefish and cockles up and down the length of the beach. Waves have ridden right up over the jetty and high tides have torn away the sand dunes in vast chunks.
My childhood memories of growing up in South Australia suggest it rarely rains here. Faulty memory or global warming, this past month has been cram packed with howling winds, torrential downpours and endless British 'mizzle' – that ultra-fine drizzle that seeps into your skin and leaves you feeling damp and ever so slightly mouldy.
So, what to do? Well, with a blue sky at last tempting us out into the open, we headed north to Port Willunga. Here, at high tide, the beach was non-existent, waves were roaring up to bombard those massive cliffs, and a couple of intrepid surfers were catching a final wave or three before night descended.
The Star of Greece was wrecked off Port Willunga almost 170 years ago, and the restaurant that sits perilously close to the cliff edge, like an eagle's eyrie, has been named in its honour. After a desultory walk through the dunes and along the Willunga Creek, we decided we were long overdue to dine there, and wandered up for an early tea. We were surprised to find that the Star of Greece – despite sitting 10 metres from the sea – is not a glorified fish'n'chip diner but is, in fact, a fine dining restaurant with a range of interesting menu choices. Nervous that we were rather under-dressed for such splendour, we were assured we would be welcome, as long as we were wearing shoes. In fact, the website suggests summer guests can enter in flip flops and sarongs over bathers – or ballgowns! I do love the Australian attitude to casual. Dressed many degrees below ballgowns but a step or two up from thongs and sarongs, we went in.
On such a chilly winter evening, the deck was wisely closed, and we were more than happy to snuggle inside, away from the obstreperous wind. A table by the window gave amazing views across a choppy sea and up the coast to the lights of the southern suburbs.
We read through the menu armed with a KIS O'Gin, garnished with rosemary and orange. (Note to self: order a bottle for home consumption. It's five star.)
The menu is a good length – not barraging you with a million choices but providing a great variety of flavours. (And there's a good menu for vertically challenged diners, if you want to take the kids along.) Of course, we had set our hearts on fish'n'chips, so after some consideration, we by-passed the confit duck leg with seared scallops and the Wagyu steak for whiting and hand cut chips. We did, however, get a bit more daring with the entrees: a delectable raw Murray cod and a bowl of baked burrata with salsa rosa and asparagus.
There is definitely an Asian fusion theme going on here, with kimchi, betel leaf, nori salad, fermented chilli and daikon radishes teamed with local specialties such as Kangaroo Island whiting, KI squid, Spencer Gulf prawns and local mushrooms. Servings are generous without being overwhelming, and the service was great. Despite having to talk through masks, our waiters were delightful, welcoming us warmly and checking in regularly to make sure all was going well.
The Murray cod (think ceviche) was mixed with fermented chilli, green mango, coconut, nigella seeds and lime and served on a betel leaf. What a stunning amalgam of delicate flavours! Although possibly better for a warm summer evening out on the balcony, it was nonetheless fabulous, and it went perfectly with my G&T. I found myself feeling positively nostalgic for the Philippines, and not just the rather warmer climate. The One & Only's reconstructed bruschetta was warm and tasty and much better suited to the weather. It was also something I will certainly try to recreate at home.
After a nicely spaced interval, we were served our main courses. The One & Only chose the traditional battered whiting – was that an apple cider batter I tasted? A twist on the old beer batter? – while I went for grilled. Both were superb and served with a light garden salad and a truly delicious homemade tartare sauce. We savoured every mouthful.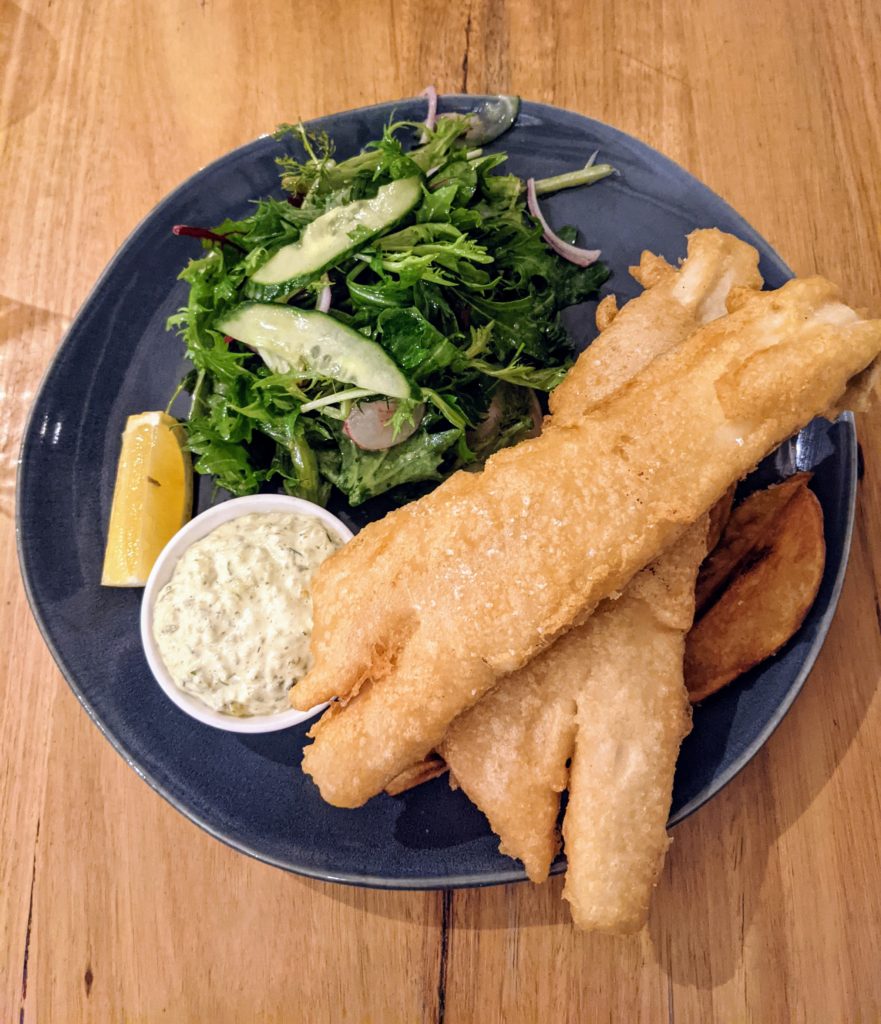 The restaurant has been a staple for Port Willy residents and holiday makers alike for over twenty years. Apparently, it was originally a tiny fisherman's shack, but it has been renovated and enlarged several times since it was originally built. some 70 metres (230 feet) above the sea. And there is a kiosk next door, currently closed for renovations, that will doubtless be up and running again by the summer.
While we forwent a bottle of wine (the road home is dark and winding and littered with kangaroos) the wine list is well designed and benefits from the proximity of McLaren Vale, although not exclusively. A few Mediterranean wines and other SA wine regions also get a mention. We'll save them for next time…