I love Rockwell. There is always some new restaurant to try amongst the plethora to be found both inside and outside Power Plant Mall. My latest, belated discovery is Rambla. Apparently it has actually been there for almost twelve months, but I have been away a lot this year and only came across it in September. I may have been delinquent, but I have been dropping in at every opportunity since.
Rambla is described as a Spanish Open Kitchen and cocktail bar. It is, more accurately, an innovative tapas bar, a platform for modern Iberian cuisine where the concept of tapas takes priority over the concept of Spain. Of course there are all the standard Spanish favourites: Jamon Iberico and Manchego cheese; a stunning Spanish omlette of prawns and potato, served in a baby cast iron frying pan; and a salmon paella, to name just a handful. But there is also a heavy emphasis on tapas with a twist: veal cheek won tons (my favourites); lechon croquettes of great crunch and richness; shiitake arancinis (rice balls filled with those east Asian musty mushrooms) and the quite extraordinary foie gras mousse with caramelized apple and coffee Baileys foam, which sounds more like dessert than an appetizer, and I am yet to be brave enough to taste. But the chef is obviously having fun trying out different flavour combinations, and even if some seem a little far-fetched or slightly dubious, good on him for experimenting – although I would suggest he encourages customer feedback on some of his more outrageous creations. I would also politely suggest he consider the maxim 'less is more', as the quality of some dishes is sometimes lost amongst the surfeit of trendy ingredients and too-clever flavour combinations.
So, that was last month. This month the menu changed – apparently that will happen quarterly – and we were confronted with a range of new dishes to try. With a glass of Sangria in hand, we were perfectly content to start afresh.
Actually, a quick word on the Sangria. Offered red or white, I usually choose red, as I have always loved this wine punch served with a cinnamon stick, that tastes like mulled wine, only chilled. Today, however, I tried the white wine Sangria, and I may never look back. On a muggy Manila afternoon, this is really refreshing, and more closely resembles Pimms, particularly as the glass is filled with slices of citrus fruits, apple and grapes.
Tucked underneath Joya apartments, Rambla has redesigned the restaurant space to incorporate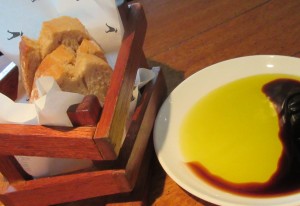 an open kitchen and a broad, wrap around bar. If you fancy clambering onto the bar stools, there's a great view from up there. I have visited Rambla as a couple, with a friend and with a large group of ladies. Today I pottered in by myself and decided to sit at the bar and see what happened, which proved entertaining.
The problem with dining at a tapas bar alone is that you can't try a range of dishes without looking atrociously
greedy, particularly as many of the dishes seem to be designed for two. So by the time I had dipped the crunchy-on-the-outside, doughy-in-the-middle imported Spanish bread in oil and vinegar, and  eaten my enormous salad – more of that later – I was full, and struggled to eat all three lechon empanadas. It would be good if they could add a mixed tasting platter for the solo diner. Or even for a couple. I would certainly welcome the option of smaller serves at smaller prices. (Although I have to say the new menu is not as tempting as the last, and the dishes have got even sillier when it comes to odd flavour combinations. And they took away my wontons!).
However, you don't have to order to share. There are burgers, sandwiches, seafood and rice dishes aimed more at the individual diner, and less on grazing as a group.
Rambla is named for a famously bustling, tree-lined, promenade in central Barcelona. Rambla the restaurant certainly lives up to the reputation of its predecessor, as it's always thrumming with the enthusiastic chatter and activity of its trendy clientele. Sometimes this can prove detrimental to communicating with the waiting staff, as they struggle to hear your order, but the atmosphere is lively and happy, and the staff are sweet, so I am not complaining. I will just have to  try the foie gras empanadas with pineapple jam next week – the lechon version with grape jelly was perfectly acceptable this time.
And my salad? O yes. Crispy fresh Romaine lettuce, crunchy bacon, marinated tawilis (that exclusively Filipino

freshwater sardine) and Parmesan, perfectly dressed in just a drizzle of vinaigrette – not the usual dousing so popular here – creating a wondrously light combination of textures and subtle flavours.
OK. this is now my third installment on Rambla, and I have had a change of heart. I was sorely disappointed today, and that makes me sad. After last week's slight glitch with the empanadas, I was hoping to rediscover my initial enthusiasm, but today found me totally underwhelmed by the food's embarrassing mediocrity.  I thought I would pop over for a lazy lunch with my note pad and take some pics with my new camera. Dodging the tapas foronce, I decided to splurge on their Ramblas Burger – presumably a signature dish to be named for the restaurant. I ordered it medium, as I am averse to undercooked mince, be it ever so posh and ever so wagyu, and I was served a red, raw hamburger lined with 2 small pieces of bruised lettuce (had somebody trodden on them?), a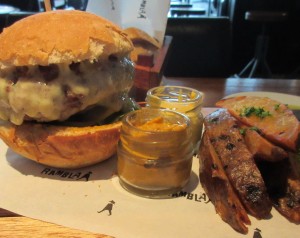 slice of white, flavourless tomato and a pile of baby gherkins heaped in the centre. At least they had the grace not to charge me when I filed a complaint with the chef.
I am not writing this to condemn, rather I am hoping it will be recognized as constructive criticism. I was delighted to discover Rambla, and was hoping to make it a regular lunch spot, but until the chef recognizes that simplicity and flavour are the essence of Mediterranean cooking, I will be foregoing the cold octopus carpaccio with hummus, the salad of heirloom cherry tomatoes with orange and quails egg, or the pork with caramelized onions, pear chutney, red apple baked jam and smoky cinnamon as too many clashing flavours screaming to be noticed.
In the meantime, I may still pop back for that great salad and the Sangria, and I would definitely be tempted to try the chicken and prawn risotto. And while I don't usually eat dessert, the xoxos, (it is written with hugs and kisses for a reason) salvaged my lunch today from the ruins of an undercooked hamburger. This Spanish version of the Italian cannoli is a deliciously crispy deep fried pastry tube filled with gloriously gooey  ganache chocolate or vanilla custard with just a whisper of lemon.
Like the nursery rhyme about the little girl with the curl in the middle of her forehead, when Ramblas is good it is very, very good, but when it is bad it is horrid. Some consistent quality would be much appreciated, and might ensure a solid core of regular customers after the trendy crowd has passed on.