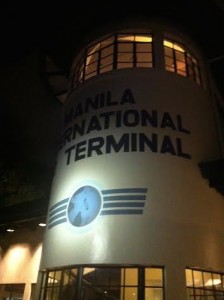 One of the first snippets of local history I was handed when I arrived in the Philippines:
Ayala Triangle, now the focal point of the Makati business district,  was once an airport among rice fields, its original runway the stretch of Ayala Avenue past the Stock Exchange, and Paseo de Roxas . Built in 1937, the Nielson Airport was destroyed only four years later during the Japanese invasion of the Philippines. It was briefly restored after the war, but the runways were permanently converted to roadways in 1949. The only remaining structure was the Nielson Tower, the original control tower shaped like an airplane. Since then this unusual slice of Makati history has housed a property management company, a private club and the Filipinas Heritage Library. This year, the historic seventy-five year old building was transformed into Blackbird, Colin McKay's latest and most sophisticated restaurant venture in Makati.
The metamorphosis is fabulous. Last time I visited the FHL it was looking faded and shabby. Blackbird, however, looks like a decadent 1930s art deco inspired movie set. It is both classy and glamorous, and has been touted as Makati's hottest new dining destination.
The garden has also had a makeover. It has been beautifully landscaped to accommodate an outdoor bar and al fresco dining area beneath the trees that is particularly charming by lamp light. We began the evening here with a pre-dinner drink, my husband and I happily perusing the cocktail menu for some fascinating and imaginative concoctions.
Later, as we walked inside, we were immediately gathered up by a smiling waiter and ushered to our table. As usual, Chef Colin has staffed his restaurant with professional, efficient and courteous waiters, who achieved the perfect balance of being on the spot whenever needed, but never invading our space with over-zealous enquiries. And all our meals showed up at the same time, which many will know is a rare occurrence in the Philippines.
The food was, as always with Chef Colin's cooking, top notch. I have dined there more than once and have yet to be disappointed by my choices.
Yet I will have a little grizzle. Manila blogger Anton Diaz suggests that Blackbird is a themed restaurant. Well, I am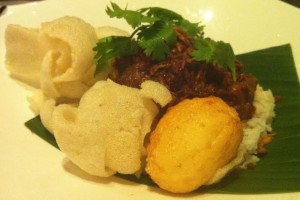 pleased to say that, apart from a couple of subtle inferences to its origins as an airport – apparently Blackbird is the name of an innovative reconnaissance plane, and there is a private upstairs dining room called the Cockpit – Chef Mckay has tastefully refrained from turning his new venture into a theme park. On the other hand, the menu has no theme at all. While I have loved every dish I have eaten here, the menu itself goes beyond eclectic to confused. Is it Italian or International, Fine Dining or Family? It seems to be trying too hard to be all things to all men and falls short of being anything definable at all. Perhaps that is the point, but I found it distracting. Pizza and pasta does no justice to the excellent fine dining dishes, while the attempt to include the kids detracts from the beautifully sophisticated and very grown up setting.
Nonetheless, the food is worthy of attention. Never one to resist a Carpaccio option, I was more than happy with the mix of tart lemon, savoury beef and artichoke, peppery rucola and bitter radicchio. My husband chose a strangely earthy combination of lentils, goat's cheese and pickled beetroot, topped with a dash of pomegranate molasses, while our guest went for a tangy orange and grilled chicken salad with fennel, pistachio and honey, yet another dish that sympathetically blended contrasting flavours: sweet, savoury and bitter.
The gentlemen then agreed on a preference for the fish pie, an English nursery dish of mashed potato atop a bowl of salmon, smoked trout, prawns and leek. Our judges decided it was good, but a little banal. Despite the mix of strongly flavoured fish, it had been too heavily doused in mash.  I, on the other hand, preferred something with more buzz, and opted for a lamb rendang. Served in a deep bowl, it was of only medium heat, the slow cooked meat succulent and sumptuously spicy. And it was served with a novel aside: a soft boiled Scotch egg.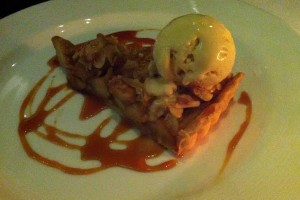 Determined – unusually for me – to avail of dessert, we took our time to order. Eventually our guest continued on his comfort-food way with apple pie, or rather, the more elegant version: apple nougatine tart served with burnt butter ice cream. My One & Only can never resist cheese cake, and Chef McKay has created an irresistible tribute: a baked cheesecake with macadamia praline, banana brûlée and dulce de leche, a Filipino specialty (via South America) like a soft fudge sauce. I discovered my perfect 'halo halo' sundae of vanilla seed and passionfruit ice creams, petite almond meringues, fresh mango slices and cream, and was blissfully and silently absorbed for some time.
Did I forget to mention the wine? How remiss, when it was such a divine offering from South Australia's McLaren Vale. We chose a rich and exuberant Geoff Merrill Shiraz that was probably a better accompaniment to my flavourful curry than fish pie, but it was enjoyed by us all nonetheless.
After all this sheer over-indulgence we quietly returned to the garden for post-dinner drinks and coffee, and a mellower atmosphere to wind up the evening.