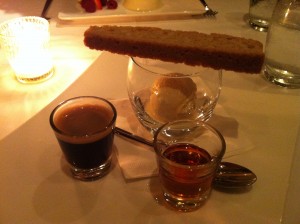 I really enjoy cooking, but I prefer it if the recipes are relatively simple and there is room to manoeuvre: 'oops, I don't have zucchini, what else is in the fridge?' that sort of thing.  And I really enjoy eating out. I am not 'passionate' about it (in fact I am over the word passionate – it is over-used and misunderstood), but I enjoy good food as an accompaniment to good company and good wine. A meal should be nurturing, a point in time and place to unite friends, family and even strangers.  For me, although the food obviously plays a major role at any meal, it should not be a monologue, but a conversation.
Thus a good restaurant review, to me, is one which covers more than just the meal eaten. Of course it talks about the food, but it does not necessarily analyze it mouthful by dreaded mouthful. I like restaurant critiques that don't focus so intently on the contents of plate and palate that the vital essence is lost: the conversation; the location; the atmosphere; the service; the décor… all those components that combine to make a wonderful, ordinary or indifferent dining experience.
So I don't intend to get passionate about cooking techniques, or list the ingredients in every dish, but will attempt to paint a picture. Is the company entertaining or enervating? Is the cutlery comfortably heavy in my hand? Is the table setting aesthetically pleasing: not too fussy, not too bare? Are the waiters distant or over-zealous? Is the background noise drowning out any chance of conversation, as each diner is forced to bellow louder to overcome the dreadful acoustics and the noisy people at the next table?  Is the temperature OK, or am I shivering for want of a warm coat or sweltering for want of air conditioning? Is the lighting too dim to read the menu by, or so glaring you need sunglasses?
Last night I found the perfect place for an anniversary dinner with my One & Only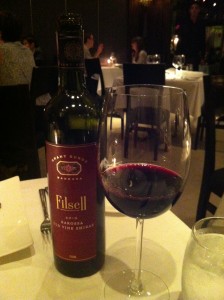 (now I am passionate about him) where all those things came together beautifully. We had dressed up for the occasion (our anniversary), so the lights on the exterior staircase made us feel as if we were attending an awards night, and set the mood for something special. We were greeted at the door by a welcoming waiter who instantly recognized my name and ushered us to our table. Our drinks were ordered and arrived in a moment – and isn't it amazing how much better a Gin & Tonic tastes when it arrives almost as you thought of it and not twenty minutes later? From that moment we spent the evening being thoroughly spoilt by a team of prompt, attentive and informed waiters, perhaps a little over-enthusiastic with the bread basket, but like Mary Poppins, practically perfect.
The dining room was lovely: neither too big that it gets that canteen feeling, nor too small that you feel as if you are on display, like the centerpiece in a cake shop. The interior design was discreetly elegant, simple and subdued. Conversations constituted a gentle background hum, and the table setting did not get in the way of holding hands.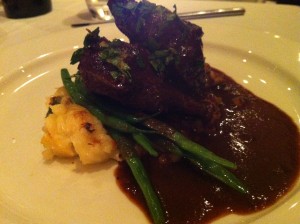 And the menu – yes of course I am going to talk about the food – was beautifully presented and descriptively written: a predominantly European influence with a satisfying attention to detail. There was a good variety of choices, but not too many (I always get worried about the chefs coping with too extensive a menu), such that we had several minutes debating what we would eat (our unwritten rule that we can never order the same thing means it takes some time to share out favoured dishes). The waiters could answer our queries, and we had time to talk without starting to tap our fingers before the first course arrived.  O, and there was that small serving dish of two dainty quiches to whet our appetites and introduce us to the excellence of the chef while we waited.
The food was fabulous – not necessarily an appropriate adjective for a restaurant review, but what the hell, it was! It was lovingly presented without fussiness or excessive decoration, and it tasted heavenly. My mouth is watering at the mere memory.
Salmon gravadlax from Tasmania on a warm, buckwheat blini with sour cream, flavoured gently with mustard and dill that made me reluctant to swallow each mouthful, wanting keep it on my tongue a moment longer. I longed for a glass of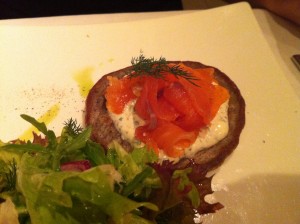 Claire Valley Riesling to go with it, but as most of the dinner preferred red wine, we tossed up between a lighter New Zealand Pinot and a full-bodied South Australian Shiraz, and picked the later. It was reasonably expensive, in our book, but we were in the mood to splurge.
The pappardelle served with slow braised duck ragout, shaved fennel, rocket and parmesan delighted my One & Only with the finer-than-usual pasta ribbons that didn't smother the succulent flavours of the sauce.
Then it was my turn for duck for the main course. Duck is a popular item here: we tossed up between 'three things with duck' (I loved that one just for the turn of phrase) a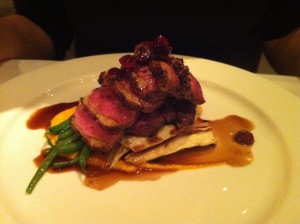 roast duck leg served in an orange jus, and a roast duck breast with juniper berries, roasted pears and parsnips, and a cranberry jus. As an Aussie I prefer most of my meat well cooked, so the chef very sweetly allowed me to return my plate, and subtly removed the overt pinkness of the duck breast. It also came back a lot hotter which I really appreciated. I would have preferred the parsnips a little less crunchy, but the flavour of the roast pears added that delicate sweetness which goes so well with a gamier meat.
The One & Only chose veal cheeks served with bacon colcannon (a blast from an Irish past), that caused some discussion. Expecting that pale, milky, delicately cooked veal so popular in Italy, we were surprised to find it apparently slow cooked to the taste and texture of osso buco or the lamb that falls from the shank with a touch. Whatever our expectations, we loved it, and the plates were licked clean… well, almost.
We don't usually have dessert, but the One & Only loves an affogato, and the fun of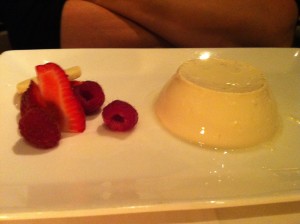 putting together coffee, almond liqueur and icecream at the table, and I can never resist a panacotta. This one sounded a little out of the ordinary: flavoured with tonka beans, and accompanied by strawberries and lavender shortbread. Actually I'm pretty sure they were raspberries, which I prefer anyway, and the tonka bean and lavender flavours were so light I  think I missed them, but the pannacotta went down silky smooth and richly creamy.
A mouth-watering meal, excellent service and the best of company, with whom neither conversation nor wine glasses ever ran dry… what can I say, except a heartfelt thank you to all the staff at Sala Dining for making our anniversary a really special evening. And to Chef Colin McKay for providing consistently good restaurants in Makati, you have my eternal gratitiude!