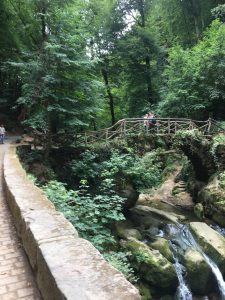 My One & Only and I have always loved wandering through the woods on a fine day, and this weekend was no exception. With guests in town and the rain holding off, we headed for the wild woods of Luxembourg,.
Always a popular place for walkers and cyclists, Mullerthal – or Mellerdall in Luxembourish – is located in eastern Luxembourg, south west of the Ardennes. It is known affectionately to the locals as Little Switzerland. Despite the somewhat romanticized nomenclature, there is no doubt that Mullerthal is a gorgeous area. With myriad walking paths, thickly wooded hillsides, clear, sparkling streams and boisterous waterfalls, pretty bridges in wood and stone, caves and craggy rock formations, Mullerthal is enchanting at any time of the year. Walking up through the quiet, green beech woods along the river, the only sound we could hear was the gurgling and plashing of waterfalls below us, and the odd bird call.
Our path eventually dipped back down to the valley floor, and into the tiny hamlet of Mullerthal, which houses both a vast population of 146 and one of my favourite restaurants in Luxembourg. Heringer Millen sits in the centre of the valley, an old water mill converted into a bright, modern restaurant with an outdoor terrace for sunny days. Usually, it is necessary to book weeks in advance, but in August, with the entire Luxembourg population denuded to about 146 (everyone has run away for the summer), we have been able to book a last-minute table most weekends.
Service here can get a little curt and distracted as soon as there are more than a handful of diners, and it seems I'm not the only one to have noticed this. Yet, despite the frantic flurry of staff, we were soon sipping cold beer on the terrace, and only moved inside when this summer's plague of wasps scuppered our plans to eat outdoors.  However, a table by the window meant we could still watch the beautiful day through walls of glass.
Heringer Millen has a seasonal menu, and this one is melting gently into autumn, with the appearance of rhubarb,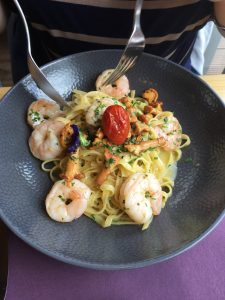 apples and chanterelle mushrooms. Beautifully presented and carefully prepared, there is something to suit everyone's tastes, be it a glass of crémant with designer lamb burgers, a Pinot Gris served with a tagliatelle topped with prawns and chanterelles, or a cold beer and flammkuchen. There is a casual menu for muddy-booted hikers, if they can find a table on the terrace. And the surrounding meadows provide plenty of space for the kids to play when they get restless. Worth noting: the homemade bread is especially good, and generously served with a light, creamy fish paste. And luckily for our waist lines, there was a short hike back to the car when we were done.
Later in the day, surprisingly hungry despite that hearty lunch, we walked down into Clausen, dodging the crowds heading to the Schueberfouer, the annual fair at the top of the town. Founded in 1340 by John the Blind, Count of Luxembourg and King of Bohemia, the Schueberfouer visits Luxembourg for three weeks towards the end of August. The carnies park their huge mobile homes in a road at the top of our hill, which is always a good reminder to avoid Glacis Plaza at all costs. Of course it's great fun for the kids, but surprise, surprise, I am not a crowd person, and no longer enjoy the wild rides that used to be such a thrill in my teens. So, instead of joining the throngs heading up to the fair, we headed for a calmer corner of town.
Beside the Alzette river backing onto the old Mousel brewery, is La Biblioteca, a Mexican restaurant offering tacos, burritos, quesadillas and tequilas – not to mention margaritas and mohitos! The weather had cooled noticeably after weeks and weeks of an unusually hot summer and unadulterated blue skies, but the evening was still. Again, the prominent sound was the rushing water, but here the wine was Argentinian, not German.
Reviews have been mixed – some will never go again and complain of bland food and bad service. Others loved it. We were in the latter category. The food may not be cordon bleu, but it is extremely tasty. The setting is relaxing, with a lovely view over the river, and it has a cosy atmosphere. The staff wasn't wildly enthusiastic to see us – perhaps this is simply a Luxembourg trait? – but perfectly polite, and the food hit the spot. I am no expert on Mexican food – to me it always suggests fast food drowned in American cheese – but I found this menu surprisingly appetizing and nicely presented. And it was undoubtedly the perfect accompaniment to mohitos and beer. We strolled home full of guacamole and good cheer.