In Manila we quickly become familiar with myriad street stalls and market stalls selling cheap, popular, take-away snacks to passers-by. Those of real notoriety include grilled chicken intestines on a stick, known tastefully as IUDs; grilled chickens feet, nicknamed Nikes, and grilled pork ears, or Walkman, not to mention the infamous balout, a boiled duck egg complete with three week old embryo. Although the food may be unfamiliar, the concept is not.
In Dickensian England, the poor, crammed into rotting tenements with no facilities, lived off  cheap street food sold on trays. For a penny they could buy anything from pea soup, pigs trotters and pickled herring to meat puddings and muffins.  Peddlers and hawkers would gather round the theatres after the shows were over to sell late-night snacks to hungry audiences and actors, such as sandwiches, green peas and pies: beef or mutton, eel from the Thames, or seasonal fruit such as apples or rhubarb , gooseberries or cherries, plums or mincemeat.
Throughout history, sweet and savoury pies have been popular at every level of society. At Royal Banquets, wafer thin pastry was intricately decorated and filled with an array of custards, jellies, fruit and fowl. Penny-pie sellers did a roaring trade, pouring gravy under the lid as we do tomato sauce. Pepper and other strong seasonings were often used to disguise aging meat, and rumours were rife that less salubrious piemen used cat meat instead.
The habit of feeding the poor on the streets came to Australia with the First Fleet. In Sydney, by the middle of the nineteenth century, hawkers were touting their goods throughout the city: the muffin man and the milkman, the prawn seller and the 'Flying Pieman'. Pies have since become ubiquitous to Australian food culture, the favourite of school children for packed lunches, and later in the school tuck shop. Businessmen no longer went home for lunch but grabbed a pie at the pub.
Bakers and factory owners picked up on the trend, and now no supermarket or bakery is without its own version of the meat pie. By the 1930s a meat pie with tomato sauce was virtually a national dish, and continued as popular comfort food through the Depression and the war. South Australians become nostalgic for the name – if not the taste – of the notorious 'Pie Floater': a pie served in a bowl of pea soup. Harry's Cafe de Wheels has been sitting in front of the naval dockyard at Woolloomooloo selling pie and peas and crumbed sausages since the Depression, and now has seven locations across New South Wales.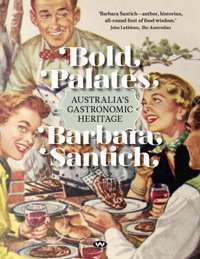 Renowned meat eaters, it is obvious why Australians love their meat pies, and with the national penchant for outdoor picnics and snacking, it serves a double purpose of being portable and easy to eat without table or cutlery, and a hearty dollop of tomato sauce. Now so thoroughly entrenched in Aussie food culture, the 'Pie 'n' sauce'  has its own chapter in Bold Palates, a new book on Australia's gastronomic heritage written by well known Australian food historian Barbara Santich, where she describes it as 'Australia's original fast food.'
So imagine my delight to discover a stall at Legazpi's Sunday Market selling homemade Australian pies. Our own Villi's pies have secured a corner of the market in Manila, and can be found at a couple of local pubs, or ordered online, although they are rather pricier than they are from the corner deli at home. But as we all know, a little taste of home is a treat sometimes worth paying extra for!
Mary Garrido travelled the length and breadth of Australia on a pie-tasting mission with her Aussie partner. Over the next four years she perfected her own recipes adapted from Australia's best, and now has a menu ranging from steak with onion, kidney or mushroom, plain beef pie, egg and bacon pie, chicken and leek pie and chicken or beef curry pies in three sizes: family, regular and Australian. She also makes sausage rolls, old fashioned English pork pies and yummy fresh crumpets.
Garrido's Australian homemade  pies can be bought at the market, or online, and will soon be available at Power Plant Mall. We have put several in the freezer already to keep my husband happy while we are away this summer, and I am on a mission of my own to taste test them all. So come one, grab the tomato sauce and let's go eat pies…
* Internet images