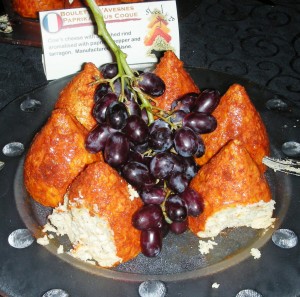 This year, the Cheese Club of the Philippines is celebrating its thirtieth anniversary, and apparently there are plans afoot for a birthday party later in the year. Recently I spoke with current President and long-standing member of the CCP, Chris Ward.
Thirty years ago there was very little cheese or wine available in the Philippines. In those days, the only regular supply of cheese in Manila was processed cheese from the likes of Kraft, or those made locally from caribou milk, although occasionally expatriates could get some through the Commissaries at the ADB or their Embassies.
So in 1982 thirty ingenious – and desperate – cheese lovers got together and started a not-for-profit social club where they could share their common passion for cheese. Cheese was imported from all over the world, and Kraft kindly helped out by providing proper storage.
In the mid 1990s import laws changed. Wine and cheese suddenly became more accessible in supermarkets and delicatessens such as Santis and Terry's, who often help with orders, although there have still been a few nail-biting moments over the timely arrival of shipments. These days the club focuses on providing quality and variety for the tastings and tries hard to avoid too much repetition.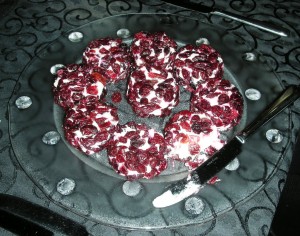 Over the years the club membership has also grown enormously, from thirty to almost two hundred and fifty.  The Cheese Club meets on the first Wednesday of every month at the Polo Club in Forbes Park. Cheese Master, Katrina Kuhn-Alcantara, owner of Chuck's Deli on Serendra Piazza, usually orders up to 42 kilos of cheese, including a regular appearance from the ever-popular raclette.
Raclette is a semi-firm, cow's  milk cheese and also a traditional Swiss dish, created by heating  a 6kg (13lb) wheel of cheese, either in front of a fire or by a special machine. The melted cheese is then scraped off and spread onto hot toast and accessorized with gherkins or pickled onions. The name 'raclette' comes from the French word racler: to scrape.
The rest of the cheeses are displayed on long tables in the centre of the hall, and identified with descriptive labels. Katrina and her assistant Cheese Master, Franck Merot, spend a lot of time and effort researching the cheese, and setting themes, either by country of origin or type of cheese. Over twelve months, members may have the opportunity to taste as many as 250 different cheeses. This month, for example, the theme was 'sweet and spiced'. The cheeses were largely soft, French cheeses that had been rolled in dried fruit or pepper, herbs, mustard seeds, or paprika. There were both goats' cheeses and cow's milk cheeses and all were very moreish. My particular favourite was a goat's cheese rolled in dried figs.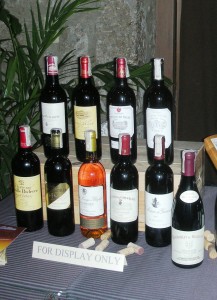 Four wine bars were set up around the edge of the hall, where members and guests queued to taste a wide selection of wines. Wine Master Eric Kahn tries to select wines that match the month's featured cheeses, so this month, they were mostly French.
After each event members receive a report on the night's cheese and wine tastings. The committee is also attempting to compile a description and history of all the cheeses sampled over the past ten years. As you can see, this is no casual, Aussie wine and cheese night, but quite a sophisticated event. There is even a dress code: smart business casual is recommended,  jeans, flip flops and sports shoes are prohibited. Be warned: you baulk the rules at your peril. You will be sent home! That said, the evening is a great excuse for meeting old friends and making new one, for exploring new cheeses  and sipping interesting wines. A 'must do' for the cheese lover to get his or her monthly intake of these delectable dairy products!
*As published in the ANZA News June/July 2012