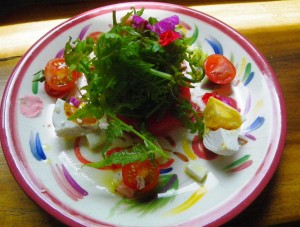 A beautiful blue Manila sky dusted with talcum powder clouds.  For the first time in a fortnight there is no thick coating of smog over the city. We are heading south towards Pila on a gastronomic tour arranged by Filipina sisters, Mindy Perez Rubio and Dinty (Teresa) Keating, and their childhood friend Lory Vi Valdes.
These three dynamic women have created TourFlair, a series of regional tours though Angeles, Pampanga; Pila, Laguna, and Vigan, Ilocos, in the hope of spreading the gospel about Filipino food. Their aim is to showcase the Philippines to small groups of visitors: the beautiful countryside, the vibrant city life, the culture and relaxed lifestyle, the ever-smiling Philippine hospitality, and of course the food. As we head off the freeway and down the pot-holed back lanes of Calamba, it feels like a family picnic: six women in a mini bus and three men in the car behind, jealously guarding the ice box full of beer.
Our first port-of-call is Graco's, a goat farm on the outskirts of Pila, and a 'work in progress'. Grace Yap and her partner are hoping to build up their small herd of milk goats from one hundred to one thousand, over the next decade. Grace tells me that so far every goat has a name, and she plans to continue this tradition. The majority of the herd is an Australian breed known as Anglo-Nubian. They are pretty goats with long, llama-like ears and come in a variety of soft, creamy colours.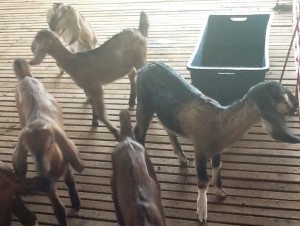 Grace walks us proudly around her farm. She has five hectares of lush landscape housing a wide variety of livestock:  a tilapia pond ( a local freshwater fish) and breeding tanks; a clean, remarkably unscented goat shed; an open-air poultry run filled with handsome roosters, bantams and an assortment of free-ranging chooks, as well as a large duck pond, where local ducks mix happily with the Peking variety, and where every day is like Easter day, as the constant hunt for eggs keeps the staff busy. Apparently, there is also one shy ostrich called Kimpi, but she keeps a low profile, and we never meet her. Not a bad effort for a 6 foot bird!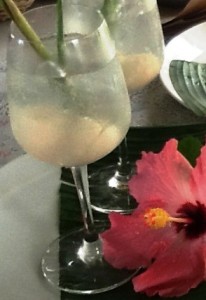 As we sip on fresh, iced lychee juice, government dairy expert Lyn de la Cruz gives us a demonstration on how to make goat's cheese in the kitchen. Rennet, vinegar or any other acidic agent is added to the goat's milk as a coagulant, she explains. The mixture is then heated for 3-5 minutes at 80'C and the resulting, rather gluggy soup is strained through cheese cloth.
We are asked to sample the large, organic duck eggs on the counter. Neither bleached nor coloured purple like their commercial counterparts, these eggs are hard boiled and cured in salt for 14-16 days. The longer the curing process, the saltier the egg, and apparently tastes delicious mixed with diced tomato and cucumber.
Meanwhile, renowned Filipino chef Sau del Rosario of Le Bistro Vert, and the signature chef for TourFlair, is in the kitchen preparing merienda: a bruschetta made from grilled peppers, and topped with slices of home-made goat's cheese. Prepared the day before, this cheese has already set to a mozzarella-like firmness.  It proves to be an irresistibly moreish snack, especially as I forgot to have breakfast.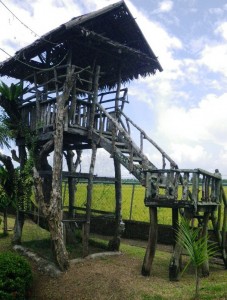 In case anyone is still hungry (namely those not as greedy as me), we move on to lunch. Driving to the other side of town, we arrive at an impressive pair of gates. The driveway winds through an orchard of mango trees, and the trees are drooping beneath the weight of their crop. At the end of the drive we find a private hacienda on the edge of the rice fields. At the back of the house, a broad deck beckons us to the edge of a lagoon that is crisscrossed by wooden bridges. A sala, furnished with table and benches, is perched in the centre of the lagoon like a giant lily pad. Out by the fence, there is a tree house, looking just like Bunyip Blue-Gum's house in 'The Magic Pudding'. Clambering up the staircase, we gasp at the view of fields and mountains.
We are then directed to a large guest house with a huge dining table in the centre. Here we find Chef Sau again, who has raced ahead to prepare us a sumptuous lunch.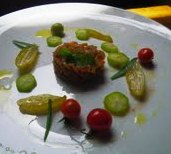 As always in Filipino cooking, the contrast of flavours and textures is prominent throughout the meal. Tiny, unshelled shrimps in coconut are pressed into a round, flat-bottomed mould. Upturned on a plate, the shrimp is decorated with bite-sized organic tomatoes, edible flowers and slices of pickled kamias… O my stars! Have you ever eaten anything this sour? It looks like a gherkin, but sends your mouth into pursed horror at the violent acidity. The assistant chef smilingly assures me that now I have braved it once, I'll be back for more. Maybe…
We are then presented with a colourful flower arrangement that is actually an entrée of watermelon and fiddlehead fern salad. A base of deep red watermelon is topped with baby fern fronds, purple nasturtium flowers, our home-made goats' cheese from Graco's and slices of fourteen day old salted eggs, dressed in a tangy coconut vinaigrette. I have tried something similar before and find it a fascinating blend of all things Filipino: sweet watermelon; sour vinaigrette; salty egg, and slightly bitter fern.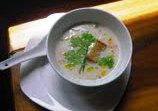 Next, we are served up a soup reminiscent of my favourite tom kha gai, sweetly scented with kaffir lime. This is actually a tambakol fillet (yellow fin tuna) and organic corn chowder. I empty the bowl swiftly.
Then the main course arrives: a duck adobo, rich and succulent, served with wilted organic baby spinach and garlic rice that disappears in a flash, although I am starting to feel alarmingly full.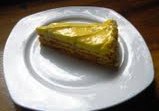 Finally, we gloat over a slice of thick, velvety yellow sansrival, a national favourite, enhanced by the creamy sweet flavour of jackfruit. All this feasting has been joyously accompanied by an icy cool rosé. At this point I would be happy to find a hammock and a broad brimmed hat. 'Wake me in an hour or two…'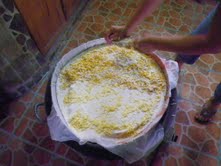 No chance. We are now invited, replete and soporific, to watch a local cook make laguna puto, a regional favourite. A vast bowl of rice porridge is stirred up and poured into a huge steamer, where it is left to steam for about half an hour. It is then topped with white laguna cheese and salted egg and emptied onto a recycled rice sack that leaves blue and yellow print, like a tattoo or a large bruise, on the bottom of the rice cake. There it lies, like a giant, lumpy pizza base, before it is sliced up using pieces of cotton, and served to us in thick, bread-like chunks with binatirol tsokolate, a hot chocolate flavoured with roasted peanuts that rolls smoothly down the throat.  I have to admit defeat. After several courses (not to mention those delicious bruschetta) I could not face another mouthful. I taste a soupçon of the puto.  I find it cloying and faintly fishy, and turn away happily to my mug of hot chocolate.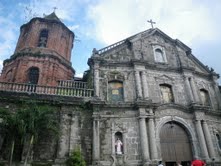 After a short stroll in the garden, we are off again. Our guides have arranged for us to view a couple of beautifully restored, traditional Spanish homes in the centre of Pila. And it is worth going the extra mile. The first house has been converted into a flat below, but upstairs the original house and furniture is maintained as a museum piece. Huge wooden shutters fold right back to the edges of the rooms, bringing the outdoors inside. Highly polished floorboards slide beneath our feet. Colonial furniture sings of olden days of decadent luxury – for those who could afford it.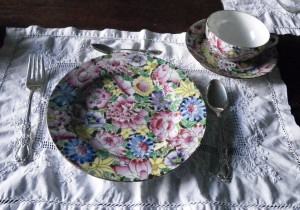 We circumnavigate the wide town square, and spend some quiet moments in the sixteenth century church. There have been recent renovations within, but the exterior is creaking beneath centuries of history. Across the square is another Spanish house, awaiting our arrival. Again, it is a beautiful museum piece, decorated with family portraits and more recent photographs. Here, our guides have rounded up some more local cooks to show us how to make espasol (sweet rice and coconut in tubes) and sinugmani de linga (sticky rice in layers of black rice, buco, and ground roasted coconut with sesame seeds). Lory-Vi has brought along her fine china tea set to provide the finishing touches to a nineteenth century merienda, and the finishing touches to a fulfilling day of food and friendship.
You can find more information about these tours on their website www.tourflair.com
* With thanks to Anna Gamboa for sharing her photos of the treehouse and food when my battery went flat!
As published in the ANZA News, June/July 2012