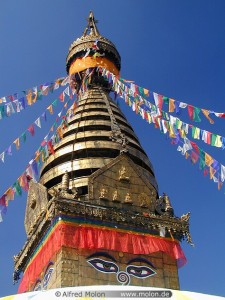 We first went backpacking in Nepal in the early 90s. In Kathmandu we lived on rice and dal and $2 a day. It was not, you have probably guessed, the most salubrious, gastronomically sophisticated side of town.
Nepal snuggles into the Himalayas, hemmed in by the vast expanses of China and India. While it has long been renowned for its mountains, I have never heard Nepal celebrated for its cuisine. Most guide books describe a typical Nepalese meal as dal bhat. Dal is a spicy thick lentil soup ladelled over bhat (boiled rice) and served with tarkari (curried vegetables) and achar (pickles) or chutni. Even that simple meal sounded more elaborate than my own experience!
So when I was invited to attend a Nepalese cooking demonstration followed by lunch in a private home in Makati, I jumped at the opportunity.
When we first arrived, we were greeted by a group of Nepali women decked out in beautiful and brightly coloured saris.  Presenting each of us with a hand-made recipe book, they led us to a vast kitchen, where we gathered round a central island to watch them demonstrate how to make several traditional Newari dishes.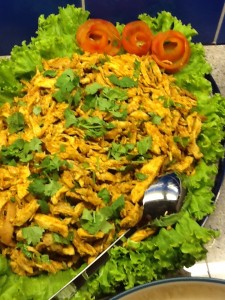 Food is an important part of any religious celebration and Samai Baji is a traditional Newari festive meal, served at all family celebrations and religious festivals. The ritual dishes have symbolic significance and honour the different sets of deities, and we were told that there must be nine dishes.  Only eight dishes would be bad luck.
The Newari are the indigenous inhabitants of the Kathmandu Valley. Here, Hindu is the main religion, but Buddhism also has a strong following: the Buddhist stupa, with its all-seeing eyes, is an iconic image to any traveller in Kathmandu.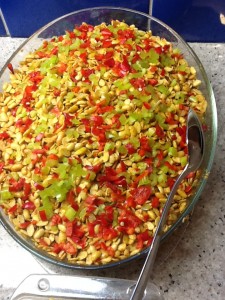 Huge platters of food prepared earlier that morning were displayed on the kitchen counters. Fascinated, and distracted from the main act at the stove by this array of culinary splendour, I wandered over to take photos and cross-examine the cooks, just resisting the temptation to dip in a spoon or a finger.
Think Indian cuisine with a lighter touch and more colour.
Beaten rice (baji, chiura) or flattened rice flakes are available in the Indian stores in Manila, and look similar to the local pinipig.  Juliennes of ginger had been lightly sautéed,  to be served as an accompaniment. The salads were particularly colourful and attractive: badam sandheko, or soy bean and peanut salad; a spinach salad (saag) and a black eyed bean salad (bodhi saandheko) which had been liberally garnished with coriander.
The kitchen was hot and airless, but I was too riveted to notice, much. Gathering around the hob, we watched the cooks assemble their ingredients for each dish. All the Nepali ladies were dressed in traditional saris, brightly coloured and luxurious, like stately peacocks. I thoroughly enjoyed the air of calm certainty they radiated, as they floated graciously round the kitchen, unruffled and glorious, making cooking look like a dignified waltz rather than a chore. Far removed from my own kitchen, there would be no splashing sauces or flinging flour here!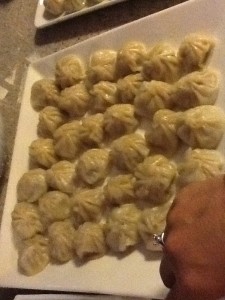 Newari cuisine uses a variety of herbs and spices: bay leaves, chili, cinnamon, cloves, cumin, garlic, ginger, mint, mustard seeds, sesame seeds and turmeric. Mustard oil is also popular, with its strong and distinctive aroma.
We watched fixedly while the cooks showed us how to make lentil patties and Nepali dumplings or momo, similar to dim sum or sio mai. Some of us attempted the fiddly task of filling and shaping the momos, but I think I will need to observe a few more times before I am confident to give it a go: it seems such an intricate skill for a mouthful of momo. By the way, the dumpling dough is available from the Korean store in Makati if you don't feel like making it from scratch. Finally, the fried, rice donuts or sel roti we sampled hot from the pan – definitely the best way to eat them. Blistered lips just adds to the experience!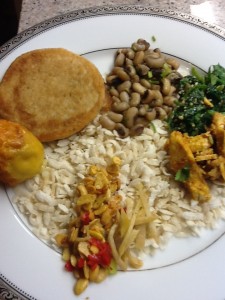 Over-heated but well informed, and very hungry, we moved out to the terrace to sample a little bit of everything.  I loved it all, but in particular remember the potato salad dressed in fenugreek and sesame seeds and the kukhara ko chowella, which both sounds and tastes so much more exotic than roast chicken!
So I am off to book flights to Nepal. Or maybe it would be quicker to grab my new recipe book and dash to the market for the ingredients to create my own Newari feast at home…