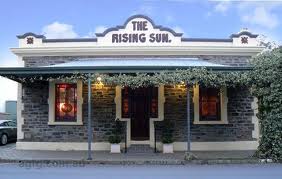 Tucked beneath a canopy of leafy green trees, the Rising Sun Inn has nestled into this suburban Kensington side-street for almost 170 years, and this small bluestone cottage with lead glass windows, open fireplaces, a small, intimate bar and a selection of cosy private and public dining rooms is now heritage listed.
The Rising Sun Inn was built in 1848 as an ale house with a "tap room" run by William Beck, a notable figure in early Kensington. In 1849 Beck began the first passenger cart service from the village of Kensington to the city of Adelaide.
In 1868, the inn was purchased by brewer and businessman Sir Edwin Smith who added the bluestone façade and a parapet. The Inn closed in 1883 when Smith transferred the licence to the "new" Rising Sun Hotel, a two story structure that cups the corner of Bridge Street and High Street. The original inn then became a private residence until 1951, when a Mr. Tilbrook began to manufacture motor cycles on the premises.
In 1983, a century after it had closed its doors as a hostelry, the building was at last restored to its original identity and recommenced trading as an inn and restaurant.
I first visited this beautiful old inn almost twenty five years ago, but while it has changed hands and menus over the years, this little gem continues to delight. The ambiance is warm and soothing, the dining room discreet and charming, the waitresses welcoming and knowledgeable, happy to pause for a chat, but discreet enough to know when to leave customers in peace. The menu changes regularly, but has never disappointed, with its emphasis on contemporary Australian cuisine with a Mediterranean twist. Both the wine list and the menu showcase some of the best wine and produce South Australia has to offer.
Celebrating our birthdays with one of my oldest friends, The Rising Sun was the perfect choice for a soothing and self-indulgent evening. I began with a lovely glass of Rockford's Alicante Bouchet to set the mood, my friend with her usual vodka, lime and soda. We studied the menu eagerly.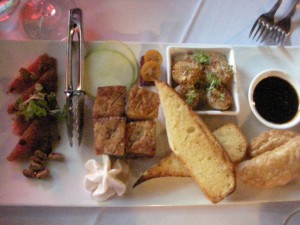 The mezze platter was a delightful beginning, and we put chatter aside to concentrate on this special treat. 'Roasted pork belly, sour cherry gel, pickled cumquat and apple star anise foam' we read, as our mouths watered. This was presented as a delicious cube of firm, moist pork with a thick crust of crispy crackling, perfectly escorted by the fruity tartness of the cherry gel.
'Peking duck pies with lime sambal' in fact looked more like mini puff pastry pasties. These were filled with rich roasted duck, no less stunning to the taste buds for the misnomer.
Seared scallops, brioche and bacon crumbs, walnuts and horseradish cream divided us. Elspeth loved them, but I found myself craving the simplicity of a Sydney scallop with no adornment
We agreed, however, on the garlic bread. Beautifully toasted and infused with roasted garlic and smoked cheddar –  a whisper of flavour – this was unexpectedly moreish. No girlish dicretion here. We ate the lot.
Last but not least, a thick slice of fresh, flavourful tuna carpaccio, that nonetheless necessitated a quick squeeze of lime juice stolen from the lime floating in Elspeth's vodka!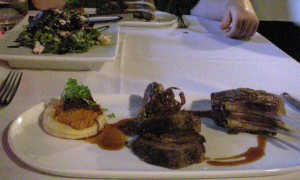 Faced with a daunting selection of main courses, ranging from rabbit and mushroom pie, seafood pappardelle, to slow cooked venison, we both chose the irresistible char grilled rack of lamb, twice cooked neck in an orange and red wine reduction. Totally overdoing it, as usual, we ordered two side dishes: a salad of roasted beetroot, goats cheese, toasted walnut and rocket; and crisp green beans in butter with flaked almonds. All washed down with a lovely Grenache Shiraz blend from Barossa Valley: The Willows G7.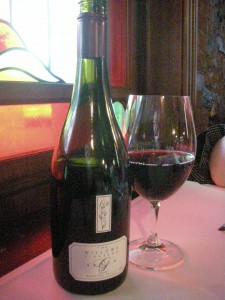 We were on a roll, and not prepared to overlook dessert. So a creamy, delicately flavoured white peach, saffron and cardamom crème brulée (mine), and a pungent Frangelico affogato (espresso, ice cream and liqueur) completed the meal and forced us to stagger home, swearing we would not eat for a week.
It was not exactly a cheap night out but it was a truly memorable birthday treat and worth every cent.
The Rising Sun is open for lunch and dinner, noon to 11.30pm Monday to Saturday. (Closed Sun Xmas Day & Good Friday).
Licensed, BYO, Corkage $7.50 bottle
Chef & Owner: Tom Savis
60 Bridge Street, Kensington SA 5268
Tel : +61 8 8333 0721