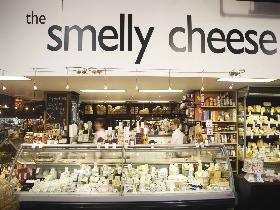 By pure coincidence I was quizzing the staff at 'Smelly Cheese' in the Adelaide Central Market when the invitation arrived. Did I fancy going to a wine and cheese event, sponsored by Smelly Cheese? Did I? Of course! By 6.30pm I was ensconced in the Max Schubert Room at Penfold's Winery, Magill, the wine cellar for the Magill Estate Restaurant.
Penfold's is one of Adelaide's oldest wineries, established in 1844 by Christopher & Mary Penfold at the foot of the Adelaide Hills. Today it is a delightful surprise to find such an expanse of vines stretching out amongst the eastern suburbs, and the view from the terrace is stunning, particularly at night, when the twinkling lights stretch to the sea.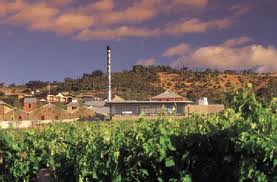 Tonight, the cellar is set up with a runway of linen-covered table, already filling up with journalists and local cheese makers, keen to make the acquaintance of Frenchman Hervé Mons, visiting Fromager and Affineur. These terms were new to me, and perhaps you need some explanation too.
'L'affinage' is not a new craft, but it has become the latest trend in cheese making, following the boom in artisan cheeses and regional cheese  making. L'affinage is the aging period of a cheese, during which the cheese is brushed-and-scrubbed-and-washed-and-turned-and-turned-again until it has the perfect taste, texture and colour.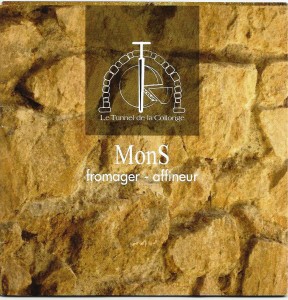 An affineur is an expert in the art of affinage or maturing cheese. Hervé Mons is a top artisan in this field, a third generation affineur who was awarded 'Meilleur Ouvrier de France' in 2000. Mons travels all over France looking for traditional cheese makers and showing them how to get the best out of their cheeses.
Mons has recently created his own rather extraordinary maturing cellar in an old railway tunnel, where he stores and nurtures nearly 100 tons of cheese.
Tonight Hervé Mons has brought along some of his finest cheeses to share with us, to be accompanied by some well-matched Penfolds wines. Our glasses are standing at the ready, the cheese platters are lying temptingly in front of our noses and our cheese knives are poised. So let the show begin.
We begin with a Hervé Mons' Camembert, a cow's milk cheese from Normandy, approximately 6 weeks old. To accompany it: a Penfold's Cellar Reserve Chardonnay.
Mons describes his cheeses and his methods in French, and has a translator to hand with those of us (most of us) who are not so fluent in French as to understand cheese making technicalities in a foreign language. While he claims he doesn't like to talk too much, as his cheeses have more to say than he does, the females in the audience are happy to listen to the purr of his o-so-charming French accent for as long as he likes.
OK, back to the cheese…
It is a rich, creamy Camembert, soft and ripe with a slightly chalky centre and a furry, mushroom-scented rind. My neighbor assures me it will reach perfection in about 4 weeks. The Chardonnay provides a refreshing, acidic balance that rounds out the flavour, and makes it hard not to keep reaching for another piece until the wine runs out.
The second cheese is a new model: a pasteurized sheep's milk cheese with a washed rind from the Pyrenees. Hervé Mons' St. Saveur has a strong nutty flavour and is served well by both a bone dry 51 Eden Valley Riesling and a Bin 407 Cabernet Sauvignon. Take your pick!
After sipping on several wines and enthusiastically enjoying the soft cheeses, we move onto a couple of firmer cheeses. However, in the muddle of heavy French accent and eager translator, (it's nothing to do with the wine) I have missed the explanation that there are different age groups of these next two cheeses. It takes me a while to sort myself out, but eventually I realize that there are two different samples of the Ossau Iraty AOC, of two different ages that we are supposed to compare and contrast. Mmmm… I think… try another piece? Some more Cellar Reserve Pinot Gris? If you insist…
This firmer cheese is surprisingly moist and buttery against the roof of my mouth, with undertones of a sweet nuttiness. The younger version is slightly softer, and will become harder with longer maturation. Aged for up to 8 months in the railway tunnel, it combines fresh ewe's milk from two regions of France in the West Pyrenees.
Hervé Mons' Comté AOC is a mouthwatering, gloriously nutty and creamy cheese with a lingering finish. I am not surprised to read it is France's most popular cheese, and wonder if anyone has noticed me gobbling up a third, fourth, and fifth piece. Mons provides us with three different stages of maturity: young, middle aged and old, the cheese growing stronger, more complex, more aromatic, grainier and to my taste more delicious as it ages.
Sitting at a table of experts, I learned a lot about making, maturing and tasting cheese and failed to comprehend a whole lot more. Still, I thoroughly enjoyed listening to these talented cheese makers and connoisseurs holding forth in a language akin to wine jargon, as they described the tastes and textures, whys and wherefores of the cheeses we were sampling. I have tried to reproduce it intelligently here, but excuse the amateur cheese lover if I sometimes fall a little short in my fluency in this new language!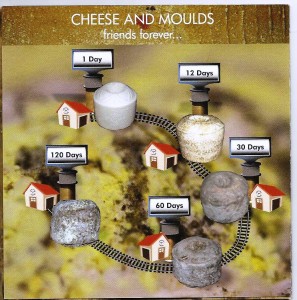 So, the grand finale has arrived: a deeply green-veined Roquefort AOC made from raw sheep's milk and aged between six and nine months. Originating in the south of France, only those cheeses which have been aged for three months in the Combalou caves of Roquefort-sur-Soulzon may take the name Roquefort. Hervé Mons then transfers this cheese to his own caves for further maturation.  This fine cheese is white and crumbly, with a sweet, slightly smoky flavour, and a salty finish. And of course showing off those distinctive veins of mould.
The recipe for Roquefort is apparently over 1500 years old. Legend tells of a young man picnicking on a lunch of bread and cheese, who is distracted by the sight of a beautiful girl passing by. Abandoning his meal in a nearby cave, he runs off to find her. Returning some time later, the mould (Penicillium roqueforti) had magically transformed his plain cheese into Roquefort.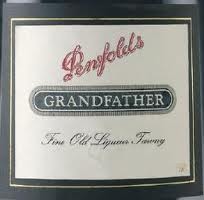 Roquefort is best eaten with a tawny port, and Penfolds did us proud by presenting us with a glass of 25 year old Grandfather Tawny Port. Mons described it as the quintessential wine and cheese pairing, or as our winemaker put it rather more succinctly in passing: "it's a bloody good match!"
Here's to that!