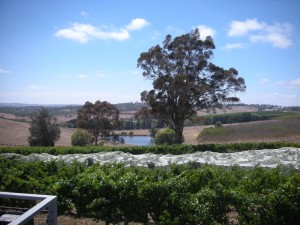 High above Adelaide, in the once dry yellow paddocks behind Hahndorf, The Lane Vineyard Restaurant perches like an eyrie above rolling hills now blanketed in lush velvety green vines. A huge panoramic view lies before us as we stand on the deck, crowned with a vast expanse of blue sky. A small dam nestles in the crooked elbow of two adjoining hills, and single white gum trees stand like sentinels across the landscape.
I have visited this sublime spot before, but my parents have not, and they are satisfyingly delighted with the outlook. The breeze is fresh and warm. Behind us there is a muted clatter of cutlery and clink of glass as waiters set the tables for lunch. We choose one with a good view, although no table has a bad view here, and wander up to the bar for a preliminary wine tasting.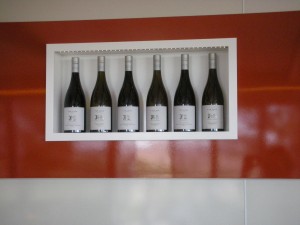 The Edwards family has been farming this sumptuous land on Ravenswood Lane since discovering the plot in 1992. Once a potato farm, the gravelly soil now nurtures every grape used in their single vineyard wines, of which they produce an enormous variety: Sauvignon Blanc,Pinot Gris and Gewurtztraminer, Chardonnay and Viognier; Merlot, Shiraz, and Cabernet Sauvignon, not to mention the blends. Knowing we must drive back down the freeway at some stage this afternoon, we bravely resist the temptation of trying every wine on the list. My parents prefer red and finally settle on a glass of the peppery Shiraz Viognier to have with lunch, once we have practiced pronouncing it properly. " Vee-on-yee-aye". I flirt with the whites: a Pinot Gris, a Viognier, an unwooded Chardy, but the gleefully lay claim  to a semi-wooded Chardonnay that is pure heaven.
Properly armed with wine and warm bread rolls to dip in Spanish olive oil, we settle down to inspect the menu. It is no more  pretentious than many an Australian bistro menu these days ('Hand dived Kangaroo Island wild scallops'?), but I have to admit, a pinch of pretension adds a significant amount of flavour to this indulgent afternoon.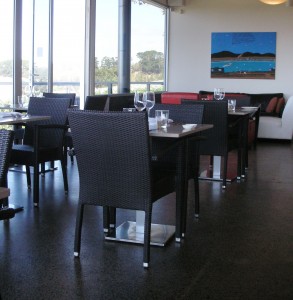 Skipping over the tallegio and chive suppli and the beef tartare with pommes gaufrettes (the cheese balls and the raw beef with waffles), we agree to share a bowl of spiced fried whitebait and lemon aioli, and they are delectable. There are more than enough for three and the whitebait is perfectly crispy. Our lovely hostess explains that they are crumbed and spiced with coriander as cumin and we crunch appreciatively.
These were almost hors d'oeuvres or 'tastes' and the entrees sound equally good, but we soon realize that we won't have room for everything. So we move onto the main course, leaving those wild scallops, gnocchi with shiitake mushrooms and a foie gras terrine for another day.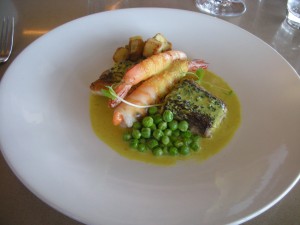 I regret not trying the lamb, pea and tarragon risotto, but I pride myself on a certain talent for risotto and refuse to be upstaged. Instead I choose a light, tasty Vietnamese seafood curry of King prawns and barramundi fillets, accompanied by deliciously dainty cubes of friend eggplant and a sauce that resembles a Thai green curry sauce. It is just the right choice for a warm summer afternoon. My father thinks so too. My mother decides on the Parmesan custard with  beef fillet, asparagus (white when in season) and tiny burnt onions.  Our hostess tips her that it is best cooked medium rare and she is spot on. There is a peaceful silence as we all concentrate on our plates. We are also encouraged to try the zucchini, mozzarella, mint and chili salad. My parents enthuse, but I find it a little bland, and long to liven it up with a dash of green mango.   Nonetheless we all but lick our plates clean.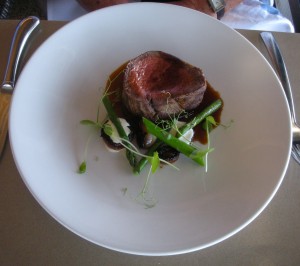 Desserts are sorely tempting, but we are full to the gills and luxuriate with the last of the wine.  However, the offer of petits fours with our coffee is irresistible. A dish containing two small macaroons (coffee and pistachio), two tiny lemon curd tarts, incredibly sweet cubes of caramel fudge and a mini blueberry muffin, nonetheless divisible by three, eventually joins us and our coffees at the table, but not for long. I think we just inhaled.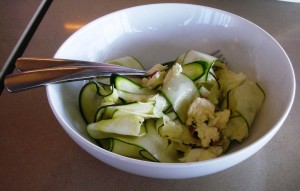 We leave reluctantly, wondering what excuse we can use to come back again soon. The hostess, the sommelier, even the new trainee, nervous but smiling, already feel like old friends. And I would very much like to get better acquainted with the chef.
The Lane Bistro is open for lunch seven days a week. Visit their website on www.thelane.com.au and as the brochure says, you can also find the site on Google Earth for a sneak preview – although it will never be as good as the real thing!