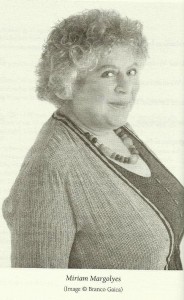 The Adelaide Festival Centre (a 'mini-me Sydney Opera House) was completed in 1973, three months before the iconic Opera House opened in New South Wales. Lying on the banks of the River Torrens, the Festival Centre consists of three main venues: the Festival Theatre; the rechristened Dunstan Playhouse, and the Space, as well as an outdoor amphitheatre.
Back in the 1980s, the State Theatre Company offered special student passes to Playhouse productions. Throughout my university years, I immersed myself in Williamson and Lawler, Ibsen and Shakespeare, Samuel Beckett and Tennessee Williams, all for $5 a show. The best birthday present my parents ever gave me is to this day a year's subscription to the State Theatre Company productions. Sadly, I am no longer allowed in for a mere $5, but when my trip to Adelaide coincided with Miriam Margolyes' arrival, I wasn't going to miss out, whatever the cost.
Margolyes is a surprise from start to finish. An English, Jewish, vertically challenged, and rather stout actress of seventy, she is tucked snugly behind a table signing copies of her book, a veritable Mrs. Tiggywinkle, with a voice like thunder.
'Come and buy my book,' she bellows, 'only $20. And I'll sign it!'
So I was hardly surprised to read this quote in an interview with Laura Barnett: 'The worst thing would be if somebody said I was inaudible. Reach your audience's ears – only then can you reach their hearts.'
And the pint-sized Ms. Margolyes reached both our ears and our hearts quite effortlessly.  For two hours, with enormous stage presence, she kept our bottoms glued to our seats and our eyes glued to her diminutive and decidedly cubic figure that so perfectly embodied Dickens' many characters in this one woman show of impressive magnitude and skill.
Educated at Cambridge, where she read English Literature, Margolyes went on to research and write 'Dickens' Women' for the 1969 Edinburgh Festival. Since then she has appeared in Black Adder with Rowan Atkinson, as Aunt Sponge in James & the Giant Peach, as Nursie in Baz Luhrmann's Romeo and Juliet, and as Professor Sprout in Harry Potter, to mention just a handful of her achievements. She performed Dickens' Women to sell-out shows in Australia in 2007, and returns this year as part of a world tour to celebrate the bicentenary of Dickens' birth.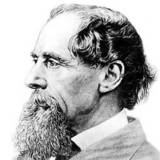 And it is simply brilliant. Mixing performance, readings and informative chat, Margolyes brings to life the inimitable works of Charles Dickens, the women who influenced his life and his writing and, in particular, a wide range of his female characters.
I did wonder if I should have re-read a Dickens novel or two before I arrived at the Playhouse, but I needn't have worried. Whether or not the audience was familiar with every character mattered not a jot. For those who were intimately acquainted, I am sure it was a wonderfully nostalgic journey through the best of Dickens' women. For newcomers, Margolyes provides an inspiring and entertaining introduction that leaves you keen to dash off to the library for copies of everything.  Pottering about on a stage she shared with three chairs and a lectern, a grand piano and an unassuming pianist, she dipped out of one character and into another with barely a ripple.
The production begins with the portrayal of Mrs. Gamp from Martin Chuzzlewit, the character that first inspired Margolyes to consider a theatrical presentation of Dickens. Dickens describes Mrs. Gamp as a 'fat, old woman… with very little neck'  an 'unfortunate' physical flaw Margolyes was aware she shared, but appreciated it might help her bring Mrs. Gamp to life on the stage.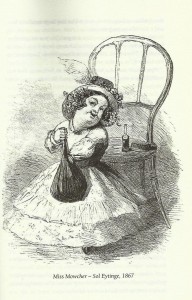 From broad Cockney to upper crust Cambridge, she swept us along through the quirks of the English class system with her vivid portrayals of characters such as the 'peony' Flora Finching from Little Dorritt and the dwarf manicurist and hairdresser Miss Mowcher from David Copperfield, not to mention Mrs. Corney and Mr. Bumble from Oliver Twist, when she spent five minutes flirting with herself to the audience's enormous delight.
In between these vivid portrayals of Dickens female characters, we are introduced to his less-than-pristine life behind the scenes: his cruelty to his wife of twenty one years, Catherine Dickens, his 'pathological attachment' to his sisters-in-law, and his wildly passionate love for a number of beautiful young women. In extraordinary juxtaposition to his narcissistic, bullying behaviour Dickens exhibits an empathy with the underbelly of humanity that is both astounding and unique.
Margoyles comments in her introduction that in this, his bicentenary year, 'his writing, full of social observation and fierce criticism, remains as relevant as ever.' Margolyes is keen to share her long-standing passion for this misogynistic but brilliant writer with her audience, which she does with immense care and understanding. And one cannot help feeling that she would have made a memorable Dickens woman herself.