'It is well-established that humans have an innate preference for sweetness and every culture has some sweet food source." So says food historian Allison James. For many, that source of sweetness is confectionary or, more specifically, chocolate.
I don't have a very sweet tooth, but I do love good quality truffles, so when I heard about Haigh's factory tours, I was determined to squeeze in a visit. It was an hour well spent.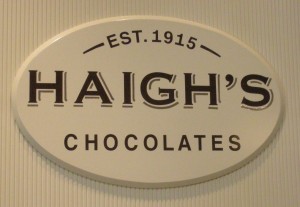 Haigh's has been part of every Adelaide family's chocolate experience for ninety seven years. Its history begins with Arthur Haigh, our own Willy Wonka, who set up his confectionery shop in 1915 on the corner of Rundle & King William Streets, the now iconic Beehive Corner. Handed down through four generations, Haigh's is still firmly in the  family. Our tour guide Jo told us a lovely story about current Chairman John (grandson of Arthur) who joined the family business at nineteen and decided there was room for improvement. So he wrote to ten Swiss chocolatiers to ask if they would teach him their chocolate-making secrets. Obviously keeping their secrets as heavily guarded as Willy Wonka's own, only three bothered to reply, and only one of those in the affirmative. So John travelled to Switzerland and spent a year with Lindts to learn the ropes, before coming home to apply what he had learnt at Haigh's.
Today Haigh's have expanded into six stores in Melbourne and one in Sydney and they export their famous chocolates all over Australia. When we first moved to Sydney, I was delighted to discover Haigh's on the corner of the Strand Arcade on George Street, where it has a very similar ambience to the original Adelaide store. I would pop in for a quick truffle fix and inevitably leave with my arms (and mouth!) full.
Yesterday, feeling like Charlie Bucket heading off with wide eyes to Willy Wonka's Chocolate factory, I arrived at the Haigh's Visitors Centre on Greenhill Road, and found myself looking around for Veruca Salt and the Oompa-Loompas. Unable to spot them, I did however find a veritable treasure chest of chocolates.
The source of chocolate is a small, evergreen cacao tree (theobroma cacao) that hides shyly beneath the humid rainforest canopy of Central America.  The cacao bean is harvested from the yellow pods of this small evergreen. Today cacao trees are grown in many tropical countries: Haighs source their beans from Ecuador, Papua New Guinea and Ghana. Cocoa beans look like large coffee beans or almonds. The raw bean is incredibly bitter, until it has been roasted at a very high temperature. This not only subdues the bitterness, but brings out the flavour, changes the colour and removes any moisture. Then it is ready to be transformed into chocolate.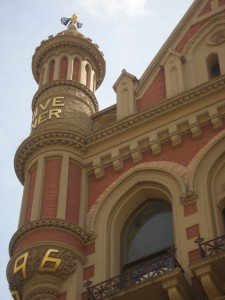 We followed the steps on large picture boards and then turned to see the process on the factory floor through large glass windows – they were taking no chances with any of us falling into the chocolate waterfall and being sucked up the tube like Augustus Gloop! The beans are winnowed and ground into 'nibs'. The resulting cocoa liquor is blended into a paste with extra cocoa butter, vanilla and icing sugar. This is further refined into a powder, before more cocoa butter is added  and the paste is then agitated and aerated in the conching tank for up to 72 hours, until it acquires the perfect texture and taste.
Chocolate was originally a drink devised by the Aztecs, the name a corruption of chocolatl, which has Aztec roots. Apparently Montezuma's court went through 2000 jars a day, mixing it with honey or purple flower petals, chili, cloves, vanilla, nuts or allspice. The cacao bean has even been used as currency. The Spanish conquistadors in Mexico developed this ancient process of making chocolate and added sugar and cinnamon to sweeten this bitter beverage.
In seventeen century Mexico, chocolate was made into a savoury sauce with chili, cinnamon and coriander to accompany turkey. It was exported to Europe as a beverage and was adapted into a solidified form by the Dutch in the nineteenth century.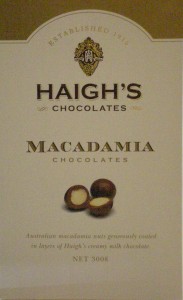 Haigh's has developed that solid chocolate into an art form. And the selection at High's is nothing short of overwhelming. Every variety of chocolate coated nut, bars of apricot or cherry, marzipan or nougat, peppermint or ginger. In recent years a selection of Aussie flavours has been infused into the truffle bar: lemon myrtle creams, pepperberry ganache and mango fruit. I found chocolate aniseed rings for my mother-in-law who adores licorice, champagne truffles for my bubbly-loving sister-in-law and chocolate frogs for my sons, just because…
While wandering around the store, I noticed that Haigh's is committed to supporting several environmental projects. Not only is packaging recyclable, factory processes aim to be environmentally friendly. Proceeds from the sale of Haigh's large golden Murray cods are donated to Healthy Rivers Australia to support the survival of this rapidly declining native freshwater fish. Recently, Haigh's also joined forces with the Adelaide Zoo, and the Giant Pandas breeding program is sponsored by the sale of chocolate pandas.
For Easter, Haigh's have replaced the traditional chocolate bunny with the now popular chocolate bilby, in order to support this tiny native that has been hunted almost to extinction by introduced species such as foxes and cats, not to mention being ousted from its habitat by our unquenchable rabbit population.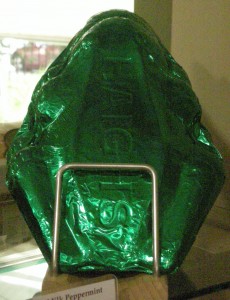 And of course, the other native Australian, the original chocolate frog, has been found on the shelves at Haigh's for generations, and now comes in three sizes and flavours: the original; the midi, and the 375g Super Frog in milk, dark or peppermint chocolate. Part proceeds of chocolate frog sales are donated to Amphibian Ark, an international campaign to protect our waterways and our frogs.
George Bernard Shaw once claimed smugly that 'I never resist temptation, because I have found that things that are bad for me do not tempt me." Lucky man! Few of us can be so circumspect about temptation, particularly when it comes to chocolate. At least at Haigh's it is possible to assuage the guilt with the thought that one is helping the survival of several endangered native species.
So I didn't win the golden ticket or inherit a chocolate factory, but I left with hands full of the new scrumdiddlyumptious lemon and lime white chocolate balls and a recipe for chocolate fondue. Here's to chocolate!